If you're welcoming new members to your team, building new professional relationships, or even joining a new team yourself, it's time to think about how you'll manage introductions. Mary Shapiro, author of the HBR Guide to Leading Teams, says in a new group setting,
"One of your first priorities should be to get to know your team members and to encourage them to get to better know one another," and advises that you "resist the urge to immediately start talking about the work and the task outcome."
Running an introductory meeting is a great way to help your team focus on relationship building instead of jumping immediately to project work. An effective first meeting will encourage connections, help your team get aligned, and lay the foundation for effective teamwork moving forward. However, there are a few ground rules to keep in mind for success. Read on for a step-by-step guide on how to manage your team's introductions and make sure nothing's missing on meeting day.
What is an introductory meeting?
An introductory meeting is a meeting between two or more people who haven't met before with the goal of initiating a positive working relationship. For example, you might be welcoming one or more new team members and want to help them integrate effectively into the group. Alternatively, you might be starting a new role as a manager and want to share your professional background and leadership philosophy with your new team.
To prepare for an introductory meeting, it's important to reflect on the meeting goal, whom you should invite, what to include on the agenda, and how you'll introduce yourself. You'll also need to decide what tools will make your meeting a success. For example, you can use Fellow to create a meeting agenda ahead of time, record meeting notes, and assign action items for an effective introductory meeting.

Run efficient introductory meetings, come to a decision, and get back to work
Level up your meeting habits to boost engagement and productivity with a collaborative meeting agenda. Try a tool like Fellow!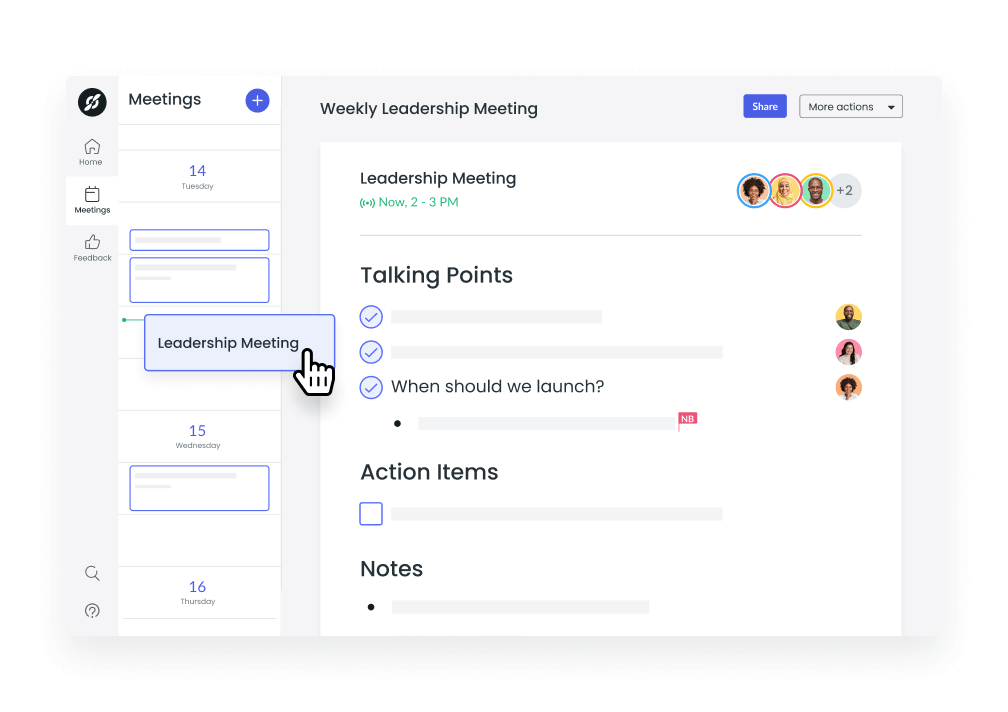 Benefits of an introductory meeting
1Improves teamwork
Running an introductory meeting is a great way to improve teamwork from the very start. This first meeting with your team will let everyone get to know each other and start building positive working relationships. In remote or hybrid work environments where people miss out on casual office conversations, introductory meetings are also an effective way to help team members bond. For example, you can use icebreakers to help your team feel more connected on a personal level. In the meeting, you can use your introductions to lay the groundwork for effective communication, establish a clear purpose, and start building trust with your team. These elements are essential for effective teamwork and will help your team perform well as soon as you start working together.
2Encourages connections
A well-connected team is a successful team! When you get a group of people together who don't know their team leader or fellow team members, it can be challenging to jump straight into project work. By hosting an introductory meeting before the work starts, you'll help people feel ready to collaborate. People may feel nervous about working with a new team or manager, so building these connections early on is key to making everyone feel relaxed and capable of doing their best work. After your introductory meeting, people have the option to book one-on-ones to continue getting connected on a personal and professional level.
3Fosters alignment
An introductory meeting is an effective way to increase alignment and get everyone on the same page from the start. Encouraging your team members to give a brief overview of their professional skills, experience, and areas of expertise in their introductions will help everyone understand where each member fits on the team. You can also take a few minutes to outline each team member's role and responsibilities so people are aligned on how you'll be working together. At the end of the meeting, you'll also cover the next steps so everyone understands what's ahead and can leave the meeting ready and excited to get started.
4Heightens knowledge
In addition to helping your team connect, an introductory meeting is a great opportunity for information sharing among your team. Sharing important information from the start fosters transparency and makes your team more likely to communicate openly in the future. For example, you can share relevant company information, the goal of your collaboration, and any potential risks or challenges ahead. By sharing key information in your introductory meeting, you'll help your team members gain the knowledge they need to work together effectively. However, make sure to avoid information overload by scheduling a separate project kickoff meeting to go over additional details.
How to host an introductory meeting
1Set a meeting purpose
Some simple preparation for your introductory meeting will help make sure it's a success. First, set out the purpose of the meeting to keep things focused on meeting day and help everyone prepare ahead of time. A best practice is to write a meeting purpose statement that clearly describes the why of your meeting. For example, "The purpose of this meeting is to help everyone get to know each other before we start our first project." Make sure your meeting purpose is clear, specific, and actionable so everyone knows what to expect and comes ready for their introductions.
Fellow helps ensure every meeting has a clear purpose. With the Meeting Guidelines feature set, when a meeting is being created, meeting organizers are prompted to add a meeting purpose to the description of the meeting, to help boost meeting engagement.
2Share a collaborative meeting agenda
Once you've clarified your meeting's purpose, it's time to put together an agenda. Creating an agenda ahead of time will help the meeting stay on track and ensure there's enough time for everyone's introductions. Since people may be anxious about meeting a new team or manager, sharing the agenda in advance will also help everyone know what to expect and feel more relaxed. With a collaborative agenda, the group can add questions or talking points so you know what information to cover for a successful first gathering.
With Fellow, you can create collaborative meeting agendas that will help your team thrive before, during, and after each meeting. Fellow's collaborative meeting agendas ensure that everyone:
Shows up prepared: Review past notes and encourage everyone to add talking points to the meeting agenda
Collaborates on notes: With a full history of meeting notes archived in Fellow, you'll never forget what was discussed
Records action items: The most important work comes after the meeting. Ensure that your team has clear objectives by recording action items in one spot
Sends meeting notes: With a single click of a button, you can send meeting notes via email or Slack so that everyone feels like they were a part of the discussion
3Only invite those who need to be there
For your introductory meeting, it's key to only have the essential people in the room. The purpose of this meeting is to facilitate personal connections, so you want to make sure there's enough time for everyone to interact, ask questions, and establish rapport. Having too many faces in the room will also make it harder for people to bond with each other and get connected on a personal level. Try to invite only the people who will be working together directly—like those on a specific project or team. To help the rest of the company get to know new team members, you can encourage everyone to create an "about me" page and add it to the company wiki.
4Begin by introducing yourself
Set an example and help people feel more at ease by introducing yourself first at the start of the meeting. One purpose of your introduction is to build trust and credibility, so share a few professional highlights such as companies you've worked for, notable projects, and your areas of expertise. To avoid bragging, make sure you shine the spotlight back on your team and share how you hope to support them and why you're excited to work together. Mention a few fun personal facts to build rapport—like your favorite foods, memorable trips, or hidden talents. However, don't go overboard; keeping your introduction short and sweet will make it more memorable and help people stay engaged.
5Provide an opportunity for questions
In your introductory meeting, people might want to know more about how you'll be working together, the expectations you have as a manager, your team's overall purpose, and more. Adding a section for questions in the agenda ahead of time will help people come prepared with their top questions. Be an active listener and remember it's okay not to have the answers for everything—your team will appreciate honesty and transparency! If you aren't able to address everyone's questions during the meeting, you can schedule one-on-ones with people to continue the conversations.
6Establish expectations
Setting expectations in your introductory meeting is a key step for building a thriving team culture from the start. When your employees' expectations are aligned with yours and each other's, everyone knows what the path to success looks like and stays unified as a team. Set expectations in your introductory meeting by reviewing how you'll work together and your team's rules for performance, behavior, communication, and more.
For example, some effective ground rules related to meetings are that everyone arrives on time, people are present during the meeting, and an agenda is sent at least 24 hours ahead of time. Following your introductory meeting, you can meet with team members individually for an expectations meeting to cover their roles and responsibilities in-depth.
7Assign clear next steps
One of the most important parts of every meeting agenda is assigning action items before the meeting's over, and your introductory meeting is no exception. For example, you may want to assign tasks related to scheduling one-on-ones and a project kickoff meeting, creating "about me" pages for the company wiki, or making sure everyone's set up with your project management tools. There will likely be a lot of excitement in the room during your introductory meeting, and clear next steps will help turn this energy into positive momentum for your team.
With Fellow, you can easily assign, track, and follow up on meeting action items. Action items are organized by urgency and importance so your whole team can clearly see what to get working on first.
"My absolute favorite part about Fellow is the Action Items feature. Fellow makes it extremely easy to assign myself or others to a task that needs to be completed. Recently, Fellow has been updated with the ability to assign Action Items to multiple people. Each Fellow user can sort and group their Action Items in ways that are most impactful to them individually."

– Fellow review on G2
Tips for introducing yourself in a meeting
Follow these best practices to make a great impression in your introductory meeting:
Avoid talking too much about yourself in your introduction by focusing on how you hope to support your team.
Add one or more icebreakers at the start of the agenda to help people bond.
Pay attention to your body language to ensure you come across as calm and confident.
Assign talking points to help guide people's introductions.
Include a balance of personal and professional details in your introduction to help people connect with you on a personal level, too.
Use Fellow's AI-generated agendas to help you generate headings and talking points for your introductory meeting.
Keep your introduction short and sweet to make it memorable and leave time for questions.
Parting Advice
While it can be tempting to jump straight into project work with new team members, investing some time in introductions will pay off with improved teamwork from the very start. Scheduling an introductory meeting is a great way to get people excited about working together and ready to take the first steps. Remember to include plenty of time for icebreakers and questions and encourage everyone to share both professional and personal highlights. The focus of this meeting should be on getting to know each other—save the nitty gritty for your one-on-ones and project kickoff meetings. For tips on how to lead your team to success following your introductions, don't forget to check out the Fellow blog!