Customers are the main reason any small business becomes a huge success, so hosting customer or client meetings is typically a big deal. You need to be prepared to "wow" them so they'll want to keep working with you and your organization. It's easier than it sounds – read on for some pro tips on how to hold a great customer meeting that's both informative and inspiring.
What is a customer meeting?
A customer meeting is a meeting between you and a customer or client that focuses on their wants and needs. These meetings are how you build and maintain strong relationships with your customers or clients, focusing on what they want out of your working relationship.

Run delightful customer meetings
Increase meeting engagement and productivity with a collaborative agenda that the whole team can contribute to. Try using a tool like Fellow!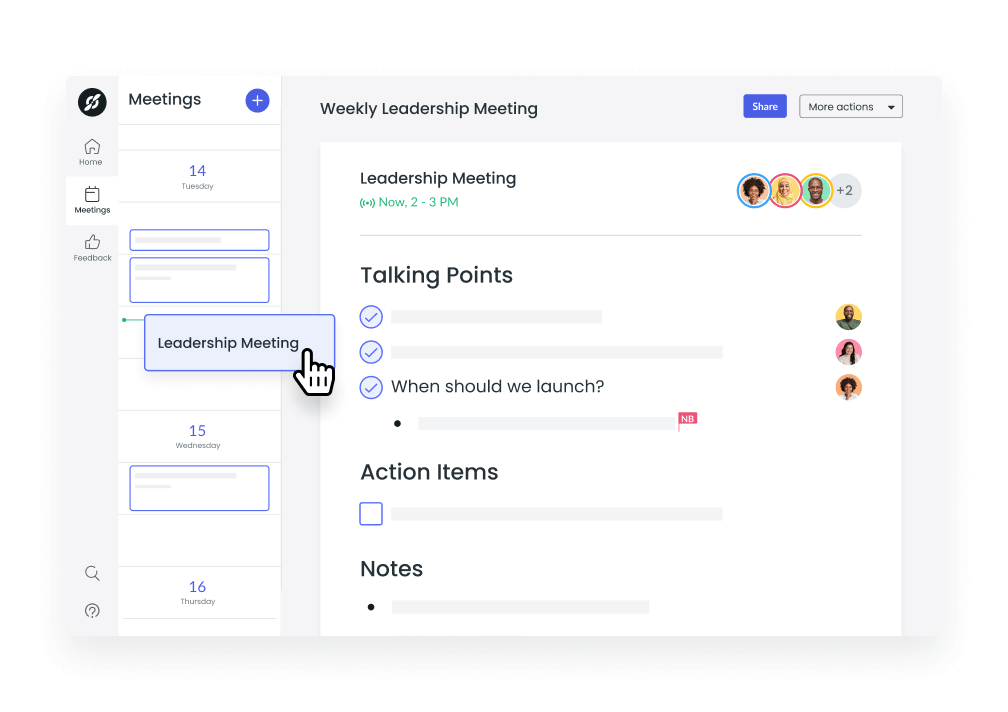 How to host the perfect customer meeting
Whether you're sitting across from (or on Zoom with) a new or current customer, hosting a customer meeting can be a bit intimidating. That's especially when you're using the meeting to sell a product or service. To help ease the stress, use these steps as a guide for your next customer meeting.
1Create an agenda
The first step toward making a good impression – and having a great meeting – is creating a meeting agenda. Your agenda will be the roadmap that connects all of your meeting's talking points and action items.
The first thing your agenda should cover is introductions. This way, everyone at the meeting knows what role everyone else holds. Then, you can fit your agenda to the type of meeting you're having – a customer check-in, sales meeting, you name it. Your agenda can start out broad and general, but you should drill it down and make it more specific as the meeting goes along.
2Figure out the customer's expectations
Before your client meeting, you may want to send a list of questions that can help you figure out your customer's requirements and goals. This way, you can have deeper conversations during the meeting and save a tiny bit of time on introductions. When you send these questions, you should also say what the customer should expect from the meeting. This way, both your organization and theirs are setting expectations from the get-go.
3Share the agenda
As you create your customer meeting agenda, you should allow your team to be a part of it too. Send out the agenda to everyone going to the meeting and ask them to collaborate with you. This way, they can get all their questions out on the table and prepare the right way. Once you've all put together the agenda, send it to the customer so they can show up prepared, too. 
4If possible, have the meeting face-to-face
It's often best to have your customer meeting face-to-face. Of course, you can't quite do that when your customer is all the way across the country, but when possible, do it. In-person customer meetings are known to increase engagement and participation. That makes it easier to build better relationships, which is key to customer success with your organization.
5Save time for a recap and questions
If you only have 30 minutes for your client meeting, don't spend the entire time talking about every possible thing. Instead, save five to 10 minutes at the end of each meeting to answer any questions and recap what you just discussed. This way, you won't have customers leaving the meeting feeling unsatisfied – which could be how you lose the customer.
6Share meeting notes
After the meeting has ended, you should send everyone who was there a meeting summary that recaps everything you covered. Your recap should include the main topics and talking points you talked about, future meeting topics, and meeting action items that came from your conversation.  
7Decide on next steps
As you share your meeting notes, you should follow up with your customer about your next steps. These steps could include scheduling a follow-up meeting to discuss your organization's progress. They could also include some sort of social outing where both your teams can get to know each other in a stress-free environment.
Tips for your next customer meeting
The below tips can help you lead a successful customer meeting.
1Remember your customer's goal
You're meeting with your customer to discuss their needs and goals. Keep your agenda focused on that. The best way to do that is with a tip from above. Start with broad, general questions, and get more specific as you move along. This way, you go from a problem to a solution over time – and that's usually the best way to achieve any customer goal.
2Budget your time wisely
If you only have a small window of time for your client meeting but you have a lot of ground to cover, you'll need to pace yourself. Cramming a lot of ideas into a short time can overwhelm your customer – enough that maybe they'll look elsewhere. Budgeting your time can solve this problem.
One of the best ways to budget your meeting time wisely is in your meeting agenda. Each agenda item should get a set amount of time – say, five minutes for introductions and five minutes to let the client explain the issue they want to solve. Set aside five minutes to introduce your solution and 10 minutes to brainstorm. Use the last five minutes for questions. Congrats – you just held a customer meeting in half an hour!
3Make your agenda items actions, not ideas
When your meeting agenda items say "updates" or "goals," your agenda could apply to just about any customer. That raises the question: Did you really spend time with the customer's needs and concerns, or did you just recycle a meeting template so you could make another buck? Of course you didn't – but you shouldn't let customers have even a seed of this idea. Instead, make your agenda items actions, not ideas – actions relate to a customer's needs.
For example, you could replace "updates" with, "Figure out how we'll upgrade your restaurant's software without the bugs from last time." Similarly, "Goals" could be "Explain in detail how your restaurant technology can improve the customer experience." This way, the customer knows exactly what they're getting into – and that you're paying attention.
4Cut back on delays you could've avoided
If you're hosting a virtual customer meeting, you should do a test run to nip any potential technical problems in the bud. Before beginning your meeting, test out your computer (or phone) and software to make sure it's running properly. If you're using a video conferencing platform that your customer will need to download, tell them beforehand so you don't lose time at the meeting.
5Engage with everyone
Often, customer meetings include a few people from each organization. You should address everyone on the customer's team and give your own team members a chance to speak. You could direct a question to one person, then a later question to another, and so on, to keep everyone engaged. It's not all about the primary decision-maker – everyone should get a chance to share their contributions (within the prescribed time allotment, of course).
6Make it a conversation
As the meeting leader, you might wind up doing most of the talking. However, instead of talking everyone's ears off for minutes on end, you should take a break and let others join in on the conversation. Try asking lots of questions during the meeting and calling on your customer or your team members for their input. This way, you're having an engaging conversation with your customer, rather than hosting a lecture.
7Show your enthusiasm
Your goal is to build a long-lasting relationship with your customer so they'll stay with you long-term. Showing excitement about the opportunity to work with your customer during your meeting should help here. So should telling your customer how much you appreciate them again after the meeting. Staying excited and in touch can make customers feel appreciated and eager to see you again. And with these tips, your next customer meeting should go just as well.
Free customer meeting agenda templates
Prepare for your next customer meeting with Fellow
Customer meetings are great for building strong relationships and growing your organization. They also go better with tools that let you collaborate on meeting agendas with your whole team. With Fellow, you can do all that and more. Create agendas, record meeting notes, collaborate with your team, and receive feedback all under one roof. And then, use it all to serve your customers better than ever before.