Artificial Intelligence (AI) has transformed the way people work across industries. Specifically, AI assistants are used by employees and managers alike to automate daily tasks, spark new ideas, and change the way we work for the better. There are several AI assistants on the market today that can help everyone stay organized and productive!
Read on to explore seven different AI assistants and see which features you should look for when searching for a digital tool to meet your needs.
What is an AI assistant?
An AI assistant is any software program that uses natural language processing to follow user commands. These digital tools and programs can help you complete many administrative tasks like managing your schedule and organizing your inbox and can make simple tasks like reading text, making calls, and creating meeting minutes easier. These assistants are often cloud based, meaning that employees can access them from anywhere and easily integrate them into their daily workflows.
Let's take a look at what factors you should consider when searching for an AI assistant.
What to look for in an AI assistant
User experience: Your AI assistant of choice should have an intuitive interface and be enjoyable to use. New employees shouldn't have to spend weeks learning how to use an AI assistant—they should be able to pick it up in an hour or less!
Integrations: Look for a virtual assistant that seamlessly integrates with the other digital tools your team already uses. For example, if your team uses Slack for asynchronous meetings and messaging, you should look for an AI assistant that connects with it.
Pricing: Search for an AI assistant that meets all of your needs and falls within a pre-determined price range with which your team and company are comfortable. A tool's price should reflect the quality of the product, the number of features you have access to, and the user support your team will receive. Look for an AI assistant that can help employees across departments more efficiently complete their day-to-day work.
7 of the best AI assistants
Best AI meeting assistant
Fellow
Key features:
Fellow is where teams gather to have productive team meetings and meaningful 1:1s, build collaborative meeting agendas, record decisions, and keep each other accountable. Fellow offers AI-powered features that takes your productivity to new heights, such as suggested agendas built at warp speed for organized meetings, simplified meeting summaries and key points for efficient knowledge sharing, captured and synced action items to ensure nothing falls through the atmosphere, and effortless meeting recording and transcription to share with your crew.
Meeting preparation is fast and easy with Fellow's AI-generated agendas, topics, and suggested talking points. Fellow's AI meeting assistant takes cues from meeting titles, meeting descriptions, previous meeting notes, and attendees to suggest relevant meeting structures with topics and talking points so your meetings are set up for success. Fellow's AI meeting assistant also takes care of recording and transcribing meetings so participants can stay focused and engaged in the discussion. Searchable transcriptions make it easy to find key discussions, decisions, and action items to share with relevant stakeholders. And AI meeting summaries, paired with recordings and full AI meeting transcriptions are all in one place to keep all stakeholders in the loop, even when they're not in the meeting. Fellow is a central repository for all meeting records so everyone is aligned and follow-ups are clear.
However, unlike other AI tools, Fellow is more than just the best AI meeting assistant. Fellow's multiple features like collaborative meeting agendas, real-time note-taking, and 500+ ready-to-use meeting agenda templates help your team build better meeting habits before, during, and after each meeting that drives engagement and productivity.
Pricing:
Free—$0/month (for teams of up to 10 people)
Pro—$6 USD/month (per user for teams of up to 50 people)
Business—$8 USD/month (for organizations that need a hub for all of their meetings)
Enterprise—custom pricing (for companies looking to implement a holistic management system)

Reap the benefits of AI meeting assistants
From seamless meeting prep with lightning-fast agenda suggestions to effortless recording meetings, Fellow's AI-powered features encourage your team to capture decisions, streamline notes, and transform meetings. Try Fellow today!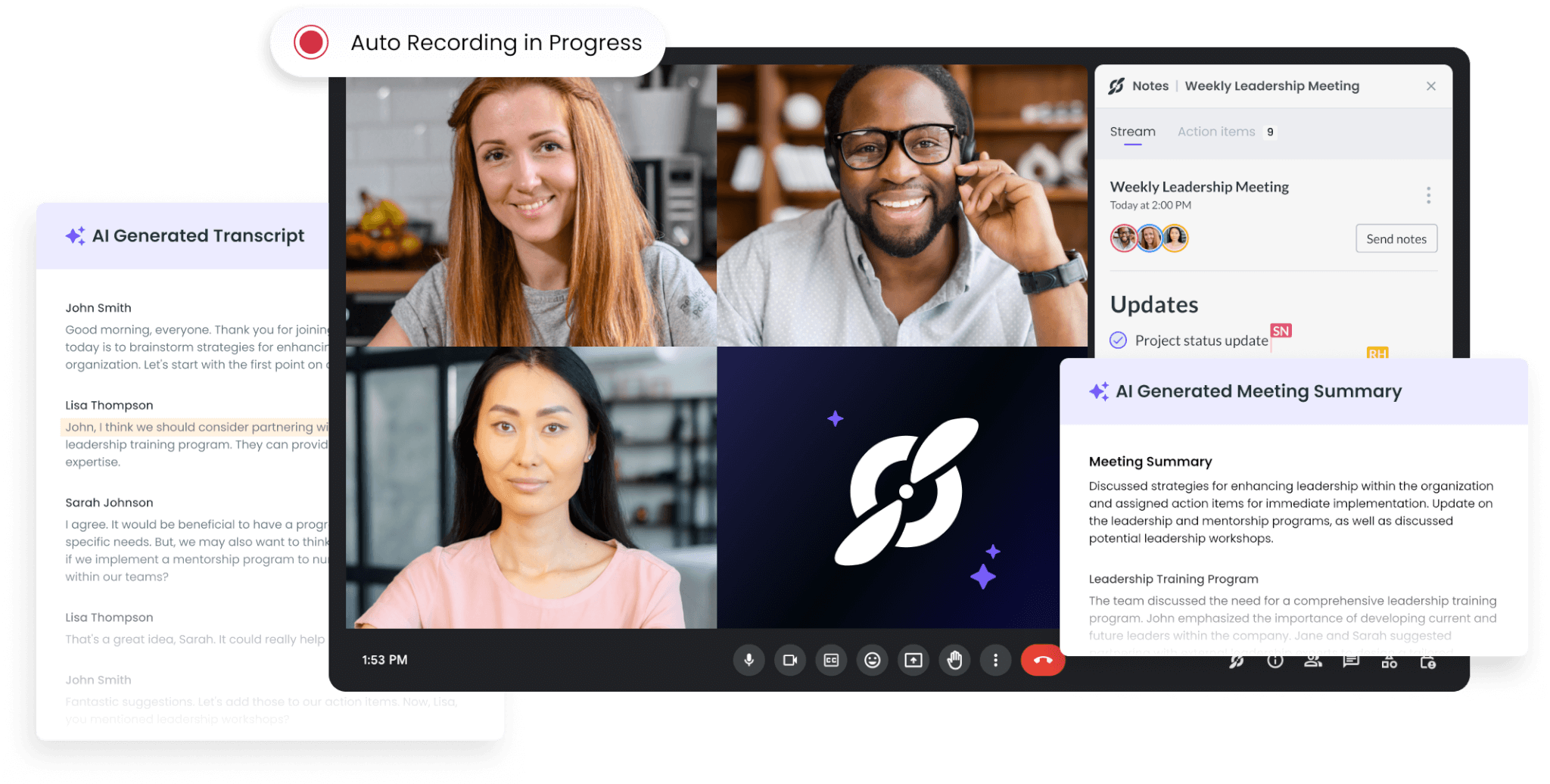 Best AI virtual assistants
ChatGPT
Key features:
ChatGPT is an AI language model developed by OpenAI. With the tool, users can engage in human-like conversations with the AI and speed up their writing process. When short on time, employees can have ChatGPT rephrase sentences, check writing for plagiarism, and determine how engaging and clear their written content is. Use ChatGPT to ask questions, seek information, or have it complete activities for you. ChatGPT can assist you with anything from answering trivia questions during team icebreakers to setting reminders and creating to-do lists. After work, you can even use the tool to help with personal tasks like creating your grocery list.
Pricing:
Free—$0/month
Pro—$20 USD/month (per user)
Siri
Key features:
If you use Apple products, you've probably operated Siri a number of times. Apple's virtual assistant is available to users on any Apple device including iPhone, iPad, Apple Watch, Mac, and Apple TV. Siri can perform several functions for users and is easily accessible via voice command. After activating the AI with a quick "Hey Siri," you can send texts, make calls, use apps, and set reminders using your voice. You can also use this virtual assistant to respond to queries, make recommendations, add events to your calendar, and get directions. This virtual assistant is best for employees and companies who already use Apple devices and want to manage simple daily tasks using existing products.
Amazon Alexa
Key features:
Alexa is Amazon's AI that is compatible with the company's products and services. It's a great AI for individuals who are looking for a reliable virtual assistant to help them complete easy tasks around their home or workplace. Users can use Alexa to purchase items from Amazon, control Amazon smart home devices, and play music. You can find Alexa on speakers, smart displays, TVs, and other Amazon home devices. There is also a companion Alexa application that users can download from the App Store or Google Play Store to control their smart devices from their phones.
Best AI scheduling assistants
Reclaim
Key features:
Reclaim is a scheduling automation app that tells you the best time for meetings, habits, daily tasks, and breaks. Ideal for busy teams, Reclaim can help you schedule and manage recurring events and automatically adjust your calendar when scheduling conflicts are detected. Users can choose how the AI engine prioritizes to-dos and provides an explanation when it makes changes to their calendar so users never feel confused or overwhelmed.
Aside from the tool's scheduling features, Reclaim's Planner screen offers a calendar view for users to bookmark their priority habits, open tasks, and low-priority habits. Once you begin entering the tasks you're required to tackle manually, the AI will begin dropping them into your schedule so you can build great habits at convenient times with minimal effort.
Pricing:
Free—$0/month
Teams—$8 USD/month (per user when billed annually)
Business—$12 USD/month (per user when billed annually)
Business—$18 USD/month (per user when billed annually)
Clockwise
Key features:
Clockwise is an AI scheduling assistant meant to help teams optimize their calendars. Users can add focused blocks to their calendars, reduce scheduling conflicts, and even see stats on how much time they're saving while using the tool. It's highly customizable and works well for employees and teams who want their workdays to consist of a mix of productive meetings and deep work sessions. It will show you what your ideal day can look like and free up time so you can take your much-deserved breaks throughout the day to recharge. It also connects with Slack so you can share your status with others and avoid non-urgent distractions when necessary. Unfortunately, this AI can only be used with a Google Workspace account, so Microsoft users will have to choose a different tool in the meantime.
Pricing:
Free—$0/month
Teams—$6.75 USD/month (per user when billed annually)
Business—$11.50 USD/month (per user when billed annually)
Enterprise—contact the sales team for pricing
Scheduler AI
Key features:
Scheduler AI is a chat AI scheduler platform you can use directly in messaging apps like email, Slack, and text. Use Scheduler AI to schedule one-on-ones or team meetings and to book demos and discovery calls with potential clients sourced from your website. Each time you want the AI to schedule a meeting for you, CC the @scheduler.ai email associated with your account and write a sentence prompt like, "Scheduler, find us a time to meet this week." The AI will then look at your calendar and reply to you and your teammates or contact them to suggest a time that works for everyone. Scheduler AI can even pre-reserve slots until meetings are confirmed so you're never double booked. It integrates with Gmail and Slack and can be incorporated into company websites and forms, too!
Pricing:
Co-Pilot—$25 USD/month (per user)
Auto-Pilot—$50 USD/month (per user)
Enterprise—contact the sales team for pricing
Run great meetings using Fellow + AI
AI is changing the world and how we work. The best way to stay ahead of your competitors is to harness the power of AI to complete tasks swiftly and reach your objectives faster. If you want to take your team to the next level, look no further than the seven AI assistants mentioned in this blog!
Don't forget to ensure that your meetings are delightful before you introduce an AI assistant to your roster of digital tools. Use Fellow to run effective meetings, foster accountability within your team, and build a feedback culture that encourages continuous improvement.