Fellow + Firefox
Bring your meeting notes into Google Meet and Google Calendar
Fellow's Firefox Extension can help simplify your meeting workflows by making it easier to find meeting agendas and take notes during your video calls.
Trusted and loved by the world's best teams
Easily find meeting notes before video calls
Searching for meeting notes right before a video call can be chaotic. You might end up having to hunt through a library of files and still not find the notes in time.

With Fellow's Firefox Extension, you'll just need to open the Google Meet video call and those meeting notes will auto-magically follow.

The notes will appear as an intuitive overlay right inside your video call. No need to search for them.

Try for free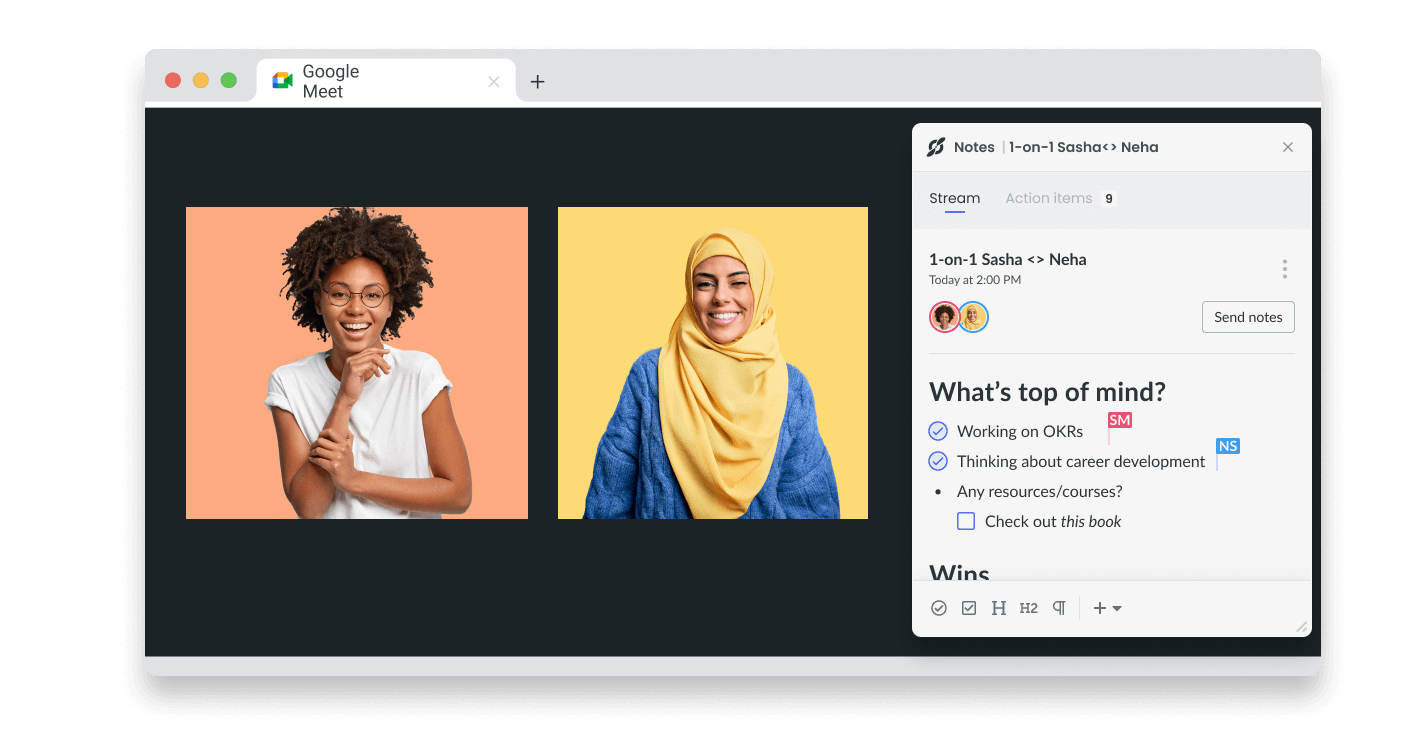 See when your tasks are due
It's common to start your day by reviewing your Google Calendar So it's important that all relevant information and tasks are part of your calendar. Without that, you're not able to plan effectively.

Fellow's Firefox extension adds indicators to remind you about incomplete action items and when they are due. These red dots help you to know how busy your day is and what you still need to do.

Try for free
A single screen for meeting notes and attendees
Working remotely means that you have less face-to-face interaction with your teammates. Make sure you don't lose even more of that human contact by covering your teammate's faces with your meeting notes.

Instead, Fellow's Firefox extension will bring your meeting notes right into your Google Meet call. This intuitive overlap is moveable and resizable so you can be sure to see your team's lovely faces.

Try for free
Pro Tip
Jot down future meeting discussion topics right from your Google calendar by clicking on the Fellow icon on the Calendar sidebar. 
Your meeting notes where you need them
When you have a lot of things on your mind, it can be hard to even remember to take meeting notes in the first place.

With Fellow's Firefox Extension, just click on the Google Meet link and the connected notes will appear on your screen. Having your notes as part of your call is a reminder to take collaborative notes and document clear takeaways, making it easy to host productive meetings.
Try for free
"Fellow solves three key problems around running meetings. First, creating the agenda. Then, with the ability to take notes, meeting management becomes much simpler. And finally, tracking the action items that come out of every meeting. Having everything in Fellow means we can track it and follow up on."

Mychelle Mollot

Chief Marketing Officer
Run delightful meetings with Fellow
See why leaders in 100+ countries are using it today
Log in