When you're handling something as tricky as search engine optimization (SEO), teamwork is imperative to success. Chances are, your organization handles SEO across different departments and teams, and this is a job that requires the input of varied experts and professionals. To make things run smoothly, organizations book SEO meetings where teams will plan, discuss and decide on the next steps.
Even so, not all meetings are successful. Research shows that 67% of meetings are a failure. We've all found ourselves in a meeting that had no impact and results, or that was so unclear it was simply a waste of time.
If you want to avoid meeting failure and get the best outcomes from your meetings, use the best practices we'll outline in this article!
But first, let's delve a bit deeper into the meaning and purpose of an SEO meeting.
What is an SEO meeting?
Businesses today depend greatly on their digital footprint and online visibility. If you want to attract more people to your brand, a smart SEO strategy is vital.
Even so, a good SEO campaign is not an easy endeavor. It requires the work of many people, including consultants, content writers, link-building specialists, internal linking experts, and so on.
On top of this, an SEO campaign requires the use of various tools and products for the purposes of research, design, site optimization, and more.
Since there are plenty of things to be done and organized, companies often have SEO meetings. An SEO meeting is a meeting to discuss and set new goals for the search engine optimization campaign of the organization.

Run productive SEO meetings
Increase meeting engagement and productivity with a collaborative agenda that the whole team can contribute to. Try using a tool like Fellow!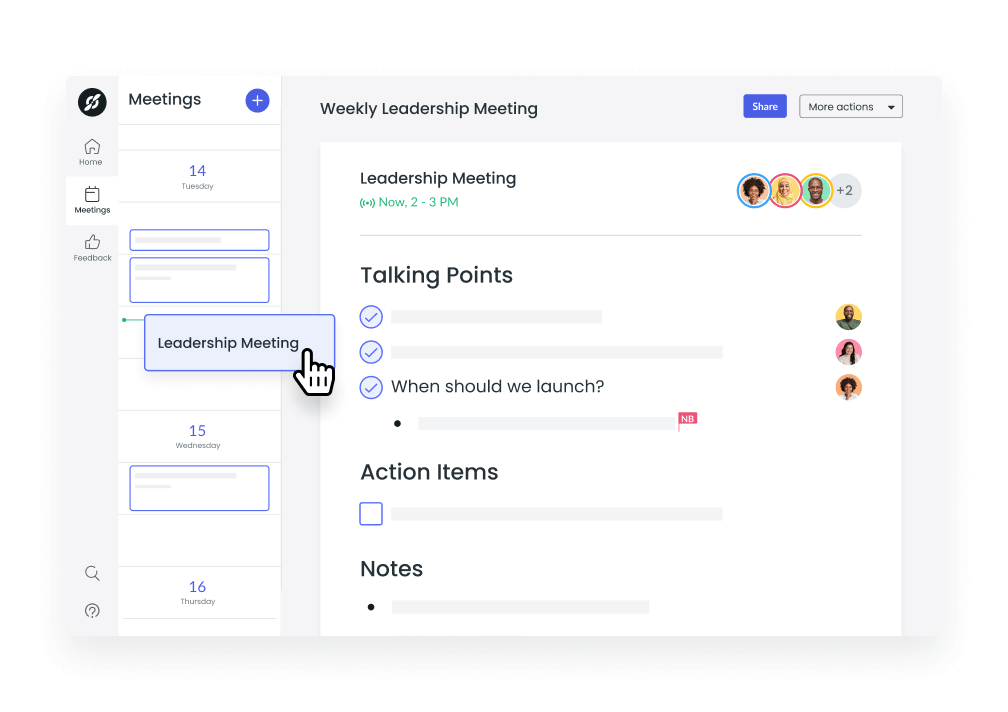 Why are SEO meetings important?
For an SEO campaign to work, everyone needs to be on the same track; this is where meetings come into the picture.
During these meetings, the team will discuss findings and statistics, present new keywords, talk about problems and achievements, as well as share further instructions related to search engine optimization.
SEO meetings help teams work coherently and more effectively, and they help firms get more insight into how successful their current SEO efforts are.
Tips for running an effective SEO meeting
Now that you know how important SEO meetings are, let's move on to the most important part: some actionable ways to make your SEO meeting a success!
1Review the numbers and create a plan
A good leader will never call a meeting without being prepared (unless the meeting is impromptu). Since SEO meetings are scheduled weekly, monthly, or biannually, take the time to prepare for them. If you want it to be a success, you need to create a plan to scale your team effectively.
Where does this start?
It starts with the numbers. Everything that will be discussed in the SEO meetings, as well as the guidelines you'll share at the end, should be based on actionable, accurate data. This means that it's time to gather those stats and numbers relating to trends, traffic, Google rankings, and so on and start analyzing them.
Most businesses have loads of data to go through before a meeting starts. Getting through all the information is impossible to do manually, and even if you have the time, you can't look at the numbers without errors or bias—or both.
The solution to this is a text classification tool like Levity, which is a machine learning tool that will automatically categorize your data into a number of categories with common features. Levity can structure, classify, and arrange any type of text relevant to your SEO strategy, including articles, customer tickets, and Internet data.
2Analyze keywords
Keywords—the words and phrases that people use to find your brand and what you're selling—are the basis of your SEO strategy. They are what makes you findable in search results. Therefore, a successful SEO meeting involves discussing and analyzing keywords.
3Start a conversation for improvement
One smart thing to do to prompt people to share their ideas during your SEO meeting is to share a meeting agenda with them. Print out an agenda or write things down in a visible place so everyone can prepare for the discussion and know what to expect.
The agenda will, of course, need to include all the topics that you plan to cover in your meeting.
Smart read: actionable SEO guide for topics to cover in your meeting
When you prepare your agenda for the meeting, use Skale's actionable SaaS SEO guide for inspiration. Skale employs top experts for SEO and link building, helping brands get top-ranked in search results. The steps in this guide will tell you exactly what topics to discuss—from keywords to the customer awareness framework to a strategic link-building program.
4Provide updates
The analysis from the first step should provide you with the data you need for this step, too—the updates on how far your team has progressed. Use the tips and strategies you set in your previous meeting and compare them with the results.
Your team should always be on track with the progress in their work. Provide updates on keyword success, bounce rates, and number of new leads and conversions, for example.
Basically, tell them what has worked and what hasn't, and discuss the updates with them.
5Review goals
According to 40% of managers, the biggest problem when you try to execute a goal or a strategy is the failure to align. This is why you need to review and discuss goals during every meeting, especially the ones regarding SEO. After all, your SEO goals depend on the entire team, not just individuals!
During your meeting, remind people of your SEO goals. If you have made adjustments to your goals (for example, prolonged the deadline, set some other priorities, or added a new task), share this information with your meeting attendees. Make sure the goals are clear to everyone—this is how you make the meeting a success.
6Share wins and learnings
At this point, your meeting should have shared the research findings and goals, and prompted some discussions. In addition to this, your meeting should be used to share wins. Feedback is vital to the success of a team, so make sure to acknowledge the good work of your employees, as well as point out the things you've learned since the last meeting.
7Assign next steps
The next step is assigning tasks to your team with due dates—this might entail sharing project lists and roadmaps.
Every campaign needs a roadmap. This is a document outlining all the projects your team needs to tackle, the individual assignments and their due dates, as well as links and guidelines for that project. Fellow will help you customize action items, track them with ease, and keep the momentum going even after the meeting is over.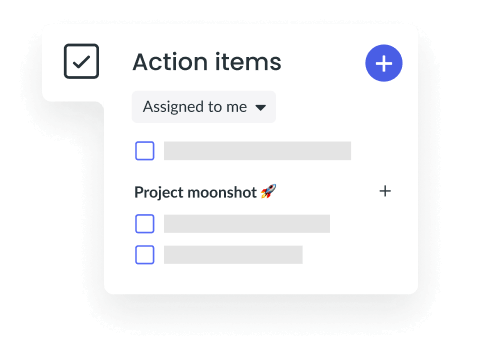 Don't leave just yet: here's a free SEO team meeting template
To make this process even simpler for you, Fellow has created a very useful SEO meeting template. Use it in the planning stage to set the agenda for the meeting. The template is easy to customize and contains all the details you need to present to your team.
Parting advice
Meetings have the tendency to fail unless you plan for them. Many companies schedule them just for the sake of updating the team, but don't let your business do the same. If you want to use the full potential of your team and get everyone on track with your SEO goals, use this guide to plan your SEO meetings ahead and set your meetings up for success.