Managing a team means handling lots of little details. Sounds annoying, right? Well, there's a simple way to manage your organization's day-to-day tasks: workforce management software. Read ahead to learn what workforce management software is and find the best workforce management software platforms out there.
What is workforce management software?
Workforce management (WFM) software platforms can help you oversee and automate all the usual operational responsibilities of running a team. You can use the best workforce management software platforms for human resource management functions such as employee scheduling, as well as performance management and goal-setting. Workforce management software can also make it easier to keep compliant with labor laws.

Managing a team?
Take control of your team meetings by having collaborative meeting notes and encouraging accountability with action items. Try a tool like Fellow!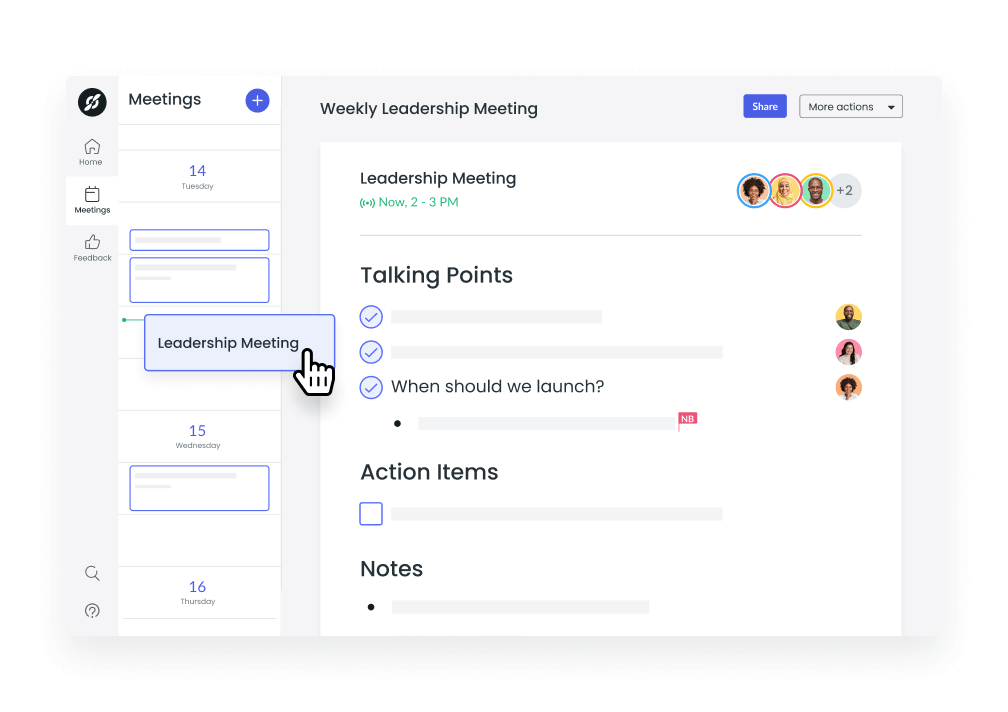 3 Key benefits of workforce management software
Workforce management solutions may focus on human resources or financial tasks, but its key features truly help the whole team. Here are a few ways workforce management software can benefit your entire organization.
1Better user experience for everyone
Workforce management systems simplify a range of tasks and save time for your whole team. Their HR management tools, such as time clocks and attendance tracking, make it easy for team members to take the reins on their schedules. Workforce management software also empowers managers to plan, track, and manage group objectives.
2Increased transparency
Workforce management software often includes tools that make it easier to go over your team's performance. These real-time data tools can offer insights into employee engagement and performance, giving managers the information they need to plan ahead.
3Error reduction
The efficiency and automation of workforce management software cut down on common mistakes. Workforce management apps that allow team members to clock in and out provide a more accurate account of employee time. Automatic payroll integrations ensure everyone gets paid correctly and on time. And, of course, the more you can eliminate manual data entry, the more your organization can save time and money.
Must have features in the best workforce management software
Here's what to look for to make sure you're picking the best workforce management software for your team.
1Schedule management
You can use workforce management software to get a clear picture of your team's availability. If your organization has a handful of shifts, you can easily assign schedules based on your team's needs. Some platforms will also empower your team members to trade shift times as needed. This is a great way to ensure a healthy work schedule for everyone.
2Time tracking
Workforce management software can streamline the tedious process of recording the hours your team has worked. Automation can also make it easy for you to approve employee time quickly. Since you can easily connect your workforce management system to your payroll software, your team members can rest assured they'll be paid on time.
3Legal compliance
Workforce management software platforms regularly update their features so they're compliant with labor regulations, which can change at the drop of a hat. This can include aligning with wage laws, union contracts, or internal policies. Automating workforce operations takes the guesswork out of staying compliant.
4Labor forecasting
Workforce management tools provide insights you can apply to important needs like planning for team expansion and hiring new people. You can also review customer behavior trends over time, and that can make a huge difference when you're forecasting your budget.
5Absence management
Workforce management software keeps all paid time off (PTO) requests in one place. Team members can simply submit a request for the days they need, and managers can approve them in one click. Workforce management tools also streamline requests for longer-term leave, such as time off that government policies cover.
6Data analysis
Workforce management software platforms sometimes include dashboards within their user interface that offer helpful data visualizations for team operations. Their reporting features show you everything you want to see about team attendance, time, and engagement. This makes it easy to spot any issues that might come up well in advance.
7Overtime management
Team members that qualify for overtime can use a workforce management software platform to manage requests for additional hours. With these platforms' time-tracking tools, you can also easily see when overtime limits are approaching. Workforce management software platforms can make sure no one is overworked – and that your organization isn't over budget.
8Mobile apps
In a world where team members are working remotely or on the go, workforce management apps can help everyone keep up. Team members can use their mobile apps to track their time from anywhere. You can also make real-time adjustments to schedules when changes come up last minute.
The 8 best workforce management software platforms
Here are some of the best workforce management software platforms you can use to manage all your staff needs.
1Fellow
It's important that team members have a voice in goal-setting meetings as managers guide them. As Jack Appleby, Sr. Creative Strategist at Twitch, explains, "I'm a big believer in making sure everyone feels like they have ownership somewhere. Contributing is good, but let people have an area they can make decisions in." Fellow has exactly the tools you need to empower your team on this front.
Fellow's objectives and key results (OKR) tools give your team clear metrics to measure their goals against. The 360-degree feedback features show your team members where they stand based on the whole team's contributions. On top of that, the meeting action items tools help keep everything on track day-to-day. Fellow's workforce management tools and meeting features are a great way to boost your team's confidence and productivity.
Key features:
Reach goals with clearly set OKRs
Share and receive 360-degree feedback
Stay on course daily with meeting action items
Pricing:
Free-$0 per user per month (for teams of up to 10 people)
Pro-$7 per user per month (maximum of 25 users; includes AI suggested topics and meeting automations)
Business-$10 per user per month (maximum 100 users; includes implementation services)
Enterprise-$15 per user per month (includes organization analytics)
Learn more about Fellow's pricing plans.
2Connecteam
Connecteam's platform includes time and attendance management features, as well as HR tools such as training software for new team members. With Connecteam, you can also use engagement tools to improve morale and culture.
Key features:
Time and attendance tracking
Training tools for new hires
Boost morale with engagement features
Price: Connecteam offers a free small business plan, and paid plans range from $29 to $99 per month for the first 30 users. Additional users thereafter will cost you between $0.50 and $3 per user per month depending on your plan.
3BambooHR
BambooHR includes features for all stages of an organization's HR needs. Applicant tracking software streamlines the hiring process, and onboarding tools centralize new hire documentation to cut down on paperwork. Automated payroll software also eliminates extra manual data entry.
Key features:
Organize your hiring process with applicant tracking software
Digitize new hire paperwork
Reduce manual data entry with payroll tools
Price: Quotes for tiered pricing plans are available upon request.
4People HR
People HR is a workforce management software platform with a focus on HR automation. A self-service portal lets team members self-manage their attendance and employment documents. Performance management software assists with team development and growth. Expert guidance tools also provide information on the latest HR and industry trends to help guide your policies.
Key features:
Self-service portal gives team members control over employment and attendance documentation
Manage professional development with performance management software
Receive insightful HR knowledge with expert guidance feature
Price: People HR's paid plans range from £5 to £9 per user per month.
5Oracle
Oracle's workforce management software platform features absence management software that you can align with your organizational policies. You can also use this software to go over your absence data in real-time. Its labor management tools also offer flexibility for dynamic or rotating schedules.
Key features:
Configure company policies into your software
Review real-time absence data
Flexible scheduling tools
Price: You must contact Oracle for a quote.
6Paylocity
Paylocity automates payroll tasks and ensures your organization remains compliant with tax regulations. It comes with expense management features that makes receipt reconciliation simple if your team is spending money on your behalf. Paylocity's proactive compliance solutions can also ensure that you're following the law in all your workforce management practices.
Key features:

Stay compliant with tax law through automated payroll software
Easily reconcile expense receipts
Track all workforce management legal requirements with compliance solutions
Price: You must contact Paylocity for a quote.
7SAP SuccessFactors
SAP SuccessFactors' workforce management software platform includes HR and payroll tools to streamline your typical transactions. You can also use the platform's talent management tools to optimize your team's performance and development. The included HR planning features can also help you align your HR practices with your goals.
Key features:
Simplify key team transactions
Use talent management tools to help with team learning and development
Lean on HR planning tools to align your processes with your objectives
Price: You must contact SAP SuccessFactors for a quote.
8Workday
Workday offers a workforce management system with features like skills-based talent management. Employee feedback tools also help promote communication and strengthen retention. Benefits administration tools make it easy for team members to enroll in benefit plans as well.
Key features:
Manage talent with skills-based solutions
Increase team communication and boost retention with employee feedback
Simplify benefits enrollment
Price: You must contact Workday for a quote.
Make team management easy with workforce management software
Workforce management software platforms make life better for everyone at any organization. With everything from task automation to document management options, workforce management software platforms can be all-in-one solutions for your management needs. Fellow, for example, has what you need to keep your team on track, from OKR tools to streamlined meeting action items and 360-degree feedback. Start exploring Fellow now to set your team up for success tomorrow – and long after.