There's no way around it – meetings are a workweek staple.
From one-on-one meetings with direct reports to company-wide all-hands, there are likely many upcoming meetings on your calendar. And depending on how these meetings are run, some may feel like a complete waste of time.
Thankfully, meetings don't have to be a waste of time with the right tools in place. Let's break down how.
The negative effects of meeting time wasters
Wasting time in meetings can have various adverse effects on your team. Not only has it been reported that an estimated $37 billion is lost per year to unproductive meetings, but 35% of employees have also said they waste two to five hours on meetings each week, according to Zippia.
When meetings feel like a waste of time, you're likely to lose the focus of your team members completely. In fact, according to TeamStage, just under 40% of meeting participants admit to falling asleep during a meeting.
There are many other negative side effects of meeting time wasters, including:
Too many follow-up meetings being on the calendar
To-do lists getting longer
Deadlines going missed or getting completely ignored
Small details falling through the cracks
Projects going over budget and money getting wasted
Goals not being accurately predicted or set

Run delightful meetings that don't waste time
Increase meeting engagement and productivity with a collaborative agenda that the whole team can contribute to. Try using a tool like Fellow to stop wasting valuable time in meetings!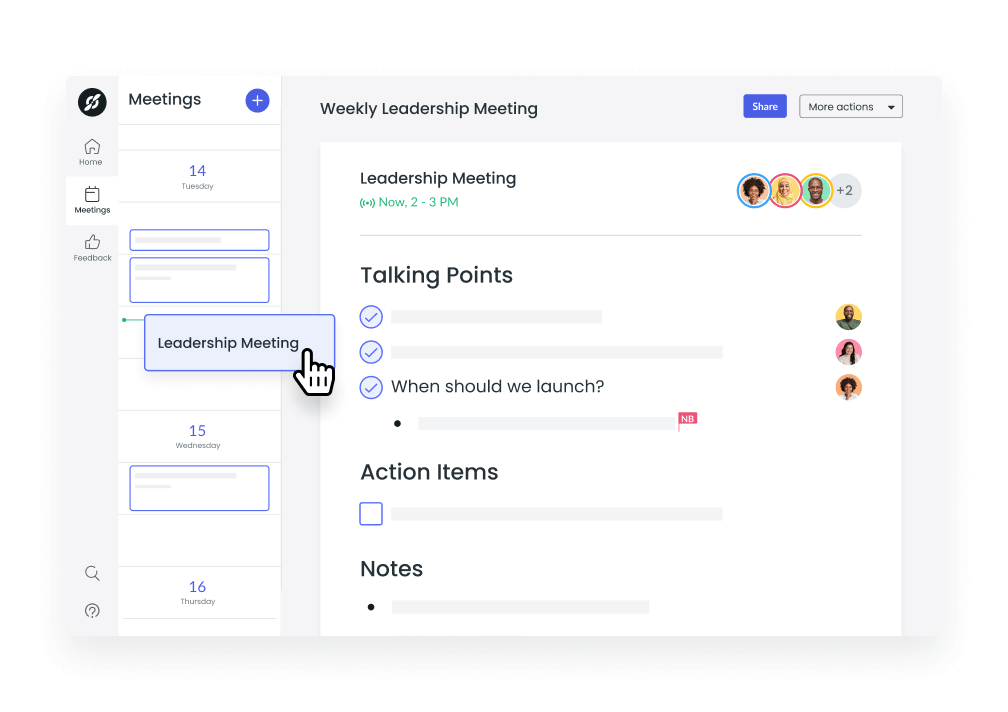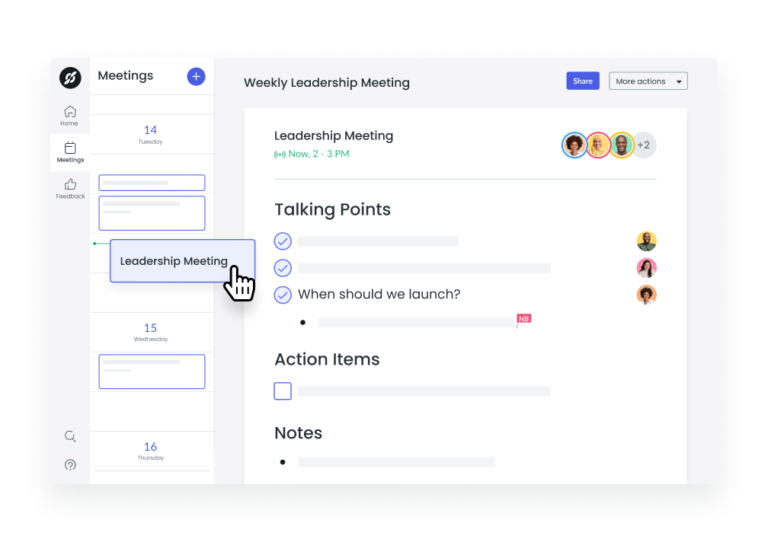 8 of the biggest meeting time wasters + how to overcome them
No matter what type of meeting your team is holding, there are eight common time wasters that you should try to avoid. If you notice these happening in your next meeting, here's how to overcome them.
1Lacking a meeting agenda
Problem: A massive time waster in meetings is not having a meeting agenda to guide the team from start to finish. Having a clear and comprehensive meeting agenda created and sent out to all attendees ahead of time ensures everyone is on the same page regarding what will be discussed, knows how they can contribute to the conversation, and is able to stay on track.
Not having this outline ready to go before the meeting kicks off increases the likelihood of an unproductive discussion and of there needing to be another meeting scheduled after the fact.
Solution: We get it. Not everyone wants to take the time to draft a meeting agenda every time. Thankfully, Fellow creates meeting agenda templates for you. From weekly team meetings and one-on-ones to agile meetings, Fellow has just the template you need, ready for you to create in minutes.
2Not following what's on the meeting agenda
Problem: So, you've made a meeting agenda—that's great! But another problem that can waste some serious time is not actually following what's on the agenda. While you may make a good effort to follow the agenda and cover the various action items at first, sometimes conversations veer off-topic, or challenges get brought up that you didn't expect to have to solve.
Solution: It's easy to think that as long as the conversations and discussions are relevant to the task or topic at hand, it's okay to take the time for them in the current meeting. Instead, a solution to avoid wasting time is to schedule follow-up meetings for longer or more extended discussions. That way, attendees don't feel rushed to get through the agenda when new conversations occur, and you have the time to get through everything on the agenda and to prioritize the longer discussion with its own focused meeting.
3Inviting too many people
Problem: Having department or team-wide meetings is common, but sometimes certain individuals sit through the meeting even though nothing relevant to them, their role, or their daily to-dos was discussed. Unfortunately, attendees leaving a meeting knowing that they didn't have to be in attendance and that they could have spent the time actually working happens more often than you think.
Solution: To avoid this time waster, only invite those who are necessary to the conversation. Send the meeting notes to everyone else not in attendance so they can get up to speed with the action items, decisions, and discussions.
4Experiencing technical difficulties
Problem: Testing, testing, is this thing on? With so many companies leaning into a remote-first way of working, virtual meetings are more popular than ever. And with this shift comes technical difficulties. There are a lot of tech issues that can occur, like headphones disconnecting, a microphone not working, audio lagging, or slides refusing to share. When these issues occur, one person struggles to fix the problem while all other attendees sit and wait.
Solution: To avoid this waste of time during your meetings, do a technology check before the meeting starts. Doing a simple run-through—especially if you're the meeting host or the presenter—ensures that all technical elements run smoothly once things are officially underway. If a tech issue does happen during the run-through, you'll at least have enough time to troubleshoot without everyone watching.
5Lacking a meeting purpose
Problem: Have you ever left a meeting and thought, "what was the point?" Asking this question is a good sign that the meeting lacked purpose, focus, or direction.
Solution: Define a clear meeting purpose on the agenda. This section of the agenda needs to have some thought behind it and shouldn't be created on the fly. Having this purpose defined gives other attendees clarity, while keeping everyone on track and accountable for the conversation.
If you're unsure how to pinpoint the purpose, focus on the end result or how you want to feel once the meeting comes to a close. Determine what you want to accomplish, what you want people to do once the meeting is over, and what the desired outcome you're looking for is. Essentially, the purpose should align with the why behind the meeting being scheduled in the first place.
6Having too many people taking notes
Problem: Meeting notes are essential, but when too many people take notes, their focus is elsewhere.
Solution: Assign one person as the notetaker so not everyone is distracted and so the meeting isn't made longer by note-taking pauses. It's important to designate the notetaker before the meeting so the rest of the group can focus on participating in the discussions. 
Make sure the notes are then shared immediately after the meeting with the attendees and key stakeholders, as well as with other team members who weren't in attendance. Also, don't forget to rotate who is selected to take notes for each meeting.
7Lacking actionable outcomes
Problem: Another meeting time waster is ending the meeting without actional outcomes, action items, or next steps. Doing so means that attendees leave the meeting wondering, "what now?" and are likely unsure of what they need to do moving forward.
Solution: Be sure to assign action items so your meetings result in productive action. These action items are usually taken from meeting notes and tasks that come up over the course of the conversation. Team members need to leave with a clear understanding of what they need to accomplish to help work towards larger goals that require a collective effort.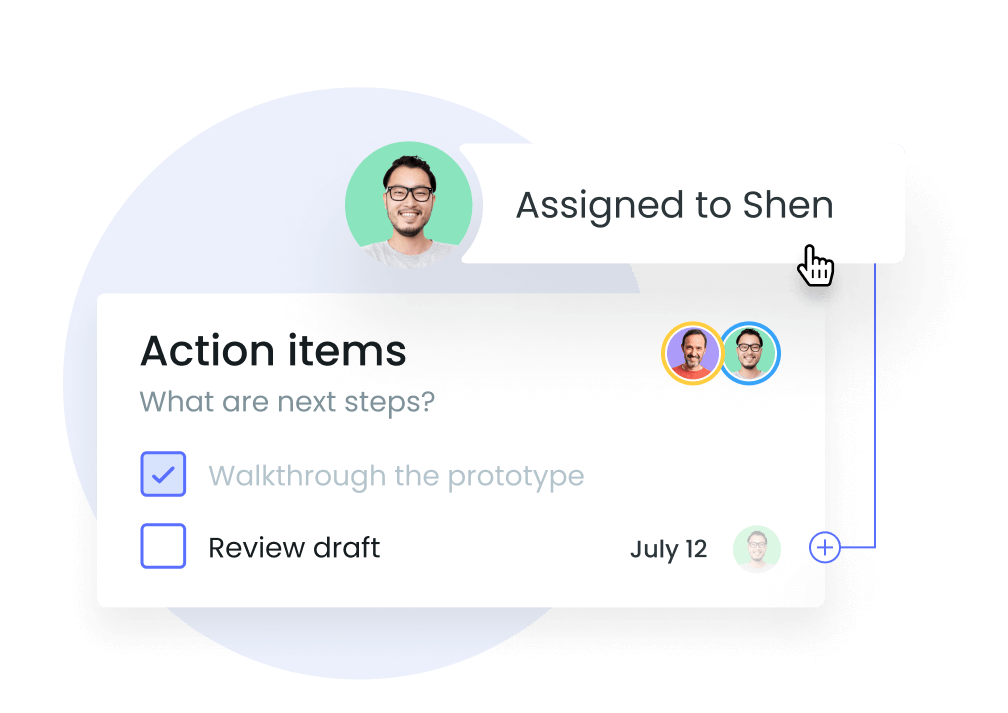 8Lacking participation
Problem: Another major meeting time waster is poor participation. If nobody is taking part in the discussions, the conversation won't go anywhere, and you'll be wasting valuable time that could have been productive.
Solution: Encourage participation by sharing a collaborative meeting agenda at least 24 hours in advance. You can also make people feel more comfortable sharing during meetings by starting with icebreakers. Not only do icebreakers help get the conversation flowing, but they can also help foster strong relationships, collaboration, and inclusivity–especially for remote workers.
Make meetings fun again
Bad meetings happen no matter what industry you're in or how big your company is. But, when you follow these tips, you can avoid the eight most common meeting time wasters and instill better, more productive meeting habits. Plus, when armed with a meeting tool like Fellow, you'll start to feel excited about every meeting on your calendar again.