When we hear about remote jobs, we often think of the benefits. We can work from home, be with our families, and enjoy the flexibility.
But remote teams also have downsides—namely, feeling isolated or disconnected from your coworkers. These feelings can lead to stress and burnout among team members, affecting productivity and happiness.
The good news is that it's possible to combat these feelings by instituting policies designed around well-being and mental health and by building a people-centric culture.
Let's dive in.
8 ways to handle stress in remote teams
Don't let the stress of remote work impact your team's productivity. Here are eight simple ways you can help manage your remote employees' stress.
1Lead by example
As a leader, one of your primary responsibilities is to set an example for others to follow. So go on that week-long vacation without checking your email every 10 minutes, have an hour-long lunch break away from your desk, and go to your kid's soccer game on Thursday afternoon.
These small things make a difference. It presumes that you value work-life balance and welcome the flexibility that comes with working remotely.
Employees often mimic the vibe that managers set forth. So if you don't practice what you preach—like getting away from the computer at least once a day—your employees won't either.
Change management starts with a top-down approach. The ball is in your court. Start making a difference by showing your team the way forward.

Meetings worth showing up to
A well-run meeting can foster communication and collaboration by including an agenda the whole team can contribute to. Try using a tool like Fellow!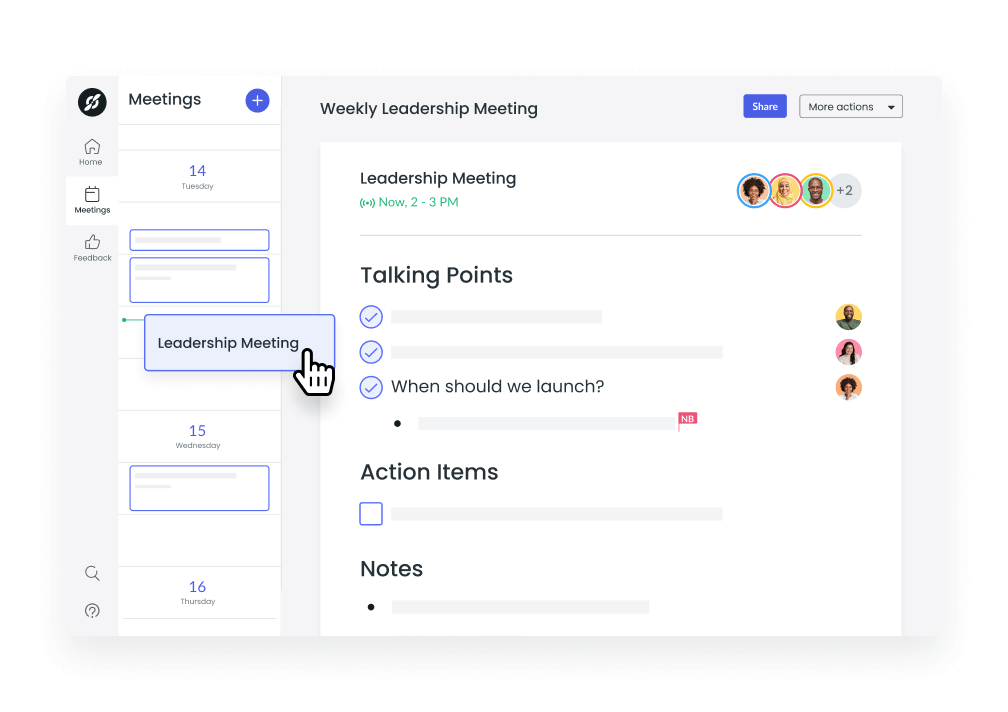 2Incorporate well-being in policies
Employee well-being should be the cornerstone of all company policies.
Make it clear that you're taking the time, effort, and money to make sure that your employees are healthy and happy.
Start by including a section on well-being in your employee handbooks, or you could even take it one step further and put together a specific policy for mental health, including additional paid time off or access to counseling services.
Your policies should be clear, concise, and housed in one central location for easy access by all employees.
3Reduce Zoom fatigue
Zoom fatigue is no joke.
With an increase in cognitive load and intense close-up eye contact, there's no wonder your team members are exhausted after a day full of Zoom meetings.
The key to reducing Zoom fatigue is understanding the symptoms and nipping it in the bud as soon as possible. Thankfully, the solutions here are pretty simple. Start by keeping your meetings short and sweet and encourage your team members to turn off their cameras.
Also, Zoom doesn't need to be the default method for your meetings. Try conducting meetings over Slack or email for a change!
For example, using the correct email templates to send out company announcements, giveaways, or news can make your employees feel included and reduce stress. You might be surprised at the effectiveness of these alternative options to Zoom.
4Set clear expectations
Setting clear expectations for your workers is a crucial part of any job. It helps them know what hours they're expected to work each week and whether there's any flexibility in these hours.
If you don't set these expectations and communicate them up front, some employees might feel like they're on call 24/7, which can burn out employees quickly.
The more clearly you can communicate what you expect from your team members and what they can expect from you, the better. This straightforward approach will help prevent miscommunication and improve employee morale.
5Invest in remote tools
In addition to having the right mindset and policies, you also need the right tools. Here are some that you don't want to miss:
6Encourage team participation
It's important that everyone feels like they're part of the action.
In an office setting, this is easy: You just have to walk down the hall and ask your coworker how they're doing, or sneak over to their desk to see if they need help with anything.
But in a remote team environment? It can be harder to make sure everyone feels heard and included.
Let your team members know they have an equal voice in decision-making and should feel empowered to make decisions independently.
A sense of autonomy will increase their motivation to do good work because they'll feel like they've had input on how things get done.
7Avoid micromanaging
It's easy to get into the habit of checking in on your team members' progress and ensuring they're doing their jobs. But this habit can lead to an environment where people are afraid to take risks and constantly worry that someone is breathing down their necks.
Micromanaging causes employees to feel like they aren't trusted, which can lead to resentment and frustration—and it makes people less likely to want to work hard if they feel like they're being watched.
Instead, give your team members the freedom to do their jobs and only guide them when they reach out for help or during regular scheduled one-on-one meetings.
8Build a people-centric culture
Your people are your greatest assets.
So when you're in charge of managing a remote team, there are two things you should always keep in mind: how each team member learns and what each team member needs from you as their manager. Answering these questions helps you adapt your management style to provide individualized guidance for each team member.
Everyone's situation is different, and certain jobs will be better suited to certain people depending on their personality type, interests, and experience. Some remote employees may become more stressed than others under the same circumstances.
For example, those with an INFJ personality type might become stressed in people-intensive positions as they tend to be more introverted. Therefore, it's important to understand employees' individual attributes, strengths, and characteristics to determine the best-suited roles for them.
Put your people first. From finding the best roles that suit your team members' learning styles to hosting virtual team-building activities throughout the year to boost employee morale.
You'll be amazed at the positive outcomes when you focus on making sure your employees are happy, healthy, motivated, and engaged, as well as having fun while they work, learning new skills, and growing.
How to acknowledge team stress
It's important to learn about the stressors your team is experiencing; if you don't know what they are, you can't do anything about them.
Here are a few simple ways to acknowledge team stress.
1Conduct regular anonymous surveys
A simple questionnaire where you gather anonymous feedback about work-life balance and current employee morale is the golden ticket to understanding how employees are feeling in their current roles.
Surveys shouldn't happen once in a blue moon. Sending out surveys quarterly or yearly is quick and affordable using an online survey tool like SurveyMonkey or Google Forms.
2Have one-on-one conversations
Don't underestimate the power of one-on-one conversations.
It's easy to let things slip under the radar when you're working remotely, but having regular one-on-one check-in meetings can help you catch up on each other's lives and ensure you're all on the same page.
A quick check-in meeting template can help you make the most out of each meeting and avoid forgetting critical discussion topics. When you have a large team, making meetings efficient and effective is the name of the game.
3Share resources
Focus on sharing relevant resources with all the benefits available to your team. If one of your team members is feeling depressed, what resources are available for them? Can they take additional paid time off? Are there any wellness activities they can attend?
Visual content is a key component of conveying or communicating information that might help your remote employees feel less stressed and overwhelmed. Get creative and build custom content that outlines these key benefits of your organization.
For example, use a background remover to incorporate fun images showcasing past team-building events. Or, leverage a photo editor and video editing software to create educational graphics and videos about mental health and stress management that can live on your benefits website. 
4Celebrate accomplishments
As a leader, it's important to keep an eye on your team members' progress and celebrate small wins and big accomplishments. By acknowledging their hard work and effort, you'll build trust and motivate them to continue doing great work.
These celebrations, like a personalized, thank you email or letter, can be small. Thinking bigger, you could use a video editing tool to create a personalized thank you video, or you can leverage a reliable courier service to send your employees a care package.
Who doesn't love receiving a gift in the mail? It's a surefire way to make your employees feel happy and valued and hopefully take some stress off their shoulders by letting them know that their hard work isn't going unnoticed.
Parting advice
Investing in your people is key to a healthy, stress-free work environment. As a leader, your responsibility is to create the ideal environment where people can thrive and feel safe, supported, and heard, regardless of what time zone they sit in.
To empower your team, make your employees feel like they're a part of the action and contributing to the bigger picture. Stress is inevitable, but by taking these key steps, you'll be able to create a happier and healthier culture where remote workers thrive.