Finding team members for your organization can be a long process. The longest, most important part is the job interview, where you ask a candidate questions to really see if they're a good fit. But what questions should you be asking? Developing interview questions can be tricky, but the guide below can help you get started.
Developing interview questions to find the best candidates
Before you sit down with any potential team members, you need a list of interview questions to ask. A good rule of thumb is to fill your interview with questions that are relevant to the job and require answers beyond "yes" or "no." Below are a few guidelines to help you conduct job interviews with great questions.
1Start with the basics
If you're nervous about running the interview, then the person you're interviewing is probably sweating bullets. Breaking the ice can do a lot of good for both of you, and that's why you should start with the basics. To put candidates at ease and give them the best chance of nailing the interview, ask questions like:
"Tell me a little about yourself."
"What do you see as your strengths?"
"What do you see as your weaknesses?"
"Where would you like to be in five years?"

Take control of your meetings
Collaborate on meeting notes, foster accountability with action items, and grow with meaningful feedback. Try Fellow today!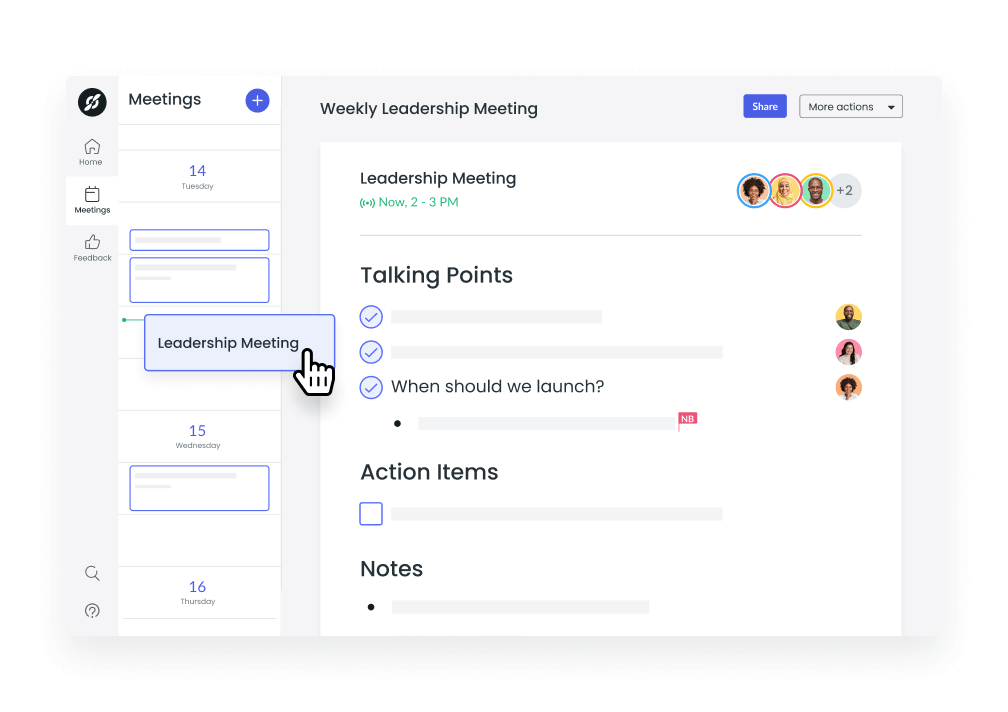 2Learn their interests
Once you've learned some basic information, you can use that as a jumping-off point for more detailed questions about their interests in your field. Some questions you can ask include:
"Why do you want to work for this organization?"
"What makes you passionate about working in this field?"
3Find their qualifications
Now that you've broken the ice a little, it's time to get down to brass tacks. While a candidate can seem like a good fit at first, that doesn't mean they truly have the qualifications. Figuring that out should be a top priority. The questions you can use to go about this include:
"What's your current job like?"
"How have you grown in this role?"
"How do you think it's helped prepare you for this one?"
4Get a feel for their character
Now that you know whether the candidate is qualified, it's time to see if their personality fits the position too. After all, the right education and experience won't mean much if the new hire can't work well with the rest of the team. A few strategic interview questions can help you figure this out:
"Tell me about a time you had to overcome conflict at your old job."
"How do you communicate with other people at work?"
"Describe the last time you failed and how you resolved the situation."
5Figure out their long-term goals
You sort of covered this at the start – now, you can get more in-depth and see whether a candidate is a good long-term team member. Some questions you can ask to get to the bottom of someone's career goals include:
"Are you planning to get more education? If so, in what?"
"How does this role align with your professional goals, if at all?"
"What skills are you looking to build over time?"
6Close out the interview
Your closing questions don't have to be quite as in-depth as the previous ones. They just need to end the interview on a positive note. They can include:
"Can you think of anything else we should know about you?"
"Do you have any questions to ask me?"
7Review your questions
With your fleet of questions ready, all that comes now is a quick review to make sure they're appropriate for the job candidate. They should also be relevant to your organization. Try to adjust them a bit each time to fit the exact situation.
5 Best practices for developing interview questions
Now, you have a basic blueprint for your questions, but there's still some work you should do to get them just right. The below common tips for hiring managers can help you check all the boxes.
1Understand the position
It's easier to ask questions about a job you know well, so make sure you're 100% sure about the job opening's responsibilities and requirements. This way, you can be certain whether a job candidate is a good fit for the role.
2Think about the team member you want
You should also understand the type of person you want for the open position. Some questions you can ask yourself about the team member you're looking for include:
Should this person be a team player or more independent?
Should this person be a quick learner or someone with the patience to take part in training?
Should they stay organized in a particular way? Just how organized should they be?
Should they excel in a fast-paced or relaxed work environment?
Should they be more outgoing or reserved?
3Know what your organization needs
There's knowing what you want from a new team member, and then there's knowing what your organization needs. The two don't usually clash, but it wouldn't hurt to refresh yourself on the below questions before your interviews.
What is my organization's mission?
What are my organization's values?
Why does my team need a new member?
What will this new hire bring to the organization?
In what areas does your organization need the most support?
4Create questions that require some thought
Questions that have "yes" or "no" answers don't teach you all that much about a person. Open-ended questions that require long and thoughtful answers can help you meaningfully assess the candidate and make better hiring decisions.
5Take the same approach for all your interviews
You're not just interviewing one person – you're interviewing many. That's why it's best to use a similar approach for every interview. This way, you can directly compare each candidate's responses and find the person who shines the brightest. It's also a great way to eliminate bias.
Why it's important to develop the best interview questions
Developing interview questions that prove meaningful time and again is important for the following reasons.
1Creates more conversation flow
Developing interview questions gives you more control over each interview's pace and tone. Instead of seeming like an interrogation or reading from a script, the interview can seem more like a conversation between you and the candidate.
2Gets rid of the need for long phone interviews
A phone interview typically isn't as in-depth as a one-on-one meeting in-person with a candidate – it's mostly used for initial candidate screens. They're also extra steps you don't really need to take. Developing interview questions that are pretty basic and using them to break the ice during the main interview is a great substitute. 
3Allows you to sprinkle brand identity throughout the interview
A well-constructed list of questions can give you plenty of wiggle room to represent your organization during the interview. For example, maybe you'll find space to ask what the candidate thinks of your organization's mission and vision statements or company culture. Their responses can signal whether they're right for your organization and show them how the organization will treat them if they get the job.
4Helps your interviews remain consistent
Organizing your questions and keeping them more or less the same across interviews keeps the process from changing too much between candidates. This can make for easier direct comparisons between potential team members to find the right one.
5Makes the interview better for everyone
With such a streamlined interview process, you and your interviewees can get through everything as quickly and clearly as possible. The smoother the process, the sooner the interview ends, and the more efficiently you can learn all about your job candidates.
Better questions to find the best team members
Coming up with interview questions isn't always the easiest thing in the world, but it's well worth the time and effort. Once you've developed your questions, you'll then have to use them the right way. With Fellow, you can ensure you use your new questions to their fullest potential. Fellow can help you plan out interview meetings, run them smoothly, and follow up on them. You'll find the best candidate for the job more easily than ever before.