Back to Template Gallery
Sales Team Meeting Agenda Template
Want to close more deals? Use this template to run sales meetings that drive great results.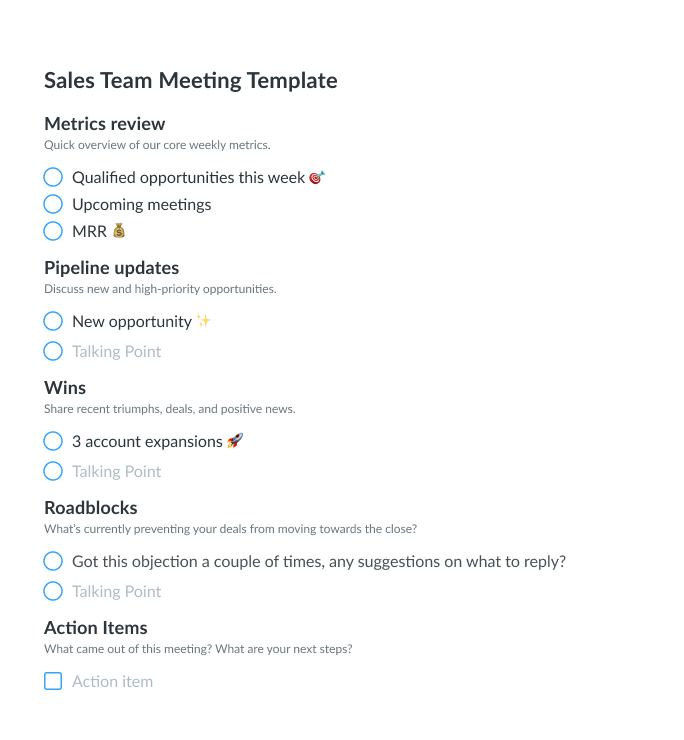 Preview template
Looking for tips and ideas to create the perfect sales meeting agenda? We've got you covered! This template will help run sales team meetings that drive great results.
What's inside this sales meeting template:
1 Metrics review
Salespeople tend to be results-oriented, so this is a good place to start your meeting. It gives everyone a clear idea of how the team is doing, and how sales objectives are being met or not.
By starting with an overview of metrics and KPIs, your weekly sales meeting immediately provides value to your staff. It shows the team where they are and where they need to set their objectives.
2 Pipeline updates
Has someone made contact with a big potential client? Is marketing bringing in any new qualified leads? Are there any existing clients with high potential to re-convert or purchase something new? Where are these customers in the sales cycle?
This part of the sales meeting agenda template should be used to discuss these types of questions.
3 Wins
Salesmanship requires high energy and morale, so it's crucial to keep your salespeople motivated by celebrating successes—beyond just commission and compensation.
This is your opportunity to show your team the value of their work, and how it contributes to the company's overall success. Helping your sales team take ownership of what's been going well will keep morale and motivation high.
If you're looking for sales meeting ideas and tips to make your weekly meetings a bit more fun – adding a highlights/wins section to your sales meeting agenda is a great way to start!
4 Roadblocks
As much as celebrating successes is great, it's not always easy to close deals. Depending on the product or service your company sells the sales cycle length or a large number of other factors—your sales team may struggle sometimes. This part of your sales meeting agenda is the key to understanding the problems and supporting your team to overcome them.
Scott Edinger says this support is crucial to keeping your sales team motivated:
"Work with the sales team to understand where they need leadership help. This may include discussing creative approaches to gain access to key decision-makers, planning sales call strategies around critical issues and investing in SMEs to support the sales process and demonstrate capabilities."
For this to be effective, your team needs to feel comfortable sharing their pain points. In a piece in the Harvard Business Review, Paul Axtell says:
"The quest for better meetings ultimately lies in leading with mutual respectful, inclusivity, and establishing a space that is safe enough for people to speak their minds."
If your team feels like you care about their success, and that they can speak freely about their challenges, your weekly team meetings will become a good opportunity for shared learning.
5 Action Items
A meeting is only as valuable as its outcomes, so it's important to set goals based on the insights from previous items on the agenda. Without action items, you'll just be having the same conversation week-over-week.
What were the key takeaways from your meeting? Who will be responsible for what? What are some measurable goals to work towards for next week? Make sure to be specific and clear so everyone knows the next steps.
This ensures that next week's meeting is productive. You can track the action items for all your meetings in Fellow.