It's 2023 and the traditional workplace hasn't returned to its pre-pandemic state. While in-person meetings are important in some circumstances, companies continue to reap the benefits of virtual meetings. Remote and hybrid work is here to stay for companies across industries!
With remote work comes the need for tools that allow teams to collaborate across time zones. If you're looking for a new project management or video conferencing platform, look no further than enterprise meeting software.
Read on to learn all about enterprise meeting software and why your company should invest in it today, find out what you should look for in an enterprise meeting tool, and learn about seven must-try tools that your team can use to conduct better business.
What is enterprise meeting software?
Enterprise meeting software refers to any tool that companies can use to conduct remote meetings. These tools are usually crafted with enterprise-oriented features like cloud-based meeting functionality, screen-sharing tools, and meeting recording options.
When searching for a tool, consider the size of your enterprise, your budget, security and privacy, and the amount of customer support your team will require.
Why you should invest in enterprise meeting software
Here are a few key reasons your company should consider investing in new meeting software:
Fosters collaboration: If you want to encourage high performance within your company, invest in a solution that promotes collaborative behaviors and habits. Collaboration improves the way teams work together, leading to efficient processes, innovation, and better business results.
Improves cost efficiency: Productive remote meetings save companies money because teams can connect in real time without paying for costly in-person meeting spaces.
Reduces scheduling issues: With a great meeting tool, teams can easily schedule sessions across time zones that accommodate everyone.
Improves decision making: With the right tool, managers and employees alike can spend more time engaging in meaningful decision-making conversations and delegating deliverables, and less time stressing about meeting logistics or searching for important documents.

Run efficient meetings, come to a decision, and get back to work
Level up your meeting habits to boost engagement and productivity with a collaborative meeting agenda. Try a tool like Fellow!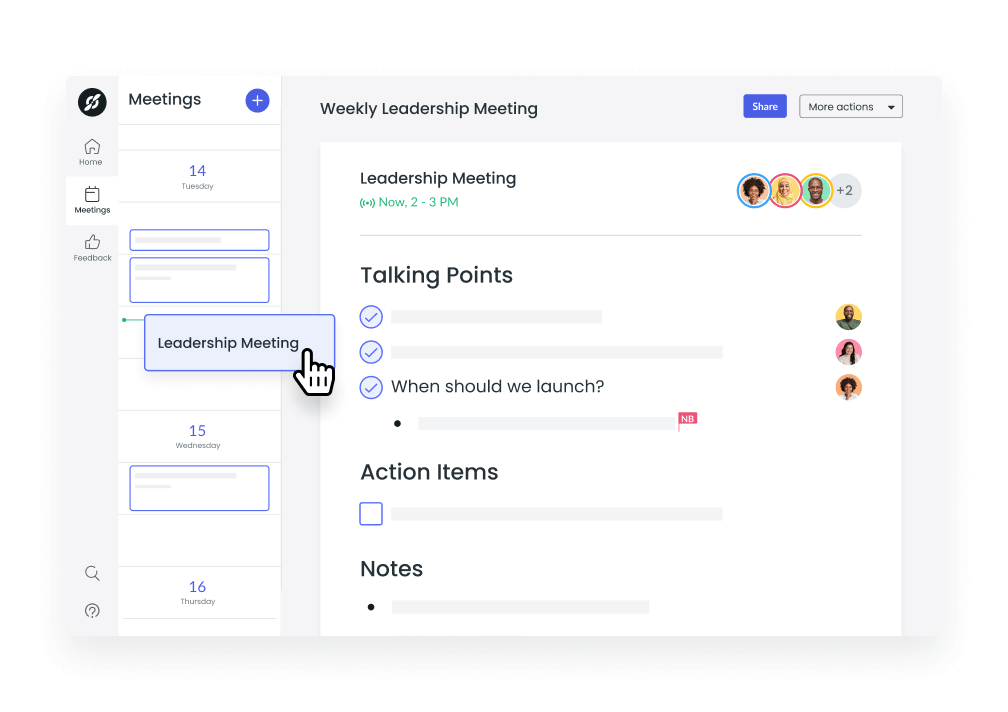 What to look for in an enterprise meeting software
1Cost
Consider your company's budget when searching for new enterprise meeting software. The cost of the software should address all your meeting needs and solve any meeting challenges your team is facing. Employees at a company shouldn't have to switch between dozens of applications. The right tool will provide all the features you need at a reasonable price point!
2Collaborative features
Look for features that will allow teams across your company to collaborate often. Did you know that Fellow wants your company to prioritize collaboration so you can transform meetings into productive work sessions? Use our tool to encourage your employees to add talking points to their meeting agendas, collaborate on meeting notes, record action items, and easily send meeting notes to the team by email or Slack once the discussion ends.
3Ease of use
Your new enterprise meeting tool needs to be intuitive for first-time users. Look for a tool that offers a comprehensive onboarding process and customer support that will meet your company's needs.
Fellow offers some of the best onboarding in the business. Don't believe us? See how one organization used Fellow's speedy onboarding process to improve its productivity and implement company-wide improvements.
4Integrations
Search for a tool that integrates seamlessly with the applications your employees already use and love. Integrations will enable your apps and work systems to work together, resulting in new efficiencies that reduce costs and increase productivity.
5Transcription tools
Meeting transcriptions provide participants with a visual format of spoken content from different types of sessions. These transcriptions allow employees to listen and read at the same time or review the transcript as a refresher once the meeting ends. Your tool should also make it easy to keep more concise records of discussions.
Use our meeting minutes app to take meeting notes collaboratively during decision-making sessions, share minutes with stakeholders, keep an accurate record of decisions, and link your minutes to calendar events for easy access.
6Security
Ensure the enterprise meeting software is secure before you obtain it. Malware attacks can compromise the integrity and authentication of a tool, so you should look for an app with robust security and compliance measures in place.
At Fellow, we take security and compliance seriously. Customers can rest easy knowing that we employ industry best practices that keep our products and systems safe. For more information, check out a summary of our security measures.
7 must-try enterprise meeting software
1Fellow
Key features:
Fellow is the meeting and productivity tool your team needs to host meaningful one-on-ones, build meeting agendas, record decisions, and keep each other accountable. With our tool, managers and company leaders can support teams using meeting templates, feedback tools, and collaborative one-on-ones and team meetings. The best part is that Fellow integrates with over 100 other digital tools and software, making it easy to use alongside the apps you already use.
Pricing:
Free – $0/month (for teams of up to 10 people)
Pro-$7 per user per month (maximum of 25 users; includes AI suggested topics and meeting automations)
Business-$10 per user per month (maximum 100 users; includes implementation services)
Enterprise-$15 per user per month (includes organization analytics)
Learn more about Fellow's pricing plans.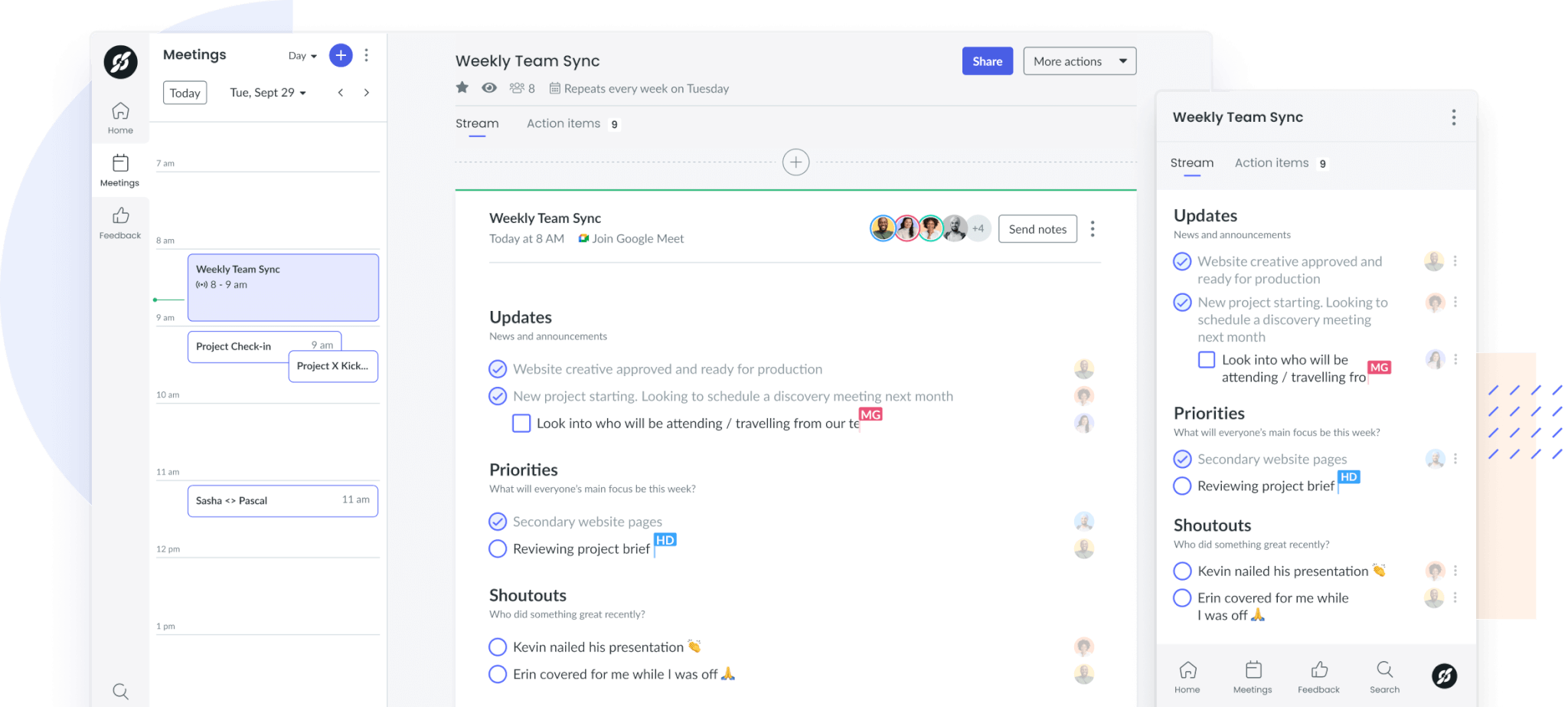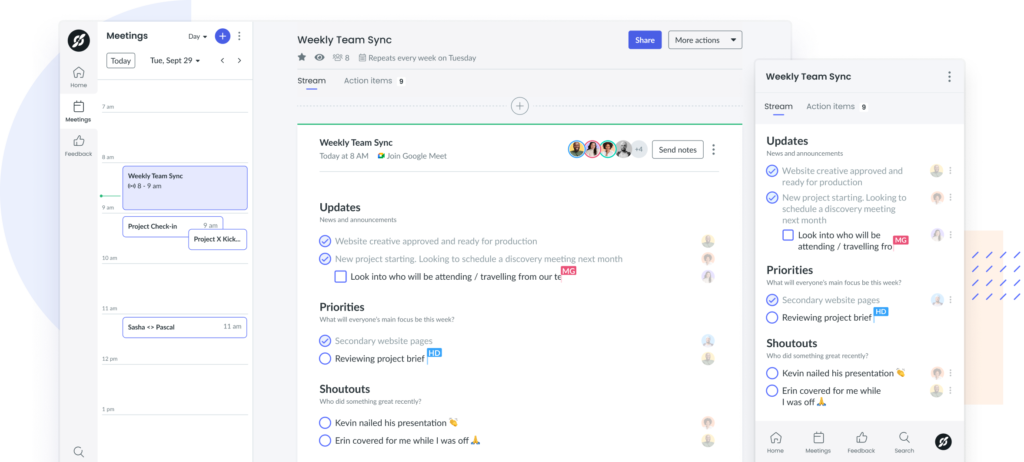 2Zoom
Key features:
Zoom is a video conferencing and communications platform that allows users to connect with others by video, audio, phone, and chat. It's ideal for small, medium, and large teams that want to keep in touch and continue their daily workflows with minimal disruption.
Connect your Zoom account with Fellow to access your meeting notes inside of Zoom and turn chaotic sessions into productive ones.
Pricing:
Free—$0/month
Pro—$149 USD/year (per user)
Business—$199 USD/year (per user)
Business Plus—$250 USD/year (per user)
Enterprise—contact for custom pricing
3Google Meet
Key features:
Google Meet is Google's video conferencing tool. Teams can use it to conduct business online from anywhere, on any device. Some key features include the ability to screen share, host large meetings of up to 500 internal or external participants, join from your phone, and even broadcast internal live streams like town halls and sales meetings for up to 100,000 viewers.
Google Meet also integrates with Fellow so you can collaborate on meeting agendas without leaving your video call.
Pricing:
Business Starter—$6 USD/month (per user)
Business Standard—$12 USD/month (per user)
Business Plus—$18 USD/month (per user)
Enterprise—contact the sales team for pricing
4WebEx
Key features:
WebEx by Cisco is a cloud-based video and audio conference call tool. Users can join video conferences from the desktop or mobile app and share files while participating in team meetings. With WebEx Meetings, enterprises can boost meeting engagement and even use AI to optimize workflows and improve productivity.
Pricing:
Basic—$0/month
Meet—$13.50 USD/month (per user)
Call—$17 USD/month (per user)
Meet + Call—$25 USD/month (per user)
5Microsoft Teams
Key features:
Microsoft Teams is a chat-based collaboration platform that features document sharing, online meetings, and an array of other meeting capabilities. Enterprises can benefit from the Teams and Channels function that lets managers separate departments and teams into channels and conversation boards, and from online calling and screen sharing features like audio conferencing and full telephony—a feature that can replace your business' existing phone system!
Use our Fellow x Microsoft Teams integration to manage your meeting agendas without leaving your chat app.
Pricing:
Free – $0/month
Microsoft Teams Essentials—$4 USD/month (per user with annual subscription)
Microsoft 365 Business Basics—$6 USD/month (per user with annual subscription)
Microsoft 365 Business Standard—$12.50 USD/month (per user with annual subscription)
6Cisco Jabber
Key features:
With Cisco Jabber, teams can send instant messages, place phone and video calls, share their screens, and more. The tool integrates with the existing contacts from your phone and computer so you can meet, message, and send voicemails to your internal and external contacts as needed.
Pricing:
Contact Cisco for pricing
7BlueJeans
Key features:
BlueJeans offers many features like screen sharing, polling, Q&A, recording, and text chat to make collaborating with your colleagues easy. The tool has integrations with AI and voice recognition partners so you can streamline tasks like intelligent transcription. Additionally, the platform allows businesses to host events of up to 50,000 attendees, generate helpful analytics reports, and stream live videos.
Pricing:
BlueJeans Free—$0/month (for one license)
BlueJeans Standard—$9.99 USD/month
BlueJeans Pro—$13.99 USD/month
BlueJeans Enterprise—$16.66 USD/month
Parting advice
Enterprise meeting software may be what your company needs to scale operations and identify where you need to direct your business resources. Our suggestion: Try Fellow alongside your favorite video-conferencing tool to promote a culture of feedback, host consistent and structured meetings, foster company-wide conversations, and make effective decisions. With our enterprise-grade security and expert-led onboarding sessions, your company will be on its way to hosting effective meetings that drive results in no time.