The new year poses the perfect opportunity to take your productivity from a 10 to a 20. A popular project management platform that is said to heighten productivity is Charma, an online tool that simplifies team management by enabling continuous feedback, one-on-one and group meetings, and workflow management. Despite Charma's recent rise in popularity, many tried and true project management platforms prove to reign supreme. In this article, we'll detail Charma and all its key offerings while also highlighting 8 Charma alternatives.
What is Charma?
Charma is a project management platform that simplifies team management by enabling continuous feedback, one-on-one and group meetings, and workflow management. Charma provides customizable and modular meeting agenda templates to help you connect with your team on a deeper level. With Charma, you can begin to embrace constructive feedback by selecting adjectives that best describe your teammates and letting the platform's AI do the rest. Simply select your favorite adjectives, make edits, and deliver your feedback directly through Charma.

Managing a team?
Take control of your team meetings by having collaborative meeting notes and encouraging accountability with action items. Try a tool like Fellow!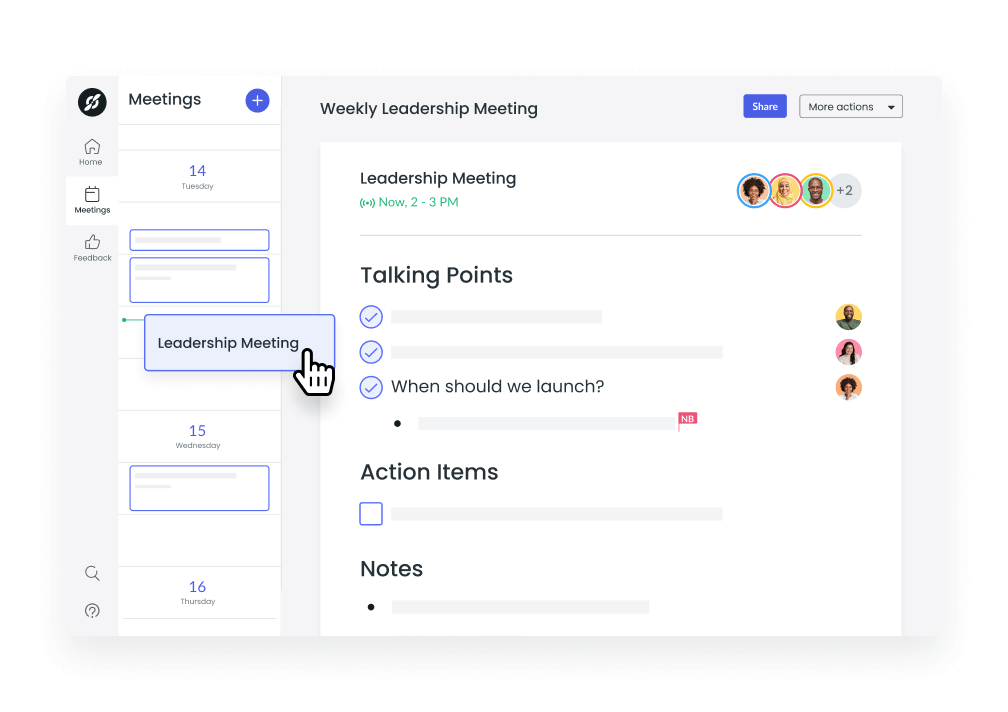 Charma key features
1Meetings
Charma strives to make every meeting a productive one by empowering managers, teams, and organizations as a whole to organize and lead meetings of all types in one place. With Charma, you can facilitate a two-way conversation between managers and their direct reports, streamline team meetings by creating collaborative meeting agendas that ensure meeting attendees are prepared and ready to participate, and upgrade your virtual meeting experience with purpose-built features that limit distractions and improve experiences.
2Goal setting
Charma provides goal-management software that helps keep teams on track by making best practices automatic. With Charma, goal setting is lightweight, flexible, measurable, and results-driven so you and your teammates can collaborate seamlessly and without any blockers. Charma empowers you to dive into your shared goals, offer constructive criticism, and collaborate on next steps in one easy-to-use platform.
3Feedback
Giving feedback can be tough, but Charma makes it easy. When you can't find the right words to say, Charma provides you with AI-powered suggestions to help make the process easier so you can be sure to provide the right feedback at the right time. You can leverage Charma to see who you're providing feedback to, choose adjectives that match the recipient, leverage AI for support and additional author insights, select your favorite snippet, add a personal touch, and share!
Why look for alternatives to Charma?
While Charma proves to be useful for task management and providing feedback, the platform's meeting management features fall short. According to G2, the lowest-rated features on Charma are scheduling within meeting management, templates within meeting management, and lastly, notes within meeting management. This data indicates that users are not impressed with the meeting management features found in Charma, meaning other platforms like Fellow rank higher in this department.
The best Charma alternatives
1Fellow
Thousands of leaders at companies like Shopify, SurveyMonkey, Webflow, and Gong.io have been using Fellow to optimize and improve internal communications. Fellow enables companies of all kinds to optimize one-on-one meetings by making it possible for leaders, managers, direct reports, and peers to collaborate on meeting agendas, assign action items, get suggested conversation topics, and exchange feedback.
Fellow empowers managers and their teams to:
Keep track of work interactions and feedback over time
Collaborate on a meeting agenda before every one-on-one
Assign clear action items and takeaways at the end of each meeting
Centralize action items from different meetings in one personal to-do list
Fellow is the one-on-one meeting app that your entire team will love, and you can try it for free. Fellow's integration feature even allows you to integrate the tool with others you may already be using! 
Pricing:
Free-$0 per user per month (for teams of up to 10 people)
Pro-$7 per user per month (maximum of 25 users; includes AI suggested topics and meeting automations)
Business-$10 per user per month (maximum 100 users; includes implementation services)
Enterprise-$15 per user per month (includes organization analytics)
Learn more about Fellow's pricing plans.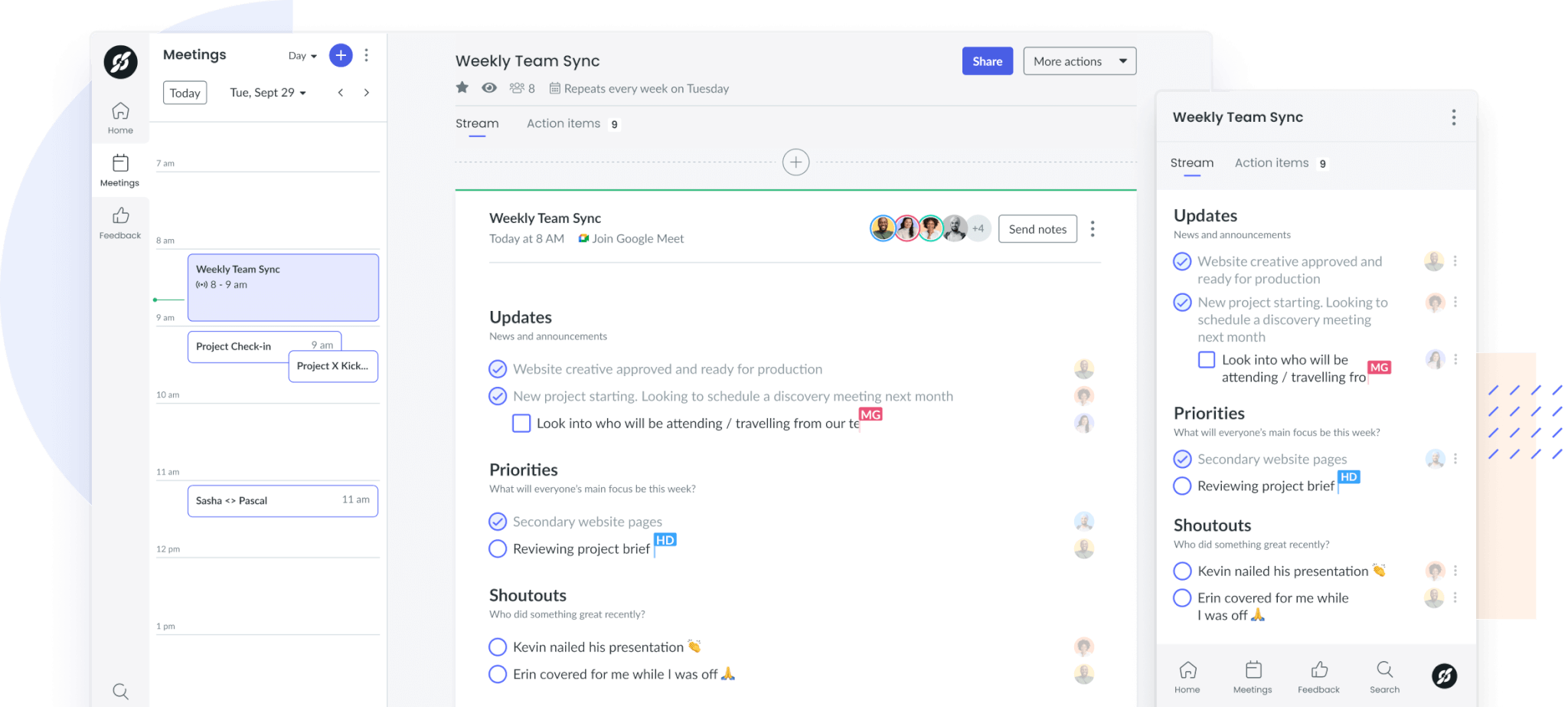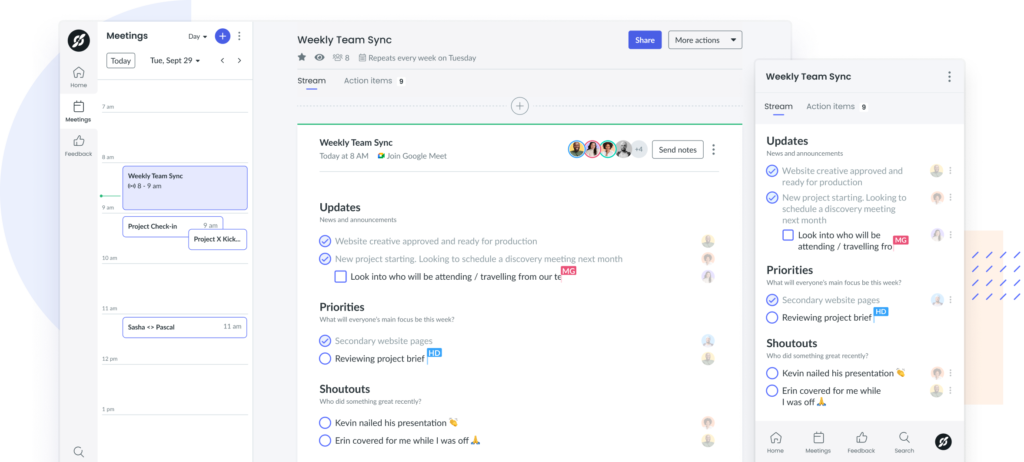 2Asana
Features:
Asana is a project management software platform that helps teams stay on track, keep projects organized, and hit deadlines. With Asana's web and mobile apps, you can see project progress,
track individual tasks, plan sprints, integrate with other tools, and achieve successful launches. Asana's visual platform makes it possible for you to see project progress on boards as your team moves through the different phases of each project.
Pricing:
You can access Asana's features for free with the basic plan, opt for the premium plan that unlocks additional features for $10.99 a month, or provide your entire organization with everything it needs to manage and work cross-functionally through Asana's business plan, which is $24.99 monthly per user. Learn more about which plan is right for you.
Additional features and capabilities include:
Task management
Agile management
Team collaboration
Creation of to-do lists
Workflow management
Excel project management
Creation of Kanban boards
Project planning and management
Creation of team and project calendars
3Monday
Features:
monday.com is a cloud-based software that makes it possible for users to create unique applications and project management software. By helping you customize any workflow to fit your needs, monday.com makes it possible for you to boost your team's alignment, efficiency, and productivity.
Pricing:
Offering a free trial for 14 days, monday.com makes it possible for you to supercharge your teamwork. From there, you can choose from one of five plans ranging from the free individual plan for personal use to the enterprise plan, which is built for organizations. Click here to learn which plan is right for you.
4Workday HCM
Features:
Workday is an all-encompassing communications tool that allows users to better plan, execute, and analyze findings across the entire organization. Built for finance, HR, and payroll professionals, Workday provides users with the ability to make smarter decisions.
Pricing:
Workday offers a variety of products and resources, and each price point varies accordingly.
5ClickUp
Features:
ClickUp is an all-in-one productivity tool built for teams of all types, in any industry. With ClickUp's platform, you can plan, track, and collaborate on any project, build the perfect workflow for you and your team, create marketing campaigns, and manage development sprints.
Pricing:
ClickUp caters to teams of all sizes, offering a plan for personal use that is completely free, as well as a plan for small teams that is $9 a month, a business plan for $19 a month, a business plus plan for $29 a month, and an enterprise plan that is priced according to your organization. Learn more about which plan is right for you.
Additional features and functions include:
Ideation
Automation
Time tracking
Goal tracking
Task management
Collaborative docs
Communication tools
Resource management
AI and project management
6Slack
Features:
Slack is a workplace communication tool that allows teammates to communicate seamlessly. Slack comes chock-full of features like integrated file sharing, instant messaging, video and phone calls, and screen sharing. Slack provides teams with a hub they can leverage to communicate, brainstorm, and share resources. You can even use Slack's automation tool known as "Slackbot" to remind teammates of daily meetings, prompt updates, or check in with your peers.
Pricing:
Plans and pricing vary depending on your needs, but you can check out the Slack Help Center or contact their sales team for pricing specifics.
7Teemyco
Features:
Branded as your virtual office, Teemyco strives to help users improve engagement, collaboration, and overall team happiness. Simply create your virtual office, invite your team to join in on the fun, adjust your virtual office with customized branding and a unique floor plan, and enjoy frictionless communication.
Pricing:
With Teemyco, remote work doesn't have to be lonely. You can connect your entire team in an intuitive space that fosters connection and collaboration. Interested in giving Teemyco a try? Try it for free with a 14-day free trial and cancel anytime!
8Coda
Features:
Coda is a productivity platform that brings words, data, and teams together through one easy-to-use tool. Similar to Google Docs, Coda takes collaboration to new heights with a familiar doc-like tool that functions like an engaging app. With Coda, your team can jump into a simple doc to collaborate efficiently and make decisions that stick. Coda's building blocks make it possible for you to continue to evolve your doc as your team grows, so you never have to worry about a clunky interface or pricey charges as you scale.
Pricing:
For more information on Coda's pricing, click here.
Charma alternative: unlocked
Finding the right performance management and meeting management software can be daunting, especially when the internet provides a never-endless list of seemingly suitable options. Luckily, this article details 8 Charma alternatives that you can reference when determining which platform is best for you. Whether you're a Charma stan through and through or eager to try out a new platform, you officially have everything you need to make an informed decision!