Discussing layoffs will be one of the most challenging tasks you undertake as a leader. These conversations are highly sensitive and can have lasting impacts on a company's culture.
The good news is that there are ways to communicate layoffs while remaining compassionate and minimizing the negative impacts on the rest of the team. Keep reading to learn about the importance of effectively communicating layoffs to your team and learn about the different ways you can discuss layoffs in a supportive and transparent manner.
Importance of communicating layoffs to your team
Like other announcements on sensitive topics, planning communication related to a reduction in your workforce requires compassionate and consistent key messages. If company leaders don't communicate about layoffs with care, employees may feel like they've lost control. By considering how, when, and where you communicate layoffs to your team, you can protect your business, keep operations moving forward, and maintain good relationships with current and former employees.
12 ways to discuss layoffs with your team
1Be transparent
Transparency is critical when discussing layoffs. In the workplace, transparency means encouraging clear two-way communication between management and employees. It also means openly discussing matters of business. When having any conversation about layoffs, be transparent and communicate openly about what decisions led to the layoffs. If leaders don't fill in the blanks first, employees will make assumptions that can cause irreversible damage.
At any given point in time, employees should have knowledge of the state of the company, be aware of when releases could take place, and have a good understanding of what layoffs might look like for each team and the company as a whole.
2Communicate the state of the company
If you practice effective communication, layoffs should never come as a surprise. Long before any difficult one-on-one conversations, employees should be aware of how the business is performing. Once per month or quarter, block off time in everyone's calendar for a team-wide meeting. During the meeting, share updates on the state of the company and host a Q&A period for employees. This meeting should unite all employees—from entry-level hires to the company's executive leadership.
When the topic of layoffs arises, be clear about what measures were implemented or considered before the decision was made to reduce the workforce. Current and former employees should know that their managers took other measures like executive pay cuts, discontinued work travel, or deferred office renovations before considering layoffs.
3Have a clear agenda
Before any team meeting or one-on-one where you will discuss layoffs, create a collaborative meeting agenda. The agenda should include a list of topics, action items, and activities you want to discuss during the meeting. The agenda should set the tone for the meeting, empower everyone to contribute, and keep everything on track if emotions run high.
Use our meeting agendas to build great meeting habits that create trust with teammates. You don't have to start from scratch! Try one of our 500+ ready-to-use meeting agenda templates for templates on everything from performance reviews to team meetings. 

Foster open communication
Encourage open and empathetic conversations surrounding layoffs by implementing a collaborative meeting agenda that engages the entire team to participate. Try a tool like Fellow today!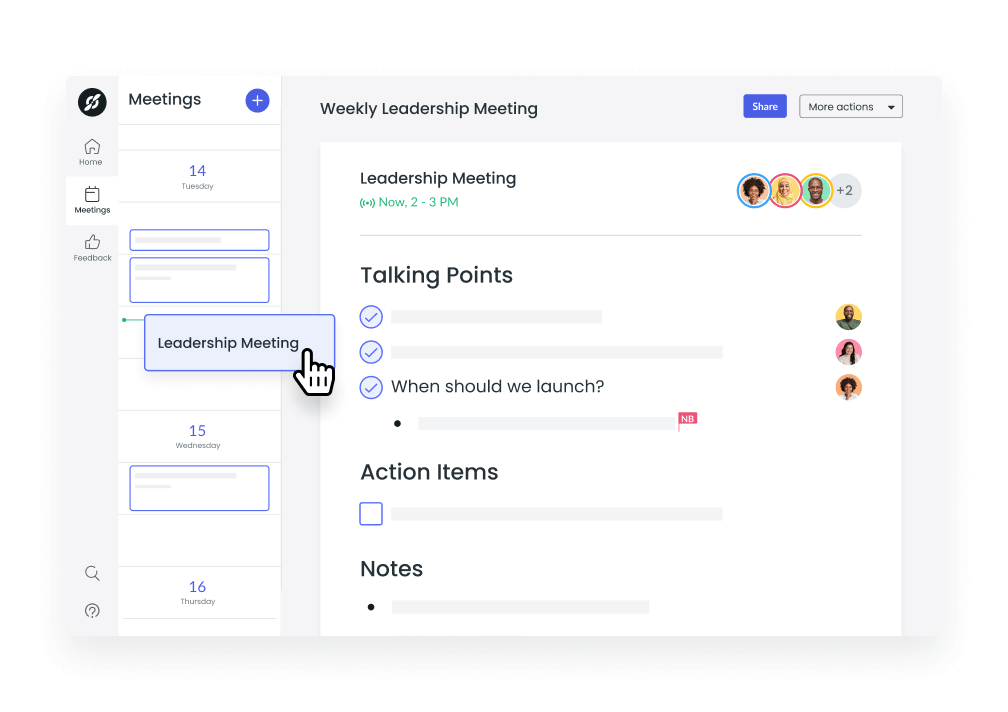 4Hold exit interviews
Exit interviews are a great way to give employees a sense of closure during layoffs. These interviews also help assess the overall employee experience and guide future business decisions. During exit interviews, give employees the space to tell you about their experiences with their team. Send exit interview questions to employees in advance so they have a chance to carefully think about their suggestions, ideas, or ways to improve the organization. Ask for feedback throughout the interview and consider asking individuals to complete an off-boarding survey as well. Keep feedback confidential and communicate to each employee that what they say will be used to improve working conditions at the company.
5Be an active listener
Active listening means listening and responding to others in a way that improves mutual understanding. Active listening has many positive outcomes including better communication and increased trust amongst colleagues. During layoff conversations, ensure that you're giving members of your team your complete and undivided attention. Show employees that you're engaged with open body language like head nods, appropriate facial expressions, and good posture. Layoff conversations may bring up many emotions, so give your employees space to open up and show interest in whatever it is they have to say. Avoid distractions, never interrupt your employees, and be comfortable with moments of silence.
6Acknowledge employees' feelings
Layoffs can make employees feel distressed. During layoff conversations, acknowledge how painful such actions are for everyone. Throughout the conversation, ask employees how they're doing to alleviate anxiety and demonstrate care. Be open about you're feeling as a leader, too. Don't shy from showing emotion when sharing difficult news.
7Include HR in decision making
HR professionals are often the experts on company processes and next steps. Before layoff conversations, host a meeting with your team's HR department to discuss how the layoffs should proceed. During said meeting, formulate an action plan to discuss how any layoffs will affect the remaining staff at the company. When having layoff-related conversations with your team, consider including an HR representative who can answer specific questions and be there to support the group alongside you.
8Help employees prevent burnout
Burnout is work-related stress that leads to a state of physical or emotional exhaustion, a loss of personal identity, and a sense of reduced accomplishment. Significant company changes, if not handled with care, can lead to employee burnout. Amid layoffs, combat employee burnout by offering support and incentives for remaining company employees, regularly checking in, and incorporating stress relievers into daily work routines. Remember that all employees may feel impacted by the layoffs whether they were let go or not, so make mental health a company priority before, during, and after the layoffs take place.
9Foster open communication
Open communication means expressing issues and thoughts with others in a timely, transparent, and reliable manner. When discussing something as delicate as employee layoffs, open communication is vital. Leaders should uphold the highest levels of respect during initial layoff conversations, when delivering the news, and afterward.
10Offer support
As everyone settles back into their roles once layoffs take place, employees may continue to feel anxious or uncertain about their future. With fewer employees on a team, there also may be a need to reassign work and roles so that operational requirements can be met. Work with employees to identify solutions if resources are cut or team changes must be made following the layoffs. Don't forget to communicate care and concern for your employees. If possible, hold weekly team meetings or one-on-ones to check-in. Ask that employees let you know when they're feeling overwhelmed or require additional resources to complete their work. Lastly, watch for warning signs of burnout like reduced performance, anxiety, and poor time management.
11Discuss layoffs in person
Unless your company is fully remote, layoffs should always be discussed in person. Seeing employees face-to-face will allow them to pick up on nonverbal cues and body language. Additionally, in-person communication demonstrates the importance of the conversation and will allow you to see and respond to the reactions of others. When you speak in person, you can adjust the tone of your voice appropriately and clarify any matters of which employees seem unsure.
12Provide an opportunity for questions
Employees who are leaving the company—and the remaining ones—are bound to have questions on topics like severance pay, the future of their work, and the company's performance. After you deliver the news, it's best to open the floor to individuals to ask their questions. Employees who are let go of may have questions about severance packages, using company leaders as references for future jobs, and potential future opportunities at the organization. After layoffs take place, remaining employees may have questions about future layoffs and company plans. Host several meetings in a variety of formats so that everyone with questions feels like they have the time and space to ask them.
Parting advice
Communicating layoffs can be one of the most challenging processes for any manager or company leader. However, you can make it easier for all parties by having a detailed plan, offering support to colleagues, and approaching each conversation with the utmost sensitivity.
You can also use a tool that makes handling difficult conversations a bit easier. Try Fellow to build collaborative meeting agendas, record great notes, organize ideas, and exchange feedback.
Remember that you can take steps to minimize the lasting effects of layoffs within your company. Through excellent communication, you can improve the chance that the culture of your workplace remains positive in the years to come!