Every successful project starts with an idea, or so you thought.
In reality, if you want your project to succeed, you need much more than an idea. You need a thorough plan of action, an outline from start to finish, and a guide your team can access at any point when they have questions.
And this is none other than a project plan.
What is a project plan?
A project plan is an action plan that outlines how to accomplish project goals. Think of your project plan as your map that will guide your team from the starting line to the finish line and every stop along the way. It will include steps and details for how to get things off the ground and what success will look like at the end of the project.
This document will outline high-level details like how to manage scope and meet stated objectives, and what resources will be necessary to finish the project on time and within budget.
The importance of project planning
So, why take time for and invest energy into project planning?
For starters, this plan provides your team with a visualization of the entire project and a clear strategy for moving things along successfully. These plans make it possible to consider the factors that impact the project and adequately communicate the need-to-know information—like the timeline, deadlines, milestones, and assignments—to the project stakeholders.
This document will also ensure everyone on the team is on the same page, is aware and has clear expectations, and knows which project team member is responsible for what component of the project.

Run efficient meetings, come to a decision, and get back to work
Level up your meeting habits to boost engagement and productivity with a collaborative meeting agenda. Try a tool like Fellow!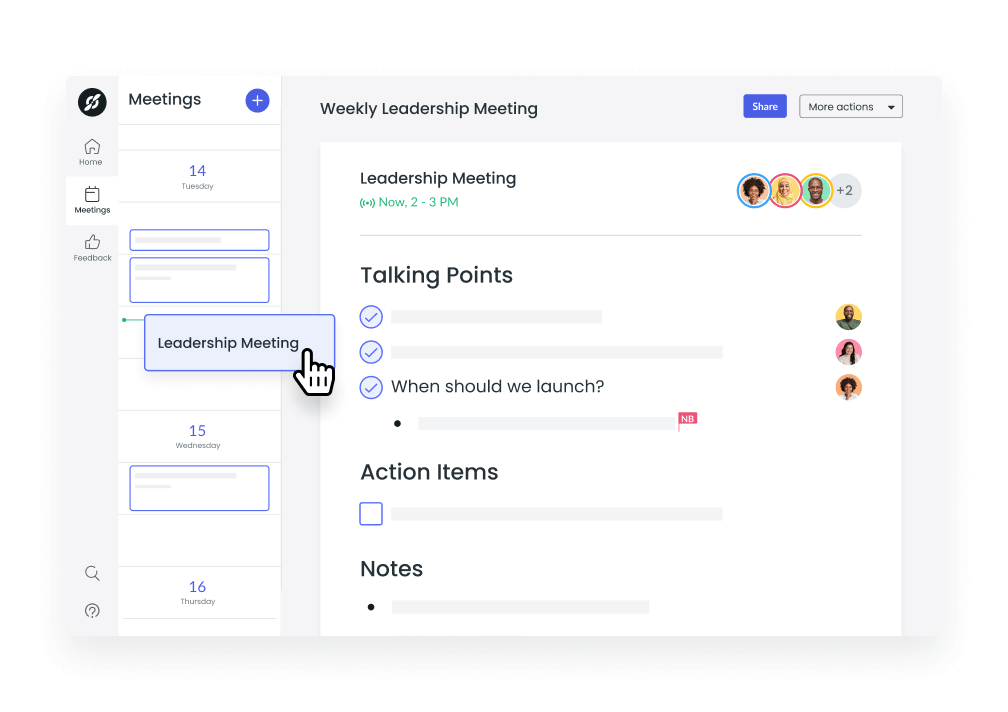 How to write a project plan
Ready to create a project plan? First, find your favorite project management tool to assist in writing a project plan with a Gantt chart. From there, follow these six simple steps to write a project plan from start to finish.
1Determine objectives
First up, determine the objectives of the project. This step will help your team define the project's what and why. Is the goal of this project to save money, improve customer satisfaction, boost revenue, or improve efficiencies? The objectives should break this down and ensure proper buy-in from key stakeholders.
As your team members get started on their tasks and responsibilities, be sure to use Fellow to track these objectives during team meetings. Here, it's simple to stay aware of your team's goals by recording, defining, and monitoring the progress of your objectives and key results (OKRs).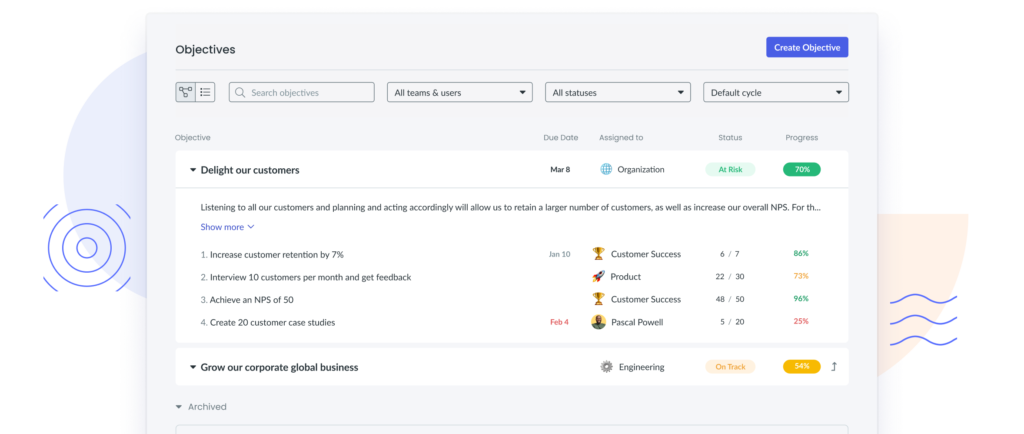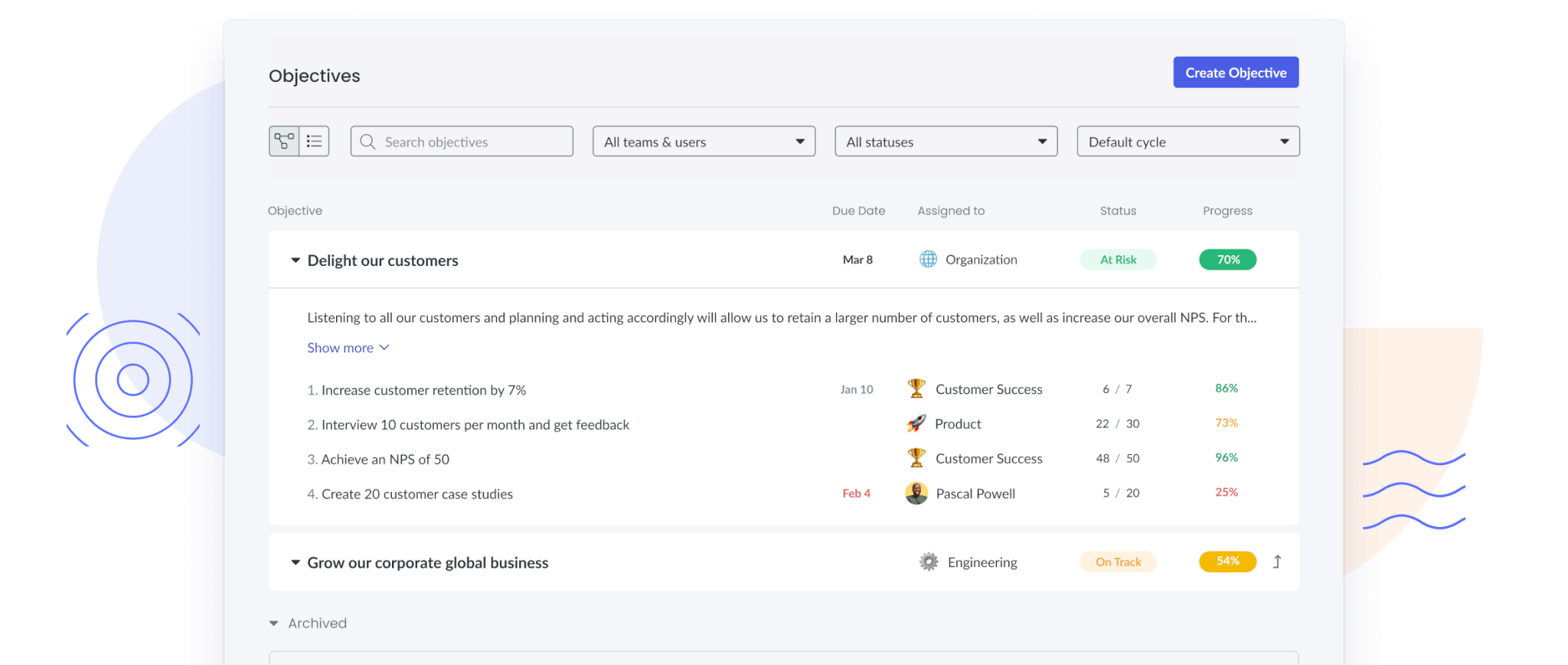 2Identify deliverables
Next, the team should nail down the project deliverables. Some examples of deliverables include a budget report, a time tracking sheet, a progress report, and a final design.
Some questions you may ask during this conversation include:
What are the major deliverables?
Who will play a role in each deliverable?
How will we get to those deliverables and the deadline?
Really take a look at each deliverable and outline the tasks that need to be completed to accomplish each one. Determine the amount of time it'll take and the resources that may be needed.
3Define constraints
From there, your team should define project constraints, which include any limitations you should account for during the project life cycle. For example, you'll likely need to outline a cost constraint when writing a project plan corresponding to your limited budget.
You may also have a time constraint, meaning the customer or client needs the project completed within a specific timeframe or by a due date.
Other constraints could be resources, scope, risk, and quality.
4Set project boundaries
The next detail within your project plan needs to be project boundaries. These are what the client has determined needs to be included within project work and should define the extent of project work expectations.
These measurable elements should be agreed upon by everyone involved in the project's completion and anyone who relies on it being a success. Having a clear picture of what results the client or customer expects from the team can help narrow down these boundaries.
5Write the project scope statement
Up next is the project scope statement, which can now be written since you have the project outlined, your tasks aligned with goals, and buy-in from the team. To craft a scope statement, consider each deliverable and define the tasks needed to accomplish each of them. From there, outline how long each task will take, what resources the team will need, and who's responsible for each task's completion.
6Share and gather feedback
Once everything is finalized within the project plan, ensure the document is sharable. Since the project plan should act as a single source of truth for all details, you want to share it with others and collect their feedback.
Ultimately, suppose you want the plan to be as strong as possible and set your team up for success. In that case, it's essential that the right people have access to the project plan and you get their input on how they think it can be improved or if they believe a detail wasn't outlined thoroughly enough.
Tips for writing a project plan
That's not all! Here are three additional tips for writing an effective project plan.
Look for inspiration: Consider looking at past project plans for inspiration! These past plans can be excellent resources for which details should have been included but were missed, and anything else that may have fallen through the cracks. You don't have to reinvent the wheel—or in this case, a project plan from scratch—every time!
Involve the team: At the end of the day, your team members will be executing the plan, so make sure to involve them! Get their opinions, ask them questions, and see if there's any detail they need within the project plan that you may have missed.
Remember that done is better than perfect: We all like to strive for perfection, but when it comes to executing a project plan, done is better than perfect. Challenges and bottlenecks will likely appear out of nowhere, or questions will come up that no one thought to ask, and that's ok! Just get the plan done with as many details as possible. Spending too much time aiming for a perfect project plan can hold up the team for longer than necessary.
How to manage project risks
Living in a world without risks would be nice, but that isn't the case, especially when managing projects. Take a look at five ways to manage project risks.
1Identify possible risks
The first step is to identify what possible risks your team may run into along the way. To do this right, consider running a risk review meeting. This type of meeting will align your project team to identify, prepare for, and avoid risks that may lie ahead.
Because this is risky business, Fellow offers a template to ensure your team doesn't let any risk pass them by.
2Prioritize risks
Once the risks are all identified, you should prioritize them from most to least detrimental to the project, as well as most to least likely to occur. These details help your team better prepare to solve them if or when they occur.
Making this prioritization list may also lead your team to a risk you have yet to consider during the identification process.
3Create risk mitigation strategies
A risk mitigation strategy consists of how your team will come together to find solutions if one of the identified risks does take place. It's always better to take the time to create mitigation strategies for risks that end up not taking place than to be completely unprepared for a risk once when it does come up.
4Monitor and manage the project
Next, monitor and manage the project to the best of your ability. The more you're aware of what's going on, the more likely you'll be able to manage risks before they become a bottleneck to the project's progress.
Keeping tabs on how every task is moving along, if milestones and goals are being hit, and if the team is within budget can help you avoid risks before they happen.
Use this Weekly Project Status Meeting Template to reflect on what your team accomplished this week, how the week went overall, and what you are working towards for next week during your project status review.
5Develop a project risk management plan
Finally, develop a risk management plan for the project. This document will identify potential risks of the project, forecast their impact and their likelihood of taking place, and define responses.
Creating a project risk management plan is all about feeling as prepared as possible, and this plan will do just that!
It's good to have a plan
Whether you're writing your first project plan or you're an expert, the process can feel a bit overwhelming. Thankfully, Fellow is here to outline the exact steps and tips to keep in mind as you go, so you can create a cohesive plan from start to finish to ensure your project is a success.