Everyone's creative process is as unique as their fingerprints, but one thing that's almost guaranteed from time to time is the sense of feeling stuck. And when you feel stuck creatively, you need something to get your creative juices flowing again. To boost your creativity, try looking for tools that can help you brainstorm new ideas. With the best apps for creativity, you can come up with creative ideas right on your mobile device or tablet.
12 best apps for creativity
Below are 12 of the best apps for creativity so you can flex your creative muscles when you might be feeling a bit rusty.
1Fellow
Fellow is the meeting tool to help you and your team get organized, brainstorm, and follow through on your creative ideas. For days when your team's creativity could use a boost, run a brainstorming meeting to find your next big idea. You can collaborate in person or virtually to map out ideas, solve problems, and unleash your creative juices.
You and your team can use Fellow to work together on meeting agendas, take meeting notes, and record meeting action items. This way, you lose nothing in translation during your brainstorming meetings. Plus, Fellow offers ready-to-use meeting templates, including a brainstorming meeting agenda template. You can work with the existing template to customize one just for your team.
Key features:
Ready-to-use meeting templates
Collaborative meeting agendas and meeting notes
Real-time meeting action items for follow-through afterward
Pricing:
Free-$0 per user per month (for teams of up to 10 people)
Pro-$7 per user per month (maximum of 25 users; includes AI suggested topics and meeting automations)
Business-$10 per user per month (maximum 100 users; includes implementation services)
Enterprise-$15 per user per month (includes organization analytics)
Learn more about Fellow's pricing plans.

Unlock your team's creative potential
Level up your meeting habits to boost productivity and inspire creativity with a collaborative meeting agenda. Try a tool like Fellow!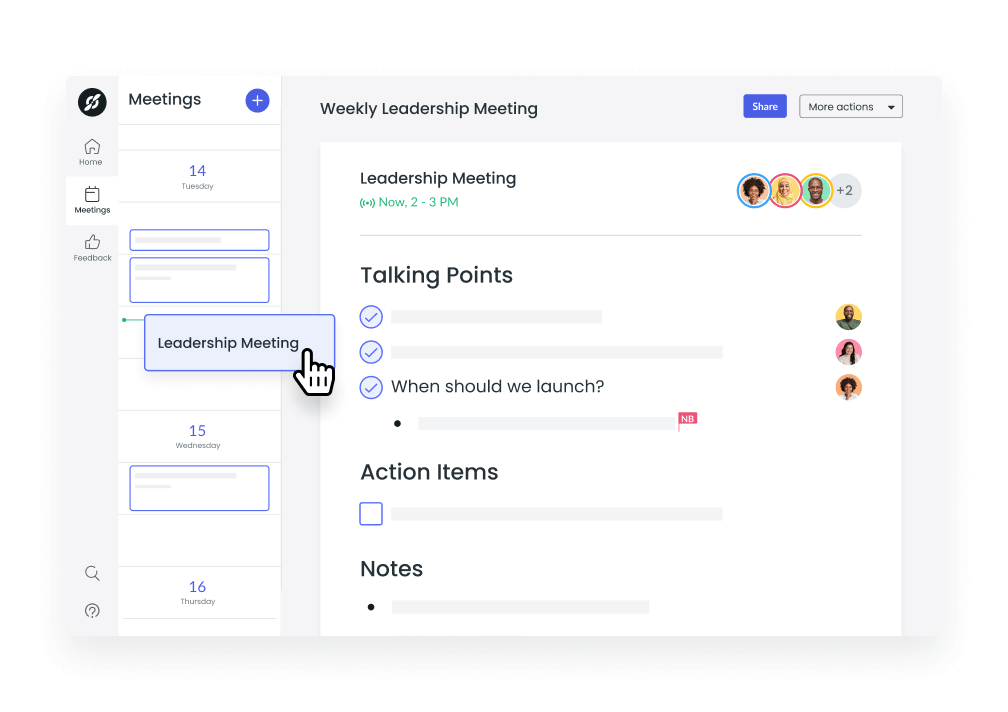 2Brainsparker
With the Brainsparker app, you can digitally shuffle cards with random prompts. The prompts can help you generate new ideas based on what's on the card. The app has over a thousand cards with different words and phrases. It follows the concept of "associative thinking," which is your brain's ability to form connections from past experiences to inspire new ideas.
Key features:
Digitally shuffle cards to get new prompts
Use associative thinking to come up with new ideas
Over a thousand card prompts
Price: The Brainsparker app is free to download for iOS users, with plans to make the app available to Android users.
3SimpleMind
SimpleMind is a mind-mapping tool you can use to visually organize information and display a hierarchy of thoughts. You can add images, icons, links, and notes to your mind maps. The app can help you link random ideas for better flow in your creative process. The free version of the app lacks ads or data collection, and you don't need an account to use it. You can pay to upgrade to full functionality.
Key features:
Free version with no ads, data collection, or account sign-in
Visually organize information and thoughts with mind maps
Add media such as images and links
Price: The SimpleMind app is free to download, with in-app purchases available.
4Motivation
The Motivation app's daily quotes from different categories can help you find the right inspiration. Motivation's topics include dealing with stress, relationships, and self-esteem. Plus, you can find motivational books through the app to ignite your creativity, and you can save or share quotes to spread that creative energy.
Key features:
Filter daily quotes by category
Access to motivational book recommendations
Save quotes that resonate for later
Price: Motivation is free to download and designed for iPad users. In-app purchases are available.
5Notability
Notability is an app for when creative ideas pop up and you need to quickly record your thoughts. When you use the app, you can combine handwritten notes with images and text in just one note. It's also an annotation app to mark up PDF documents with tools such as ink, highlighter, text, and audio.
Key features:
Annotate PDF documents
Work with ink, highlighter, text, and audio
Switch between handwritten notes and typing
Price: Notability offers free plans for iOS, with annual plans starting at $11.99 per year for the premium plan.
6TED Talks
With the TED Talk app, you can explore the organization's library of thousands of inspiring TED Talks for free. The app offers videos about creativity from thought leaders around the world. Plus, you can watch other content related to topics that inspire you. You can also get personalized recommendations and sync videos across your devices. When you want some random inspiration to push your thinking in the right direction, the "Surprise Me!" feature can come in handy too.
Key features:
Thousands of TED Talks to choose from
Sync videos across your devices
Use the "Surprise Me!" feature to generate a random video
Price: The TED Talk app is free to download via the App Store, Google Play Store, and Amazon.
7Coffitivity
Coffitivity uses music and ambient sounds to simulate the atmosphere of a coffee shop while you do your work. This kind of background noise is great if you work well in a lively environment bursting with inspiration. You can explore its library of background noise and music through its website, or you can download the free OSX desktop app. If you download the desktop app, it runs without the internet, so you can stay tuned in to your cafe sounds no matter what.
Key features:
Ambient sounds and playlists
Free OSX app for your desktop
OSX app can run offline
Price: Coffitivity is free to use and download.
8Adobe XD
The Adobe XD app lets designers take their designs in Adobe on the go. This way, you can play around with different ideas to jumpstart your creativity, taking ideas from wireframes to an interactive prototype. You can preview your Adobe XD designs on compatible devices using a USB or by uploading the designs as cloud documents. You can also get more storage with an in-app purchase.
Key features:
Move to compatible devices using a USB or by uploading to the cloud
Generate wireframe and prototypes on your iPhone or iPad
Option to purchase more storage
Price: Adobe XD is free to download for iPad users, with in-app purchases available.
9Pinterest
With the Pinterest app, you can take your account on the go so you can find inspiration from your mobile device or tablet. You can find and bookmark graphics, illustrations, web layouts, photos, GIFs, infographics, quotes, design tutorials, and more. You can save what inspires you and browse it all when you need some inspiration.
Key features:
Find visuals and graphics
Bookmark and save what inspires you
Watch design tutorials from other designers
Price: Pinterest is free to download for iOS and Android users.
10Sketchbook Pro
Sketchbook is an award-winning drawing, sketching, and painting app. It's free and user-friendly, so you can create simple sketches or fully formed works of art. It offers brush types including pencils, airbrushes, and markers. The brushes are customizable, so you can adjust them exactly to your liking. Plus, you can use guides, rulers, and stroke tools to enhance your precision. With the app's clean interface, you can focus on your masterpiece without any distractions.
Key features:
Offers a variety of brush types
Clean interface to cut down on distractions
Includes guides, rulers, and stroke tools for precision
Price: Sketchbook is free to download for iOS and Android users.
11The Brainstormer
The Brainstormer can help you overcome creative blocks or imagine different scenarios when you're writing or designing something. It comes with three spinning wheels: plot/conflict, theme/setting, and subject/location. You can adjust the wheels or spin them randomly to create combinations for writing prompts, problem-solving, designing, illustrating, or anything else creative. You can also edit the wheels to customize your scenarios. You can share your combinations via email, Twitter, or Facebook.
Key features:
Spin three wheels to create different combinations and prompts
Adjust and edit your wheels to customize your combinations
Share your combinations over email, Twitter, or Facebook
Price: Brainstormer is $1.99 to download on the App Store with in-app purchases available. It's $0.99 to download on the Google Play Store.
12BrainWave
The BrainWave app offers sounds and playlists to help with focus, relaxation, sleep, anxiety, memory, positivity, and more. BrainWave uses high, mid, and low-frequency ranges of delta, theta, alpha, beta, and gamma binaural tones in layers to spur creativity.
You can choose from different playlists depending on your mood or what you're trying to achieve. BrainWave's binaural tones can help with tinnitus too, which can be helpful for creatives with the condition. You can use the app to mask those annoying sounds and give your brain silence for maximum creativity.
Key features:
Choose from different playlists
Find sounds that can help increase inspiration or focus
Mask sounds from tinnitus with binaural tones
Price: The BrainWave app is $4.99 to download on the App Store, and it's available on the Google Play Store as well.
Get inspired with Fellow
An app that can help jumpstart your creativity is a great tool to have when you and your team could use some extra inspiration. Fellow is a great example. Whether your team is just a few people or a huge group, you can use Fellow to run brainstorming meetings. You can work from a brainstorming meeting template or customize your own, then take notes during the meeting and assign action items in real-time. This way, all your best ideas go to use.