Have you ever walked into a meeting and realized you forgot to download the important software that would make it possible to work through your meeting topic? You're not alone. It's estimated that $37 billion is lost per year due to unproductive meetings. There are many possible reasons a meeting might not provide value—like a lack of purpose, an unclear plan, or using the wrong tool to conduct the meeting. But with the right digital facilitation tool to keep you organized and engaged, those problems can start to fade away, and you can start running productive meetings!
What is digital facilitation?
A new type of role emerged as we all started working online, and it's called the "digital facilitator." This person is responsible for ensuring that meetings flow as smoothly as possible. To facilitate meetings well, the digital facilitator needs to complete a ton of tasks—like preparing the meeting space, configuring details about recordings, setting up participant tracking, and ensuring everyone's hardware is configured properly. Once the call gets going, they also can be responsible for moderating the chat function, launching polls, and doing background technical support work as needed. Digital facilitators might also be asked to run workshops, which involves a bit more organization and planning ahead of time as well.

Run efficient meetings, come to a decision, and get back to work
Level up your meeting habits to boost engagement and productivity with a collaborative meeting agenda. Try a tool like Fellow!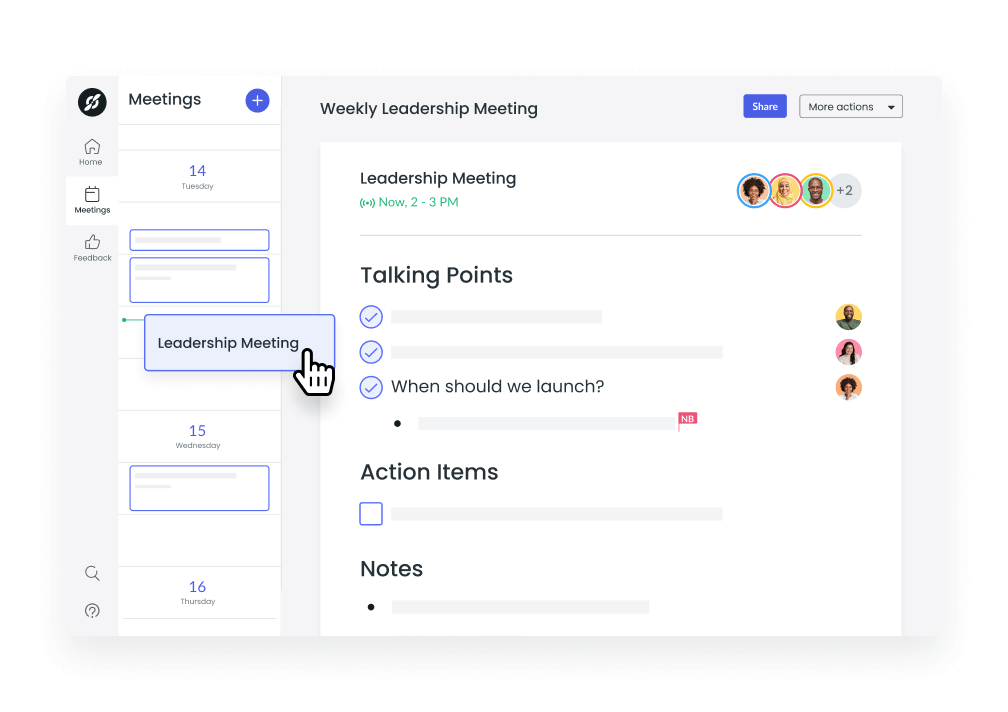 What are the different types of digital facilitation?
1Virtual facilitation
Virtual facilitation is when the group gets together on an online video conferencing platform like Google Meet, Zoom, Webex, or Microsoft Teams. This is the most common type of digital facilitation in the corporate world today, as it's easy for distributed teams across the world to connect using virtual systems. For town hall or status update calls, virtual facilitation usually just involves setting up the calendar invite, creating and sharing the meeting agenda, and following up with the meeting notes after the call—while also being on standby to prevent technical glitches. For virtual workshops and brainstorming sessions, more creativity tools will be used and the facilitator will be responsible for launching those at the right time during the call.
2Asynchronous facilitation
When you're working in a large or distributed team, it might not be possible for everyone to get on a virtual call together at the same time. Asynchronous meetings, a new type of meeting, allow teams to add contributions to a collaborative meeting agenda during a designated period. The meeting facilitator here would need to organize a shared workspace for all participants to contribute, explain how the asynchronous meeting style works (as 36.8% of workers had never heard of it), and check in periodically to make sure it is all being tracked and organized properly.
3Face-to-face facilitation
Digital facilitation doesn't mean it has to be completely online all the time! There are plenty of opportunities for a meeting facilitator to leverage digital software tools to help in-person meetings flow better. For example, many presentations or sales pitches are still offered face-to-face. In this case, digital facilitation tools can help track participants who have shown up, keep track of time, and increase engagement in the meeting room! This is in addition to the other responsibilities a facilitator has, such as scheduling the meeting room and ensuring that technical support (for projectors, for example) is available.
The best digital facilitation tools
1Fellow
Fellow is a meeting management software that is an all-around superstar when it comes to enabling any type of in-person, asynchronous, or virtual meeting. While it primarily helps you build and distribute collaborative meeting agendas, you can also use it to track meeting activities and integrate it with the rest of your team's productivity stack.
Key features:
Integrate Fellow with all major video conferencing software platforms. For example, with Fellow's browser extensions, you can access your meeting notes right inside of Google Meet calls and your Google Calendar to supercharge team meetings and 1-on-1 without leaving the tools that you are already using.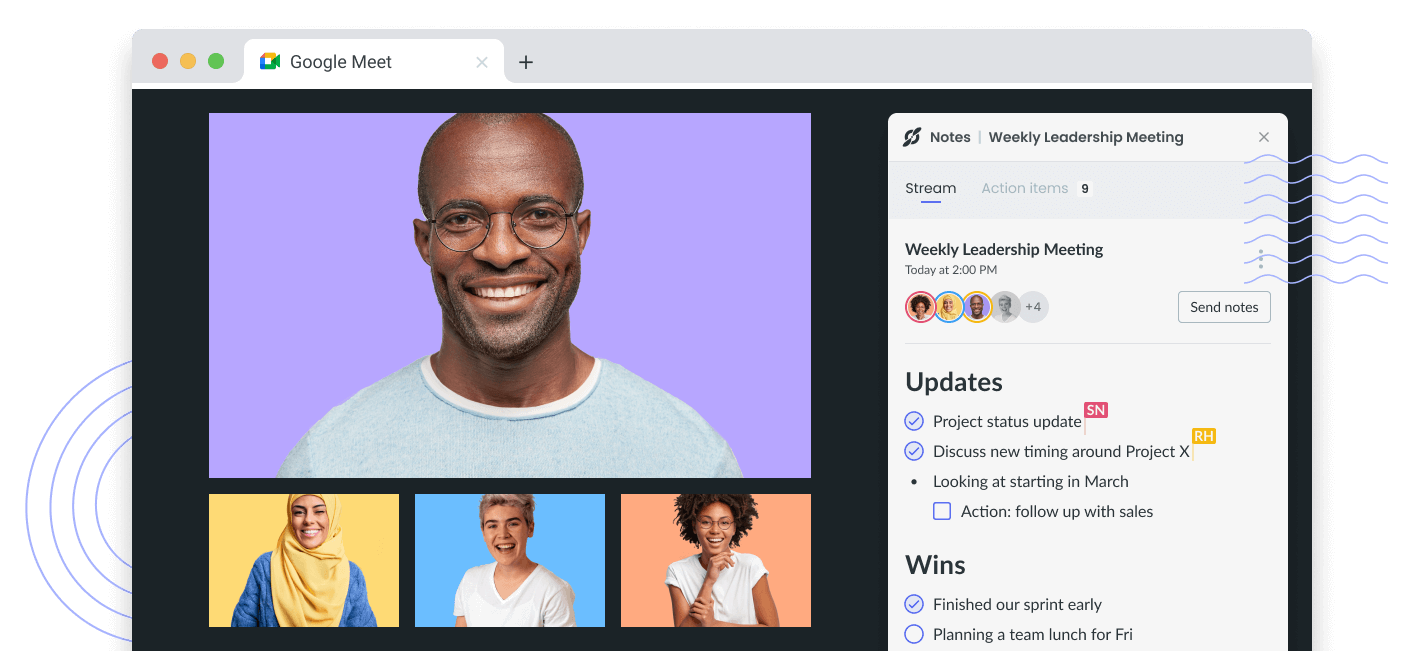 Add comments or react to talking points in asynchronous meetings.
Upload media directly to the meeting agenda to make finding important documents easy.
Pricing:
Free-$0 per user per month (for teams of up to 10 people)
Pro-$7 per user per month (maximum of 25 users; includes AI suggested topics and meeting automations)
Business-$10 per user per month (maximum 100 users; includes implementation services)
Enterprise-$15 per user per month (includes organization analytics)
Learn more about Fellow's pricing plans.
2monday.com
monday.com is a project management software where teams can build out process workflows, track activity status, and communicate with their team members directly in the platform (which makes it a great option for any asynchronous meetings). As a bonus, there's also a customer relationship management (CRM) aspect to the tool so it can serve multiple purposes for sales and marketing teams.
Key features:
Collaborate with clients and teammates directly in project documents
Define team goals and success metrics
Request and grant approvals
Collect feedback and requests
Cons:
No guest user access on some plans
Quite expensive for small teams who need a lot of functionality
Pricing:
A free plan is available!
Paid plans start at $11 per seat per month (with a minimum of 3 seats)
3Miro
Miro is a digital whiteboard platform that enables teams to brainstorm, draw processes, track projects, visualize new concepts, and more! It comes set up with plenty of shapes and templates for all departments to use, and it's a great tool for cross-departmental initiatives. Agencies might also find it useful for mapping out client strategies and plans.
Key features:
Benefit from an unlimited whiteboard, so you can draw as much as you need
Add guest users
Bring all users to your mouse pointer in a single click (great for when you're presenting a lot of information)
Comment directly on the boards
Cons:
Security is only considered in higher-level plans
It requires a steeper learning curve for anyone new to project management tools
Pricing:
A free plan is available!
Paid plans start at $10 per user per month
4Asana
Asana is a powerful and comprehensive project management tool that is well suited for big teams. As a digital facilitator, you can leverage it in meetings to review dashboards, build workflows with others, comment on projects and tasks, and set team goals. The number of features in Asana can make it seem overwhelming at first, but the intuitive and user-friendly interface makes it ideal for beginners to learn.
Key features:
Set up automations to save time (like project reminder notifications!)
Assign tasks and track statuses for multiple project types
Display key performance indicators (KPI) for individual projects
Benefit from tons of integrations with other productivity tools
Cons:
The mobile version is not as user friendly
The top tiers are very expensive for small teams
Pricing:
A free plan is available!
Paid plans start at $10.99 per user per month
5Butter
Butter is a virtual collaboration tool that helps teams plan meeting agendas and increase engagement in meetings. It's ideal for working with classes since it offers features that are designed to get students learning together in virtual facilitation environments.
Key features:
Use interactive flashcards and polls to measure engagement
Put students into breakout rooms to collaborate in smaller groups
Plan sessions in advance and add media uploads to present
Receive recaps at the end of each session to distribute
Cons:
All plans are quite expensive for educational institutions
Participant limits in starter plans are lower than what most users would like
Pricing:
A free plan is available!
Paid plans start at $19 per member per month
6Notion
For teams looking for someplace to track a ton of notes or plans in a document-style format, Notion should be your go-to! You can create custom groups or share documents across an entire organization. Within the platform, you can write documents, link project pages, and communicate with your teammates directly.
Key features:
Record meeting agendas, notes, and action plans in an organized way
View your project documents in multiple ways (for example, Kanban, lists, calendar views)
Track who is viewing and editing documentation
Benefit from the recent release of Notion AI to help you with writing agendas and plans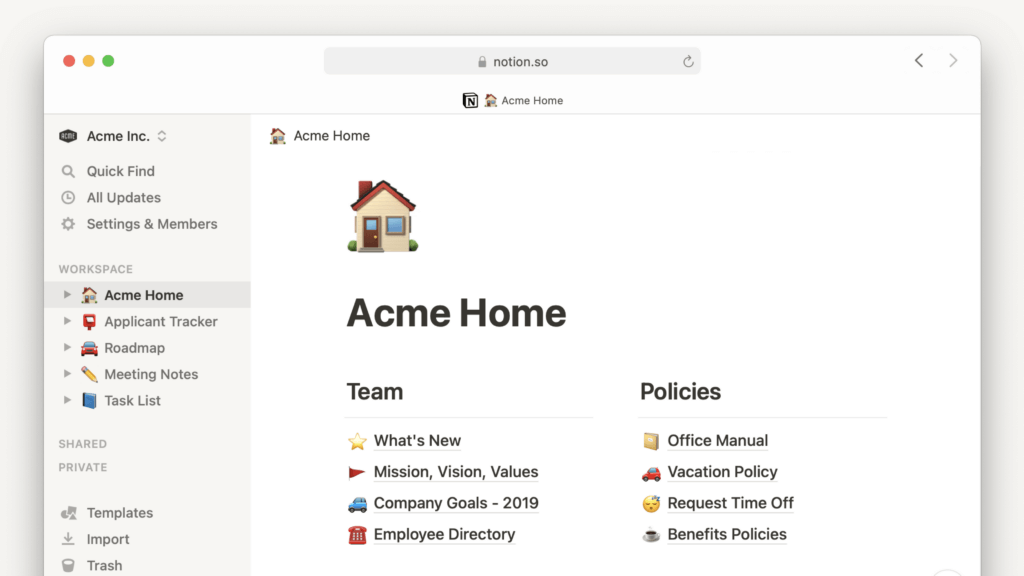 Cons:
There are limited features to increase employee engagement on content
There's a difficult learning curve for most people at the start
Pricing:
A free plan is available!
Paid plans start at $8 per user per month
Benefits of digital facilitation tools
Multiple ways to enable participation. Getting people's attention is tricky, and it's even harder to maintain it during the entirety of a meeting. Digital facilitation tools come in a variety of formats which give you plenty of options for brainstorming, drawing processes, taking polls, and more—allowing each meeting participant to get directly involved in some way.
Extended learning process. People have different ways of learning that impact how they take in new information. Some people are more auditory learners, meaning they take in new concepts from hearing them out loud. Others need to visualize the concept in front of them or physically interact with the concept somehow. Therefore, with digital facilitation tools, you'll be creating a much more inclusive workspace!
Easy follow-up processes. Digital facilitation comes with a lot of mundane, administrative work. Luckily, there are quite a few tools out there to automate some processes (like meeting follow-ups). For example, Fellow can send automated reminders to attendees ahead of each call and will automatically send recap notes to all attendees after the meeting.
Parting advice
If you've been charged with the task of keeping your team's meetings more organized this year, we hope that one of these digital facilitation tools will help make your job easier! If your team is newly adapting to having a digital facilitator around, it may take some time to get them through the adjustment period. Try to opt for a tool that's user-friendly (like Fellow), makes sense for your department's activities, and ultimately helps you get more people interested in the meeting!