As more organizations go agile, the need to continuously monitor, optimize, and redirect processes increases as well.
Effectively tracking measurable aspects of your organization helps you stay on track with your projects, and can even help you identify when to pivot your project's direction for a higher likelihood of success. In fact, goals and frequent tracking practices integrate exceptionally well with agile methodologies to boost productivity within your organization.
Here we're introducing objectives and key results (OKRs) as a way to measure success in your organization, and eight tips for putting them into practice!
What are OKRs?
OKRs are quantifiable goals that have an objective, as well as key results to prove whether that objective was met. For example, an objective could be to "improve the channel partner program to drive 20% more revenue." For this objective, some sample key results could be:
Increase number of inbound partnerships meetings by X%
Sign partnership contracts with at least X new top-tier partners, and X new mid-tier partners
Ensure all partners receive a weekly cadence check-up call
Earn at least X leads per month from each partner
Test X new incentive programs to motivate partner companies to contribute more leads
Decrease lead generation margin through partner program by X%

Track objectives as part of your meeting workflow
Stay on top of your team's goals by clearly recording, defining, and tracking the progress of your OKRs in Fellow's Objectives tool!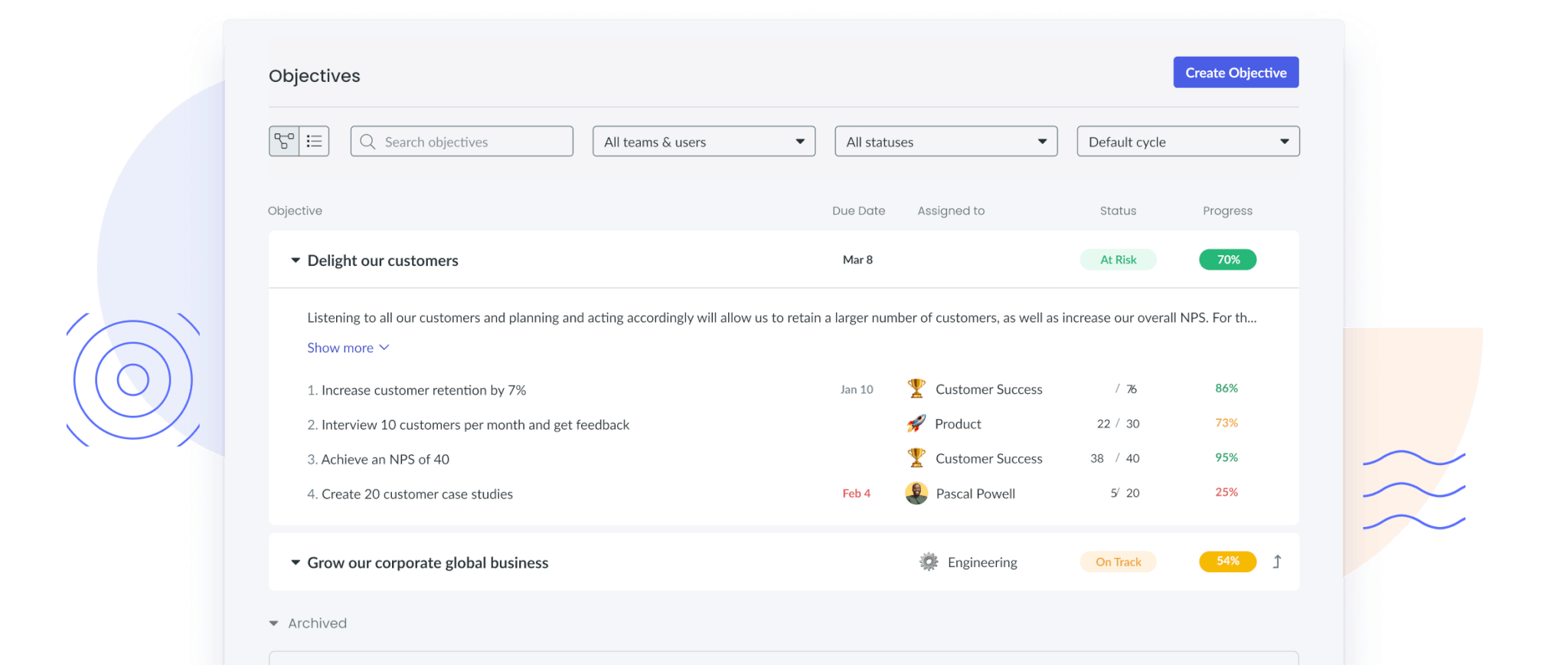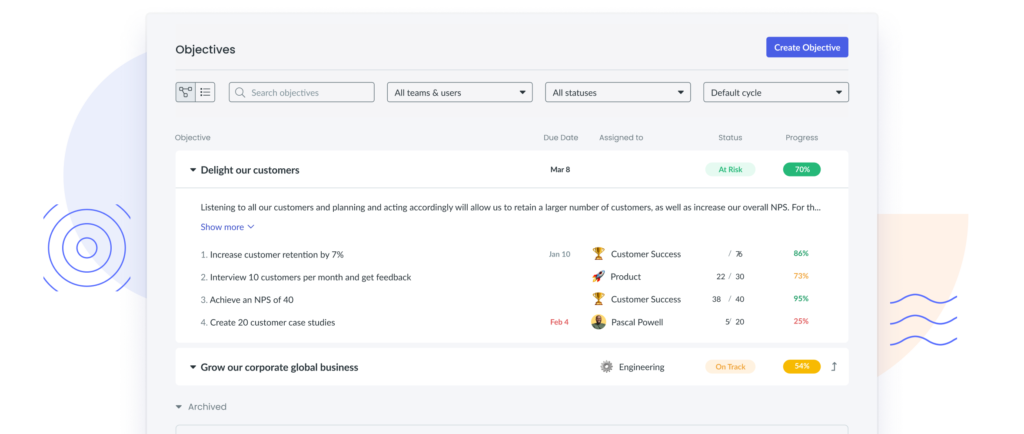 Why are OKRs important?
1They create a culture of improvement
By having an end objective towards which the group is working, you establish alignment on where projects should be headed. When teams work together to reach a common goal, it becomes easier to communicate on new strategies to help reach the key results together. Therefore, rather than having individuals strive for separate, personal goals that they might reach at different times, the team builds a culture of improvement to continuously strategize, involve other team members' expertise, and work towards a common goal that benefits all.
2They track and measure progress of goals
The best part about OKRs is their measurability. When using OKRs to measure success of your activities, it's easy to identify if the project is going to reach its targets because there are specific, quantifiable key results that impact the likelihood of reaching the objective. Without measuring key results, it would be more difficult for teams to understand how far they have come in meeting a goal, and how far they have left to go. You might even choose to set mid-project targets or check-in meetings to ensure that you're on the right path to meeting the OKRs.
8 ways to implement OKRs into your organization
1Teach your team about OKRs
It's important to educate your team members if you want them to use OKRs properly. Ensure your team is confident in understanding how OKRs work, why OKRs are relevant to the work they're doing, and steps they can take to work towards meeting OKRs in their daily roles. When you have your OKR structure built, this is also a great thing to communicate directly to your team to help with setting expectations. Building your team OKRs together is a great way to introduce your team to OKRs while helping them see how these objectives and key results work in practice.
2Use an OKR tool
Organizations may develop company-wide OKRs, in addition to team-level OKRs. For most companies, teams will have between three and five OKRs per team, per quarter. In larger teams, this can add up to be a lot of OKRs, which can be quite difficult to track manually.
By using a tool like Fellow's Objectives tool, you can track your OKRs and easily review them during meetings to support decision making and progress tracking. By integrating OKR tracking as part of your daily workflow, it's more likely that you'll keep your OKRs top of mind in all of your projects, which will bring you closer to achieving success with your key results.
3Create an OKR structure
Your company's OKR structure defines the basis of all things around your OKR strategy. This structure can include how many key results you should include with each objective, the number or frequency of OKR progress check-ins, and how OKRs are built across the wider company as well as within individual teams. In some organizations, you may also choose to adopt individual OKRs for each team member to track progress in one-on-ones.
Your OKR structure will depend a lot on the size of your team, your team's familiarity with using OKRs, and the complexity of the OKRs that you have in place. As your team grows, you might continuously optimize your OKR structure to suit your team's current needs.
4Divide OKRs and performance reviews
Organization-level and team-level OKRs will need to be distributed amongst smaller teams or individuals who will actively work towards completing those OKRs. Often, OKRs get assigned to members who are specialized in the areas in question and who can make the greatest positive impact on success. When working with organization-level OKRs, multiple departments may need to work together to achieve the goal, so it's possible that each contributing department will have representatives assigned to that OKR.
Use a tool to track who is assigned to each OKR to support accountability when reviewing performance at check-in meetings.
5Define clear OKRs 
A major benefit of OKRs is that they encourage team alignment so everyone works together towards a common goal, which is why having super clear OKRs is so important—the more clear the OKR is, the more likely your team will be able to align properly.
Using Fellow, teams can work together on meetings and quickly review OKR meeting notes to positively impact alignment on team projects. Below is a template to help you start planning your OKR meetings!
6Set realistic OKRs, especially your first time
If your organization hasn't always been data-driven or if you're new to adopting OKRs, it's better to take things slow for the first few months. Set small, realistic OKRs that are easy for your team to grasp. For example, it might make more sense to start by working with department- or team-specific objectives, rather than ones that require support from multiple departments. Short-term OKRs are also better to adopt at this stage so your team can quickly see the process of measuring and reviewing success for OKRs before attempting a long-term OKR.
7Align your OKRs across teams
If you're working on OKRs that involve multiple departments, it's worth adopting practices to ensure proper alignment. A risk of working on multi-team OKRs is that each team perceives the importance or intent of an OKR in a different way, and may look to implement different strategies to meet the different views of the OKR. Holding frequent OKR meetings can help ensure that everyone is reaching for the same goal, and that each team's activities are effectively contributing to the success of the objective.
8Hold OKR review meetings
OKRs are not a set-in-stone methodology. In fact, regularly reviewing OKRs to track progress will help you determine whether you're on the track to success or need to modify your strategy. Industry and market changes may also impact your need to change OKRs on the fly.
OKR review meetings are important, regardless of whether you're working on cross-team, within-team, or individual OKRs. By reviewing your progress weekly, you foster a culture of transparency and accountability to ensure key results are being met on time. This review can also help you to identify strategies that aren't working well and pivot towards more effective plans.
If you're looking to hold productive OKR review meetings, take a look at the template below!
Parting advice
Implementing OKRs in your organization for the first time won't be easy. This process includes building a plan, educating your team on the OKR structure (and the benefits of using OKRs), as well as regularly reviewing and optimizing the OKRs you've put in place.
Using OKRs in your organization is an always-on task, which requires support from all team members to achieve maximum success. By defining clear, non-ambiguous OKRs and regularly reviewing progress as a team, you're more likely to pull high-value results and growth from your adoption of OKR strategies!