While many of us have been getting cozy for the last three years in our work-from-home setups, employers around the world have been racking their brains in an attempt to foster alignment in a newly dispersed workforce. Although many organizations haven't had much luck getting employees back into the office full time, they have begun to introduce return-to-office hybrid models, allowing employees to work from home some days and go to the office on others. Like any new workplace trend, this shift has introduced the need for clear workplace policies that detail what it means to be a hybrid employee in 2023 and beyond. 
In this article, we'll teach you all about hybrid work policies, covering everything from the basics like how to host hybrid meetings to the benefits of creating and implementing a new hybrid work policy. At the end of this article, you'll have all the information you need to craft a comprehensive hybrid work policy so you and your teammates can thrive in a hybrid business landscape. You may even unlock a free hybrid work policy template or two!
What is a hybrid work policy?
Hybrid work policies were largely popularized after the COVID-19 pandemic. When the pandemic wrapped up and employees were forced back to the office, organizations had no choice but to adopt return-to-office hybrid models. To retain talent and address the ever-changing needs and preferences of the workforce, employers began to introduce workplace policies centered around hybrid models, allowing employees to reap the benefits of in-person interactions without sacrificing the freedom that comes with remote work.
A hybrid work policy will encompass everything employees need to know regarding their working conditions, including where, when, and how they will work. In addition to outlining what is expected of your employees work-wise in your hybrid work policy, it's important to outline best practices that every employee should follow, which employees are allowed to work hybrid and what their in-person commitment will look like, and a breakdown of the legal rights that employees have when conducting hybrid business.

Run effective, engaged hybrid meetings from anywhere
Keep your hybrid meetings on track with Fellow's collaborative agendas, real-time notetaking, and feedback. Try a tool like Fellow today!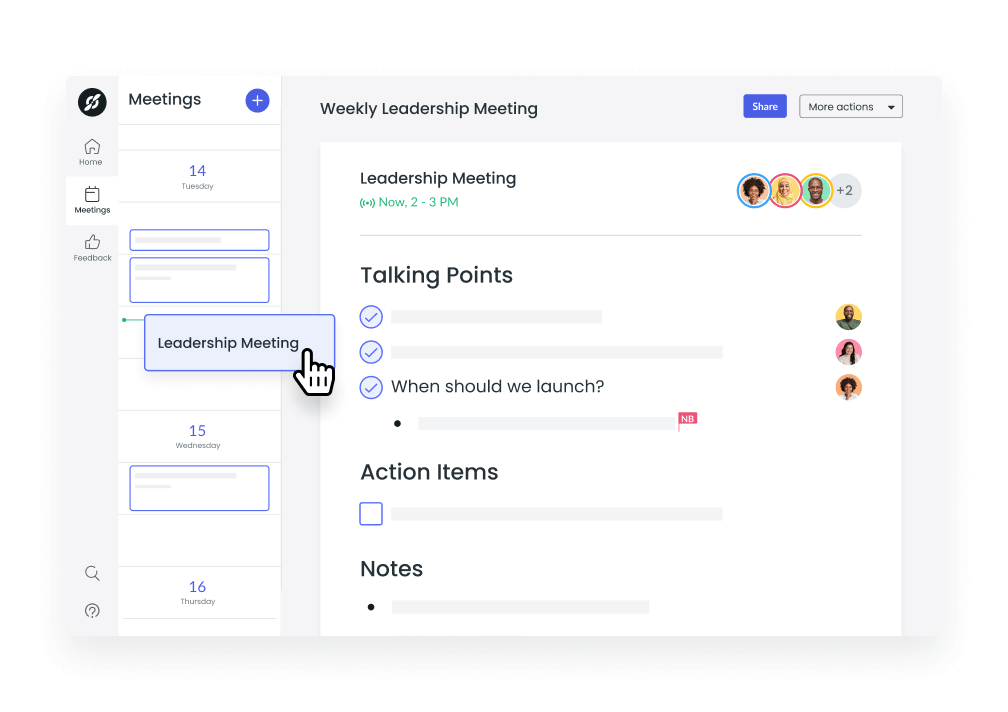 Benefits of Hybrid Work Policies
1Set clear expectations to mitigate issues and complaints
As an employee, there's nothing worse than not knowing what's going on. Whether it be missing a meeting because you didn't know you were supposed to be working from the office or commuting to the office only to find out the rest of your team is working from home, there is no shortage of communication mishaps that can occur when embracing a hybrid business model. Creating and implementing a comprehensive hybrid work policy will ensure everyone knows what's going on at all times, setting clear expectations and mitigating communication mishaps from the get-go.
2Increase employee productivity and engagement
Employees are much more likely to be productive and engaged if they feel as though they have control over their schedules. Implementing a hybrid work policy encompassing employees' wants and needs will ensure everyone is happy, healthy, and eager to contribute to the organization.
3Hold hybrid employees accountable
When employers don't see their employees in the office, they may begin to lose trust. Introducing a hybrid work policy will ensure there are clear expectations and guidelines upfront so employers can trust that their employees are informed and on track. A solid hybrid work strategy should encompass everything hybrid employees need to thrive, ensuring they are contributing to the greater good of the organization whether they work from the office or home.
4Increase employee retention
Employers that fail to introduce hybrid work policies may be losing out on top talent. In today's day and age, employers must adhere to the ever-changing wants and needs of the workforce to remain competitive and relevant. Introducing a hybrid work policy will ensure your organization doesn't lose top talent to competing organizations that are more willing to embrace flexible work policies.
Who is responsible for creating a hybrid work policy?
The creation of a hybrid work policy typically involves multiple stakeholders within an organization—including leadership teams, human resource professionals, legal teams, and, in some cases, employees. While employees may offer beneficial insights, it's important to note that developing a hybrid work policy should be the responsibility of the employer, not the employee. After the hybrid work policy has been created, the organization must communicate the hybrid work policy clearly and provide training on all new workplace policies and return-to-office hybrid models. Regular check-ins and frequent updates may be required to foster a seamless hybrid business landscape.
What should your hybrid work policy include?
1Context
Firstly, your hybrid work policy should include context—that is, an explanation of why the company is switching to the hybrid model. To foster alignment and clarity, it's important to include information that helps your employees understand the why behind your decision. You should provide enough context so everyone within your organization understands why you have chosen to embrace hybrid business.
2Policy purpose and summary
As stated above, it's important for everyone within your organization to understand why you've chosen to embrace a hybrid work policy. Stating the purpose of your policy upfront will ensure everyone is aligned and informed while decreasing the risk of future miscommunications. In addition, it's crucial to include a summary within the policy. This will ensure employees can find pertinent information immediately upon receiving the summary.
3Defined work schedule
One of the most important elements of any hybrid work policy is defining a work schedule. When embracing a hybrid work model, there is often confusion among employees and employers alike. If there aren't clear guidelines that go into detail about when employees are expected to work from the office and when they are allowed to work from home, it may begin to cause problems in the workplace.
4Communication guidelines and availability expectations
It's normal for there to be miscommunications from time to time when implementing return-to-office hybrid models; however, it's important to limit the number of miscommunications by setting clear communication guidelines and availability expectations upfront.
5Provided equipment
Whether your employees are working from home or in the office, they must have the appropriate work equipment. If they are working in the office, you'll want to make sure they have a workspace in addition to meeting rooms and the technology necessary to communicate and collaborate with their teammates who are working from home. If they are working from home, it's important that they have a dedicated workspace that they can use to focus and attend meetings.
Your employees also need to be equipped with the technology necessary to do their jobs. Fellow is a great tool you can leverage to equip your teammates with everything they need to connect from afar! With features ranging from collaborative meeting agenda templates to a centralized hub where teammates can review action items, Fellow will help keep your dispersed team on track and organized.
6Office information
If employees are expected to embrace hybrid business by returning to the office part time, you must include office information in your hybrid work policy. This information should include the physical address of the office, the floor or room number where employees will be working, parking information, as well as information on how to enter. If employees require a swipe card or pass to enter the office, this needs to be noted in the hybrid work policy.
7Legalities
It's important to note that there may be tax implications or labor laws that must be documented in your hybrid work policy when embracing return-to-office hybrid models. Documenting any legal issues pertaining to hybrid business in your hybrid work policies will ensure employees have all the information they need to make informed decisions regarding their workplace. You should also note that it's best to consult with a legal professional when including any legalities in your hybrid work policy.
8Conclusion and agreement
At the end of your hybrid work policy, you'll want to include a conclusion that wraps up the entire document. The conclusion section of your hybrid work policy will provide you with one last opportunity to foster alignment and make sure everyone is on the same page. In this section, it's important to include an agreement that states what everyone is responsible for as your organization moves into a hybrid work model.
Challenges of a hybrid work model
1Communication
If you aren't careful, embracing a hybrid work model can lead to reduced face time, communication fatigue, and even burnout. To combat these issues, it's important to encourage your teammates to meet face to face when appropriate. Whether by scheduling a monthly meet-up in person or hosting weekly stand-ups via video conferencing software, it's important to host face-to-face interactions when possible.
2Collaboration
Collaboration can be a nightmare when embracing a hybrid work model—especially when some teammates choose to work from home and others from the office. To overcome this challenge, it's important to harness the power of technology and introduce new technologies that empower teammates to connect and collaborate regardless of their physical locations.
3Logistics and scheduling
Hybrid work can be a logistical nightmare, especially when some employees are working from the office and others are embracing remote work. Implementing office hours, meeting-free days, and clear communication guidelines are all tactics that can be used to improve logistical nightmares and scheduling conflicts when embracing hybrid business.
4Work-life balance
It can be difficult to achieve work-life balance, especially when the lines between work and home get blurred. To ensure your teammates avoid burnout when embracing hybrid work, it's important to encourage them to set clear boundaries. Employees must feel as though they have control over their schedules and as the employer, you have to respect their time.
Examples of the world's best hybrid work policies
1Google's Campfire Method
As of right now, Google has expanded its work from home policy until October 18, 2021. Afterward, if comfortable, "Googlers" can return to in-person campuses if they are fully vaccinated.
Google's CEO Sundar Pichai says that his goal is to create a hybrid workplace where around 60% of his employees work in-person at the campuses, 20% working from new offices, and an additional 20% working from home.
To accommodate hybrid workplaces, Google is experimenting with the "campfire" method. This method involves hosting meetings in a circular setting with remote employees on their own screen in the circle. Their goal with this experiment is to create equal participation for both remote and in-person workers.
"​​The future of work at Google is flexibility. The majority of our employees still want to be on campus some of the time yet many would also enjoy the flexibility of working from home a couple days a week"

– Sundar Pichai, CEO of Google.
2Facebook's Pre-Pandemic Remote Plan
Before the pandemic, Facebook had set goals to start having more employees work from home. And, for the majority of the pandemic, Facebook employees were completely remote. So what will Facebook do now that people are beginning to return to their offices?
Facebook has extended its work-from-home policy until 2022 because of concerns about the COVID-19 delta variant. When they do open their offices back up, Facebook is expecting their employees to work both from home and in the office, using the hybrid workplace model.
3Slack
When Slack's offices open back up, they will be encouraging employees to work from home permanently. They will also be hiring more remote employees to further encourage this. However, current Slack employees who do not wish to work from home can return to their office when they open.
"Slack plans to focus less on their offices and more on enhancing remote environments; the goal is to 'fewer amenities such as catered lunches and coffee bars, less focus on in-person meetings with colleagues, and more options for focused solo work'"

– Robby Kwok, Senior Vice President of People at Slack
4Microsoft's Data-Driven Approach
Like Google, Facebook, and Slack, Microsoft will join as another company to implement the hybrid workplace model post-pandemic. Microsoft will be taking a data-driven approach to their hybrid workplace model, researching how to make remote environments productive.
For example, they have found that back-to-back meetings are hard on employees' well-being and that having breaks in between may solve this issue. Using this data, Microsoft can ensure that their employees are not stuck in back-to-back meetings and that they are given breaks regularly during longer meetings.
Microsoft is also using technology to their advantage to better enhance remote workplaces:
"We're taking the same approach to our smaller focus rooms, too. We are installing cameras at eye level for participants to maintain eye contact, and will incorporate spatial audio so voices come from the specific person speaking in the gallery view"

– Satya Nadella, CEO at Microsoft.
5Salesforce's 3-Step Plan
As offices start opening up, Salesforce will follow their 3 step plan to get workers back to the office. Step 1, "Volunteer Vaccinated Cohorts", allows fully vaccinated employees to work with 100 people or less on a designated floor, step 2, "Phased Reopening" involves offices opening from 20% to 75% capacity and welcoming both vaccinated and unvaccinated employees, and step 3, "Fully Open", opens offices to 100% capacity for all employees.
While they are working at opening their offices and encouraging employees back to work, they also understand that everyone has a different comfort level. Therefore, Salesforce is currently using a hybrid workplace model giving employees the freedom to decide when they want to return to the office.
"We'll put Who, What, and Why before Where work happens, whether that be in an office, at a customer site, or in a cafe."

– Brent Hyder, President & Chief People Officer, Salesforce.
6HubSpot's Transition from Remote-ish to Hybrid
HubSpot is yet another company to implement the hybrid workplace model by asking their employees to choose their preference of 3 choices:
@office: This option means that employees must come to the office at least 3 days a week. They will also have a designated desk and workspace.
@flex: This option means that employees can only come into the office 2 days or less a week. When they do come to the office, they will be given a "hotel desk". They are also provided with work-from-home equipment.
@home: This option means that employees work also entirely from home and are provided with all the necessary equipment to have a remote workspace.
Before the pandemic, HubSpot began to transition to remote, with about 10% of the company working remotely – they referred to themselves as "remote-ish". Now, HubSpot is giving employees the choice to choose which of the 3 options is best for them which allows them to cater to all of their employees' needs by creating a hybrid workplace.
"We're building a flexible, hybrid company at HubSpot because as our Culture Code says, we want to make work-life harmony a reality"

– HubSpot
Return-to-office hybrid models are on the rise. Are you ready to adapt?
Now that you know how to create a comprehensive hybrid work policy, it's time to get to work! You officially have everything you need to help your teammates ease into hybrid work. Interested in learning more about hybrid meetings? Check out some of our recommended hybrid meeting tools!