Everyone remembers their first day at their current job.
Whether it was buying a brand new outfit or getting lost trying to find the bathroom, there's always something that sticks out in our memory.
And sometimes, it's an onboarding process that was unorganized, one that took too long, or one that set us up for success. If you want your new hires to feel like they've been given everything they need from day one on the job, there are certain things you can do on their first day.
How long does it take a new hire to get up to speed?
When working on getting a new employee up to speed on the ins and outs of your organization, remember to have patience and think back about when you were first hired. No one hits the ground running on day one, as most companies have a long onboarding experience to allow a new hire to learn the ropes as effectively as possible.
In some cases, depending on the role, size of the company, and the industry it's within, it can take a new hire up to two years to reach the same level of productivity as an existing staff member. However, this amount of time can be sped up to just a few months with the proper onboarding process.

Set them up from the start
There's a lot of new information coming at a new hire. Use a tool like Fellow to have everything documented and to have one source of truth for information.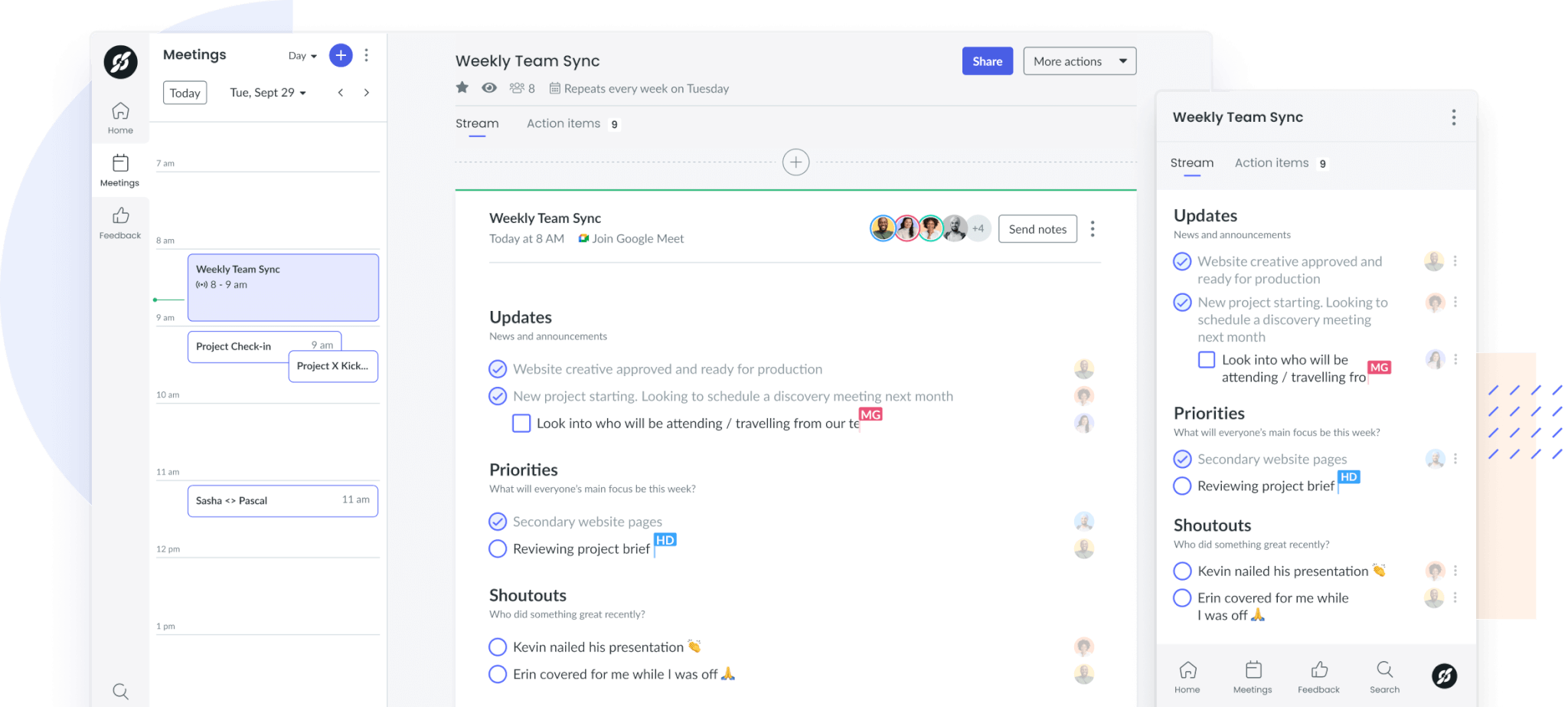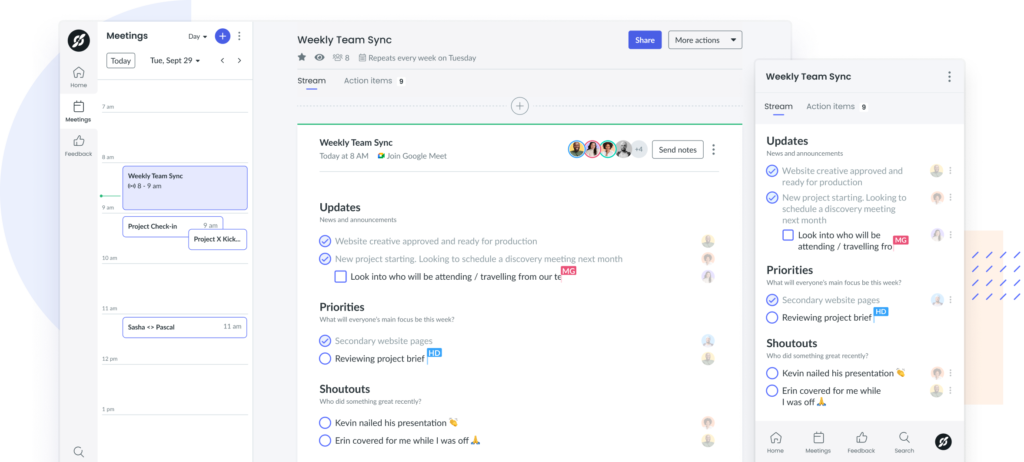 12 tips to quickly get a new hire up to speed
No matter what type of roles your company is hiring for, there are specific tips to follow to ensure the new employee is set up for success from day one, whether you're doing remote onboarding or in-person.
1 Develop a first 30-60-90 days plan
If you want a new hire to reach full productivity as quickly as possible, ensure that either human resources or their manager create a plan for the first 30, 60, and 90 days.
For example, at the end of an employee's first three months, you can require them to:
Be entirely up to speed regarding software and tools the team uses
Have set up introductory meetings with five members (or more!) of the team
Complete necessary training
Have a complete understanding of job responsibilities and how performance is evaluated
How these first few months will look, and the plan set in place for the employee will depend on many elements. The more comprehensive the plan and the more steps an employee can check off their to-do list to become onboarded, the better.
2 Connect role to company mission
As part of onboarding a new employee, make sure they understand the work environment, various elements of the company's culture, and the inner workings of how the team functions and interacts with one another.
In addition to giving an employee a tour of the office on their first day, make sure to introduce them to everyone on their team and point out anyone they'll be working closely with. It's important that new employees create relationships with their team and establish the best forms of communication as early as possible.
3 Clarify the role and expectations
You want to be as open and honest with a new hire as possible, which includes clarifying the role and expectations of their manager and their team. It's easy for an employee to feel overwhelmed on their first day and worry about a steep learning curve, but having an outline that includes this information is the first step towards setting them up for success.
A lack of this transparency will only lead to confusion and a longer timetable for the individual to be fully ramped in their role.
4 Use your top performers
A sure-fire way for training to go faster for new employees is to give them multiple people they can turn to with questions that can provide clear and concise answers. And who better to do that for a new employee than your top performers?
Calling on the help of top performers within an organization or a specific department is a great way to help the new employee learn the ropes of their role. Ask these top performers to keep an eye on this employee and make sure they know they can come to them for any questions about their role. Plus, this is a great way to form a bond between team members.
For instance, if you have a seasoned content marketing manager on your marketing team, and you've just hired a content marketing associate, ask this manager to let the associate know their door, virtual or real, is always open if they have a question.
5 Leverage microlearning
No one wants to sit in front of their computer their first few weeks on the job and be forced to watch lengthy and often dull training videos. Instead, lean on microlearning, which consists of short-term and small learning activities. This alternative to training is easier to digest for new employees and gives them a better chance of retaining important information regarding their role and responsibilities.
6 Create a mentor system
It's common to assign a mentor or "buddy" to a new employee, so they have a point of contact for questions. This person doesn't necessarily have to be on the same team or in the same department. For instance, maybe pair a content marketer up with a newly hired sales associate to help build camaraderie. This is especially useful for remote offices where cross-departmental interaction seldomly occurs.
7 Introduce all departments to the new hire
If you've ever started a job where, on your first day, human resources led you directly to your desk, you know that's not exactly ideal. Instead of this tactic, managers should introduce each department within an organization in their onboarding process.
While this doesn't necessarily need to happen on day one, it should happen within the first week. This helps the new employee better understand the company culture, what each department does, and how their work impacts the company. The last thing you want is to have an employee be working at the company for over a year and have no idea what a particular department does.
8 Enable new hires to make progress
There's a fine line between throwing a new hire into the deep end on day one and waiting too long for them to start actual work. Find what works for this specific role and help them make progress towards moving from the onboarding phase to the actual work phase. Doing so is all about setting them up with proper documentation, training resources, and ensuring they have someone they can go to and trust with their questions.
9 Find time for one-on-one meetings
Within the first week, the manager of the new employee needs to set up a one-on-one meeting. The first one can be pretty laid-back and casual and be used for check-in.
In this meeting, consider asking questions like:
Have you met other members of the team?
Any issues navigating the office (if working at an in-person office)?
Do you have any questions regarding the training?
Any problems using the software?
The first few one-on-one meetings a manager has with a new direct report can be a way to ensure they're on the right path in their role, they're not feeling overwhelmed or confused, and they have a complete understanding of the responsibilities on their plate.
10 Use technology to start onboarding early
Think about the best onboarding experience you've ever had. It likely wasn't spent reading through a clunky stack of papers with company rules and regulations. In fact, it was probably giving you access to the technology you need to succeed from day one.
No matter what type of software your team uses, allow a new hire to dive right in and understand how the team uses each tool within a company tech stack. This also includes well-done and easy to comprehend training videos that they can access whenever they need it.
It's also important that a new hire has access to technology about:
Company guidelines
Contact sheets
Portal details
Information regarding compensation and benefits
11 Get them engaged as soon as possible
When a new hire joins your team, make sure they feel engaged and part of the team as soon as possible. This includes inviting them to team meetings or even something as simple as asking them to join the group for a lunch outing. You don't want a new hire to feel like they're the outsider or the "new kid on the block." Ask for their input on projects when you can and make them feel like you value what they bring to the table.
12 Ask for feedback throughout onboarding
As you go about the onboarding process, ask for their feedback as often as you can. Don't wait until onboarding is over, otherwise, it's a wasted opportunity for change or improvement.
Instead, find out how to improve the employee experience during the onboarding stage. This can be done in an anonymous survey (if more than one person starts at once), during one-on-one meetings, or candidly as an employee works through each stage in the process. Relay whatever is said or suggested back to human resources so onboarding can constantly be improved.
Welcome to the team!
Getting a new hire up to speed takes time, energy, and patience. Remember that everyone learns at their own pace, but it is possible to give a new hire the best chance possible to succeed and move through the onboarding process as fast as possible. The right tools and understanding team members can make a big difference!