Every little action you do has a way of impacting your day. Over the long term, this pile of small actions adds up to a potentially large change! The art of continuous improvement focuses on getting 1% better every day so that by the end of one year, you'll be 37X better than you were at the start of that year! Applying that concept to your job by improving on these healthy work habits can help you get a promotion, align your team on a project, or even achieve a dream career milestone. 
11 healthy work habits
1Set boundaries
Setting boundaries is the practice of communicating your limits and requirements to your colleagues. When you set boundaries with a coworker, you're informing them of your needs and priorities so you can both work more effectively together. For example, you might set a boundary that you don't want to receive messages on vacation as that time is needed for relaxation to avoid burnout.
Fellow helps eliminate the last-minute meeting problem with the Meeting Guidelines feature set for Google Calendar users. With this feature, when a meeting is being scheduled to be within the next four hours, the meeting organizer is prompted to give attendees more notice, and schedule it later in the day.
2Try walking meetings 
If you're working in person, walking meetings are a fun way to connect with your colleagues. Getting into a fresh environment can be a great approach for lowering the pressure that comes with stressful meeting topics. Remote workers can also engage in walking meetings by tuning in through headphones while walking on a treadmill or going around the block. This can keep your mind sharp and gives you fitness benefits as an added bonus!
3Use time management techniques 
When you think of healthy work habits, time management techniques are likely to be top of mind. Some of the best time management techniques include:
4Schedule time for deep work
Deep work is any type of task that needs a high degree of focus and attention. This can include writing, strategy planning, sorting through data, or researching, for example. You can use the time-blocking time management approach or use other software tools that help you maintain focus during deep work periods. 
Forbes explains that,
"The purpose of this time is to complete the biggest and most detailed tasks on your list. If you can be disciplined enough to shut out the world for at least two hours per workday, you will move the needle forward in an exponential way."
5Move your body 
It's no secret that getting some exercise in your day will provide benefits for your health! Case Western Reserve University recommends that people,
"Take short 1-2 minute stretch breaks every 20-30 minutes. After each hour of work, take a break or change tasks for at least 5 minutes. Always try to get away from your desk during lunch breaks."
To keep yourself accountable, try pairing up with a coworker who also wants to improve their healthy work habits! You can go for a walk or do a quick stretching session together to debrief your day or unblock each other on any small problems.
6Celebrate small wins
Keep the momentum going by celebrating the small wins. This is especially important if you're starting a new role or learning a new skill. If you're too focused on waiting to celebrate until you've hit the grand achievement, you're more likely to lose motivation along the way.
You can make a practice out of regularly tracking your own small successes and use these for leverage in your next promotion. Or, you can make it a team effort to improve morale by setting up a #shout-outs channel on Slack, for example, that highlights the good things your colleagues have done to help you.
7Maintain an organized workspace 
Keep yourself organized so you can find your to-do lists and documents faster. Some things you can to do stay organized include: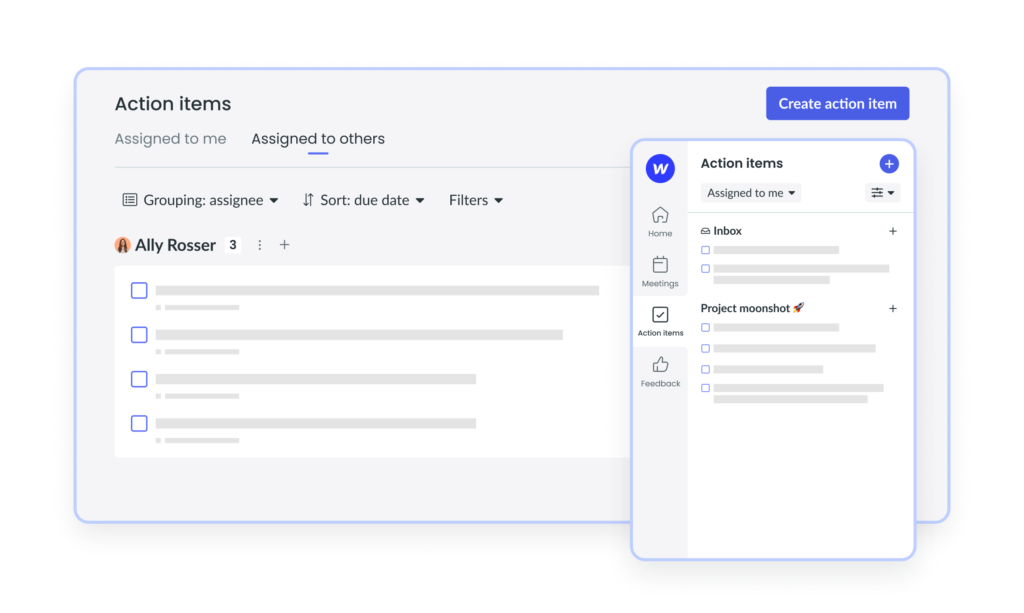 8Continuously learn new things
Continuous learning is an important part of building a growth mindset! Here are a few resources for daily inspiration and lessons:
9Ask for feedback
Collecting feedback is essential for your growth and development. You should try to get feedback from managers and coworkers as often as possible. This allows you to see from different perspectives, which may point out areas for improvement that you didn't know you had.
Fellow helps build a culture of continuous feedback by giving and getting feedback in real-time, effortlessly, promoting a culture of asking for feedback, and getting smart suggestions and useful templates. With Fellow, you can incorporate opportunities for feedback into your team's day-to-day experience. Fellow also enables you to keep a history of the feedback you exchange to visualize your growth. Plus, Fellow makes 360 feedback simple by enabling users to batch send out their feedback requests with Fellow's compact 360 feedback tool and gather all the responses in one place!
"One of the best additions to our feedback loop has been the company-wide adoption of Fellow. It provides an amazing platform for constant conversations and direct feedback between managers and direct reports."

– Justin Schiefner, VP of People Operations & Culture at Arkose Labs.
10Delegate tasks 
Delegation of work is one of managers' biggest struggles, but it's super important for anyone who wants to level up their skills in the workplace. By delegating work to others who are more skilled or appropriate for handling the task, you open yourself up to new opportunities that can allow you to learn new skills, work towards a career goal, or balance your workload to avoid burnout.
To be effective at delegating tasks, you'll need to have a lot of trust in the team around you as well as great communication skills to ensure you're checking in with colleagues about availability and interest before assigning work to them.
11Avoid procrastination
Soldiering is one of the most detrimental procrastination practices in the workplace with most people doing it for an average of 1 hour and 20 minutes each day! It involves any non-work activity during work hours with no intention of harming your employer. Avoiding procrastination helps you switch to healthier work habits so you can stay focused on work-related tasks, get more done, and maybe even get your projects in before their due dates! 
How to integrate healthy work habits with Fellow
Fellow is the #1 rated meeting management software on G2 where teams gather to have productive team meetings and meaningful 1:1s, build collaborative meeting agendas, record decisions, and keep each other accountable. Fellow specifically helps organizations with a lot of meetings, projects, or tasks to ensure they're aligned with team goals and discussion points from past conversations with colleagues.
Here are some of the ways that Fellow helps workers build healthy work habits:
Parting advice
Building healthier habits in the workplace won't happen overnight—it will require a conscious effort every single day. To make it easier to get into the flow of your new and improved habits, consider using software tools like Fellow that will automatically remind you of healthy workplace practices. Fellow will even tell you exactly when you should implement these habits and why; this means you don't have the added stress of manually managing continuous improvement on your to-do list as Fellow will do that part for you!