"Leading effective meetings–meetings that matter–is part science and part art. The science is in taking care of the essential elements that go into the meeting structure. The art is in the way we think about designing our meetings and promoting positive engagement of participants," says Mary Abbajay, organizational and leadership development consultant, trainer, author and keynote speaker.
Achieving this part science and part art on your own is very difficult. However, using meeting management software allows you to achieve this much easier and lead more effective meetings. And when it comes to finding the best meeting management software, it's important to consider multiple alternatives.
Docket HQ, a meeting productivity software, has recently announced its closure. So, let's dive into the best Docket alternative to ensure you continue to (or begin to) run effective meetings.
Overview of Docket
Docket was a meeting productivity platform that aimed to improve meetings through better meeting preparation, focus, and follow-up. By fostering focus, consistency, and planning, Docket strived to make meetings amazing everywhere.
Docket's pricing:
Pro – $6.40/seat/month (paid annually) OR $8.00/seat/month (paid monthly)
Business – Contact for a quote
Say hello to Fellow
Fellow.app, the #1 rated meeting management software on G2, is where teams gather together to have productive and delightful meetings, build collaborative meeting agendas, record decisions, and promote accountability. Fellow also provides users with 500+ ready-to-use templates to ensure effective meetings each time.
Additionally, Fellow has a large list of resources to level up your meeting and management skills, including:
Fellow's pricing:
Free – For teams of up to 10 people
Pro – $6/user/month for teams of up to 50 people
Business – This plan requires requesting a demo for prices.
Enterprise – This plan requires requesting a demo for prices.

The better Docket alternative for meetings: Fellow.app
Level up your meeting habits to boost engagement and productivity with a collaborative meeting agenda. Try a tool like Fellow!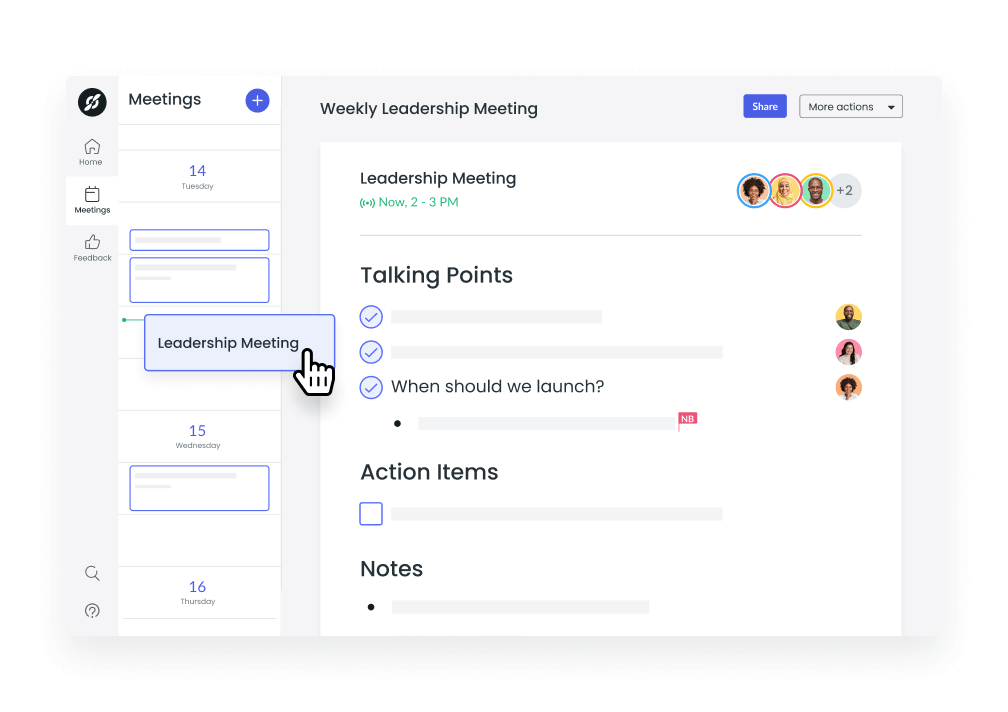 Docket vs Fellow
Docket's key features:
Pre-built templates
Docket provided a large list of pre-build meeting agenda templates ranging in a variety of categories, including:
Customer meeting
Leadership meetings
One-on-one meetings
Sales meetings
HR meetings
Marketing meetings
Project meetings
Team meetings
Collaborative meeting agendas
Docket offered collaborative meeting agendas that encouraged everyone to add to the agenda before the meeting and ensured that everyone knew what the expectations of meetings were before the meeting began. Users could also add time limits or discussion durations to their agenda.
Action items
Docket allowed users to assign takeaways and next steps in real-time and track their meeting to-do's from start to finish. Through their "My Tasks" tab, users could also view a list of their assigned, uncompleted tasks to stay on top of their priorities.
Meeting minutes and notes
With Docket, users could take notes during meetings to record key points, ideas, decisions, and next steps. All users have to do is hit the "Notes" tab during their Docket meetings to start taking meeting minutes or notes.
Fellow's key features:
Meeting templates
Using Fellow's 500+ ready-to-use meeting templates, users can get started quickly and always show up prepared for meetings. With 24 categories of templates – such as weekly team meetings, 1:1 meetings, and agile meetings – it's never been so easy to have productive meetings.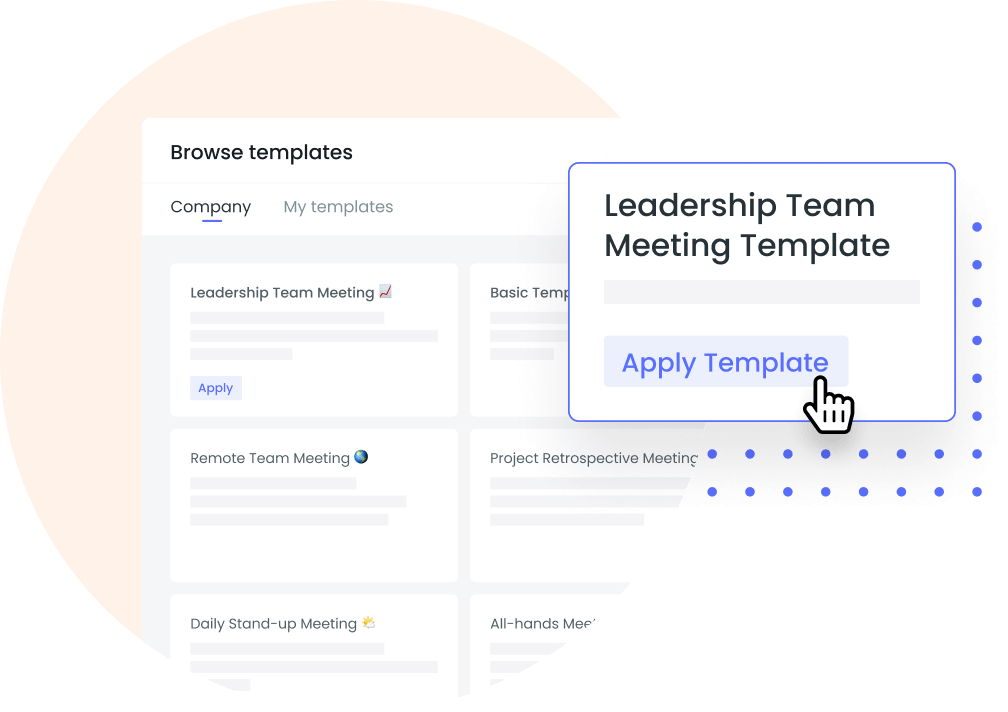 Collaborative meeting agendas
Fellow enables users to collaborate on the same meeting agenda in real-time. This ensures that there is a single source of truth for meeting talking points, action items, and minutes. Additionally, with Fellow you can set pre-meeting reminders that remind attendees to add to/review the meeting agenda before the meeting begins to guarantee everyone shows up prepared.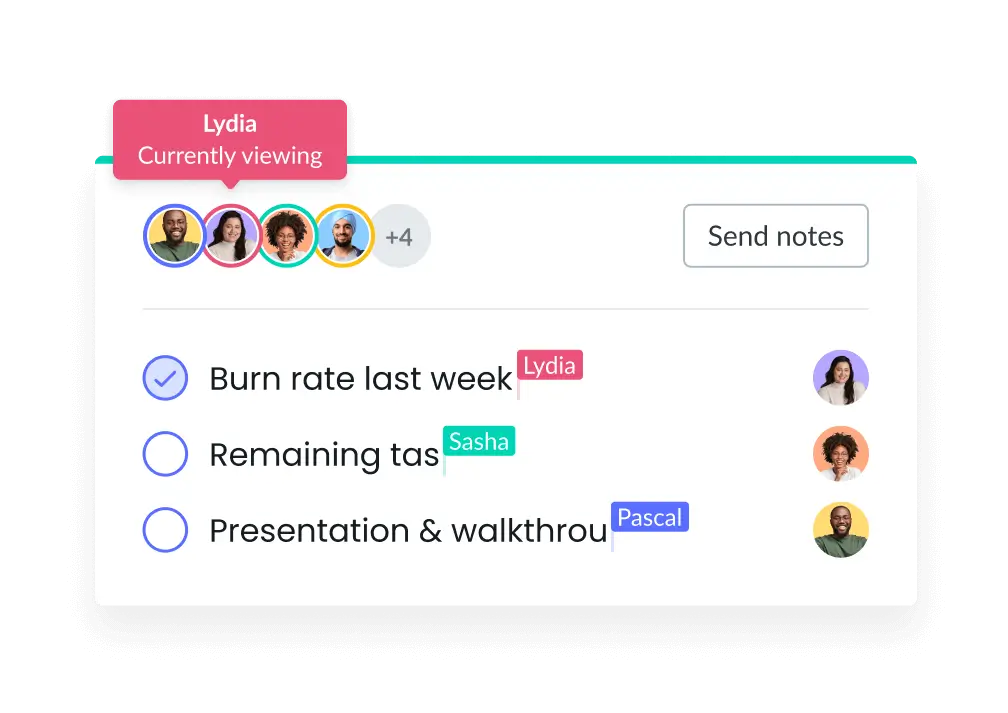 1-on-1s (check-ins)
Fellow enables users to run delightful 1:1 meetings that result in productive conversation. By using one of Fellow's many collaborative one-on-one meeting agenda templates to assign clear action items and provide valuable feedback, all one-on-one meetings in Fellow are efficient and delightful!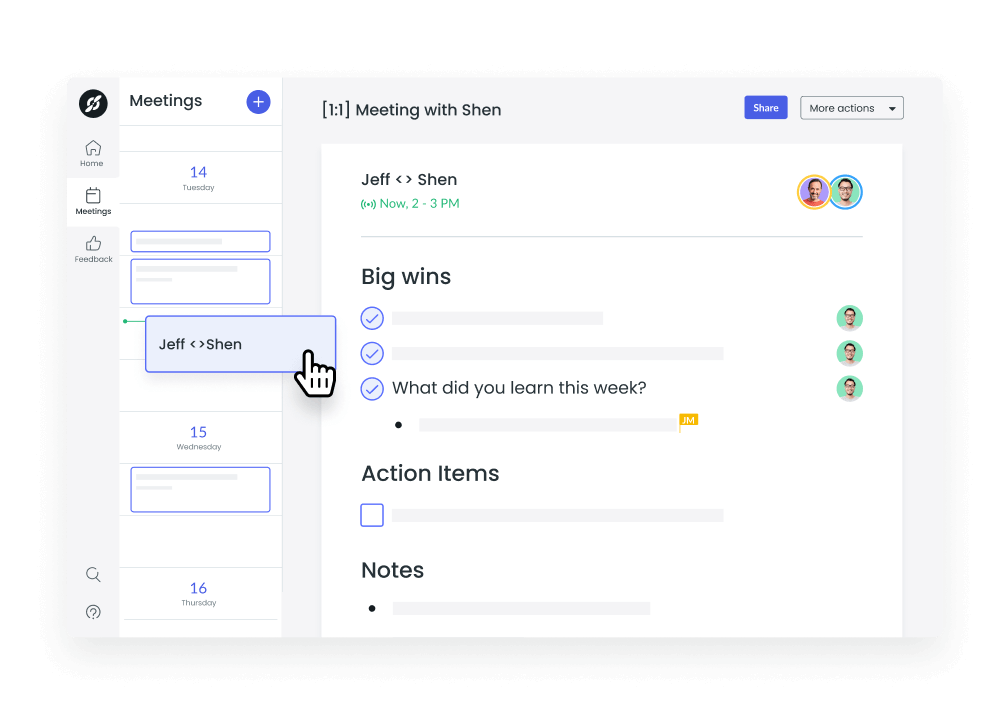 Calendar integration
With Fellow's Calendar integration, you can seamlessly link your meeting notes with your calendar events to boost meeting preparation, productivity, and accountability. Additionally, with Fellow's calendar integration, you can join your video calls directly from a link in your meeting agenda – without ever having to leave the agenda! Fellow's calendar integration is compatible with Google Calendar, Office 365 Calendar, and Outlook.
Chrome Extension
With Fellow's Chrome Extension, users can streamline their meetings prep and note-taking. Through this extension, you can bring your meeting notes directly into your Google Meet calls, opening your video call and agenda simultaneously. This avoids the hectic back and forth between multiple browsers during meetings.
P.S. This feature is also available for Zoom and Microsoft Teams!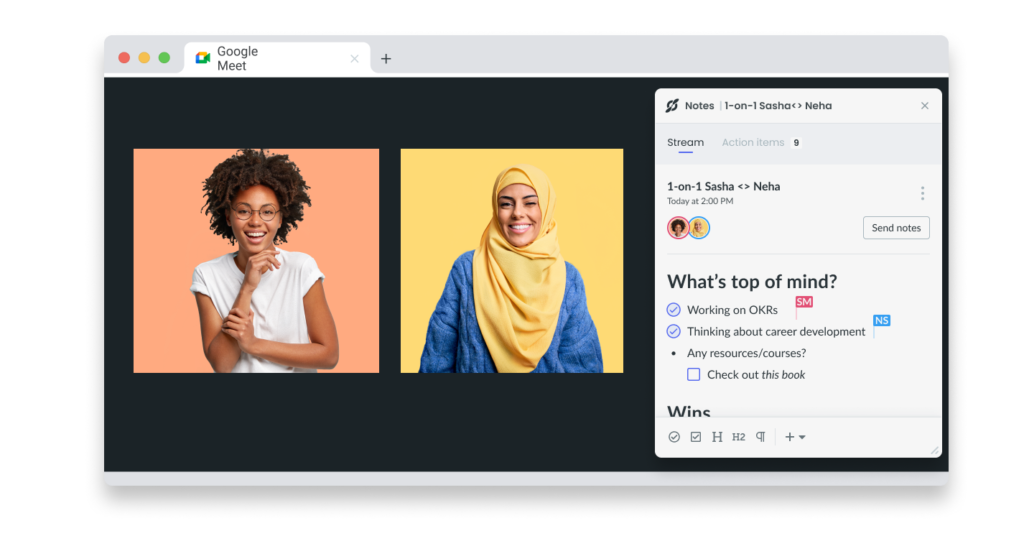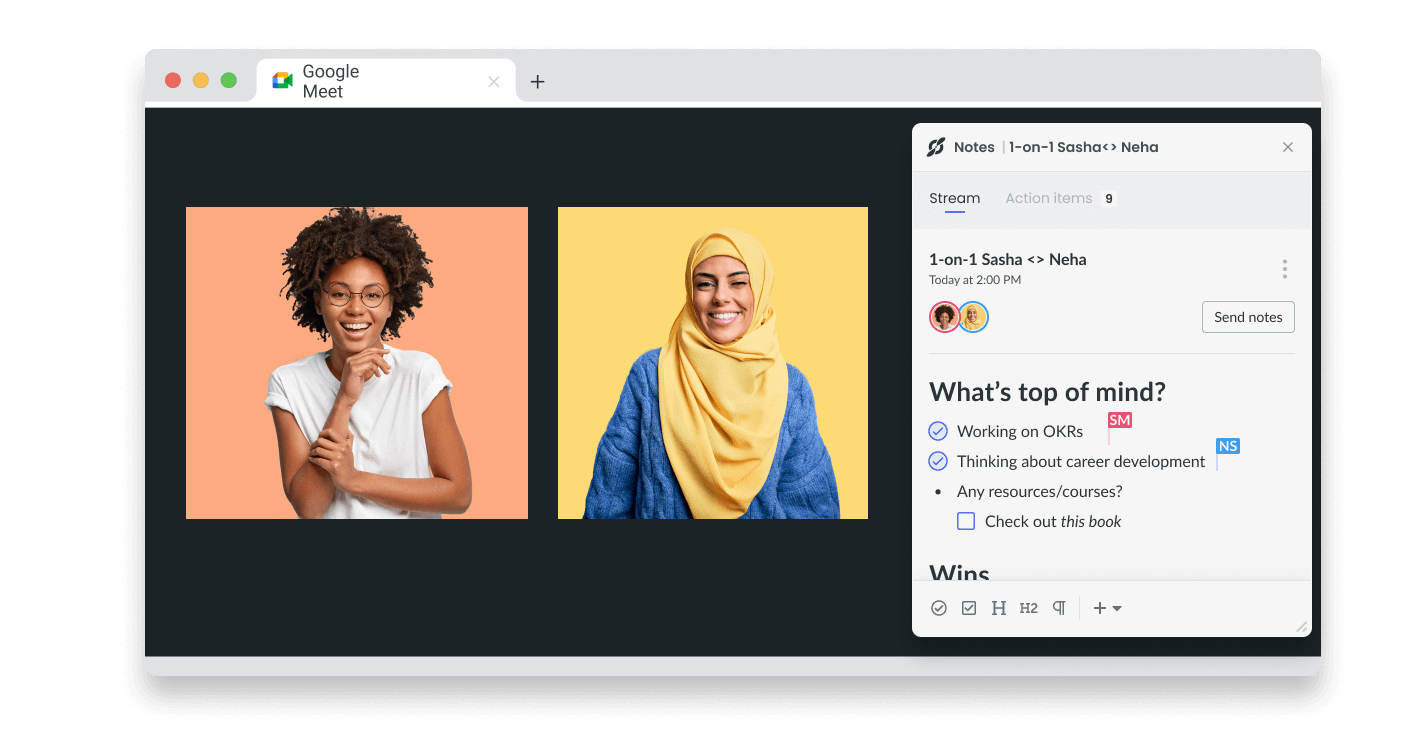 Private and public streams (planners)
Fellow enables users to organize their ideas, their way, with Fellow's digital notepad. Using Fellow's Streams, users can plan their week with personal to-do lists, track company OKRs, collaborate on projects, and capture ideas, goals, or whatever else comes to mind.
Track Objective and Key Results (OKRs)
With Fellow, users can track objectives as part of their meeting workflow. Attendees can now stay on top of their team's goals by defining and tracking the progress of OKRs in Fellow's Objectives tool. Additionally, by linking one's objectives with a meeting, users can easily review the progress of their objectives.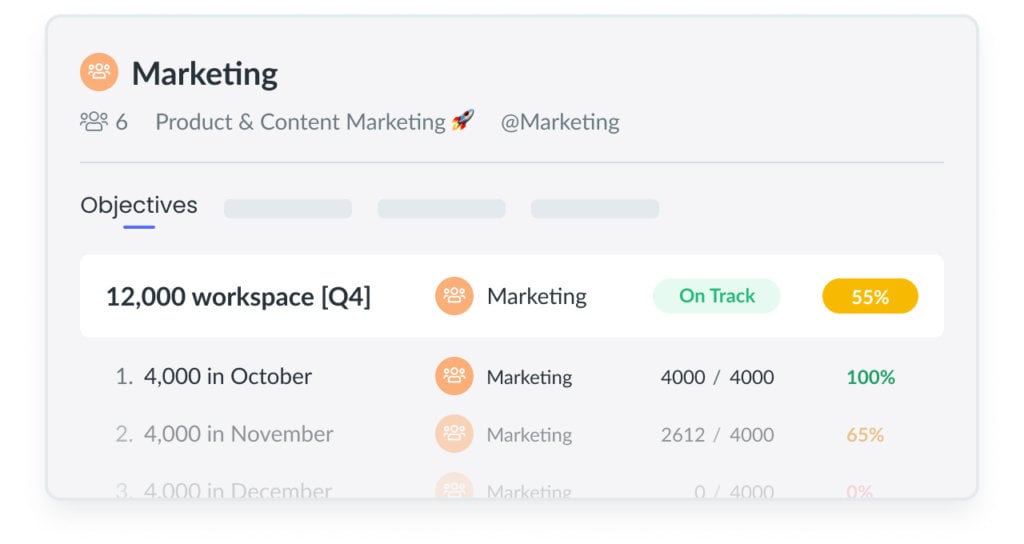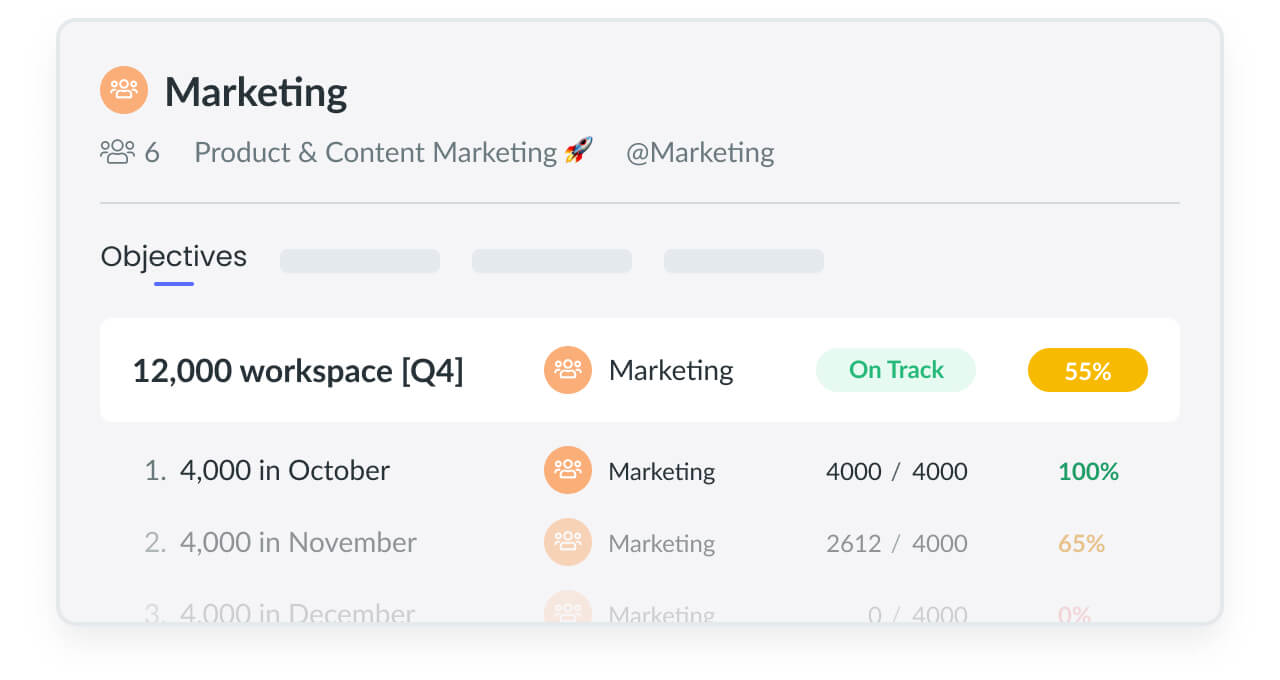 Why Fellow?
With Fellow, great meetings are just the start. Fellow drives engagement and productivity before, during, and after every meeting through fostering a culture of meeting and management best practices. By running effective meetings, fostering accountability, encouraging continuous improvements, and enabling important conversations, you can rest assured that Fellow will create a positive meeting culture for your team!