Back to Board Meetings
David Sacks: SaaS Board Meeting Template
Run effective SaaS board meetings with this template by David Sacks – entrepreneur, investor, and general partner of Craft Ventures.
Preview template
David Sacks: SaaS Board Meeting Template Overview
Board meetings are a fantastic opportunity to speak with advisors, ask for advice, and combine efforts to focus on company growth. However, to reap all the benefits that a well-run SaaS board meeting can offer, you've got to go into it prepared to discuss important points without becoming sidetracked.
Business founders and finance leaders can crush their next business meeting using the David Sacks board deck. David Sacks is a world-renowned entrepreneur and investor with plenty of experience assisting in significant companies' growth. He knows how a SaaS board meeting should run, and he's created the perfect SaaS board deck to help startups in reaching the goals they've set for each particular board meeting.
Board meetings tend to run on the longer side, so preparation will keep it from going over. You'll want to ensure that your team holds these meetings quarterly, and while all stakeholders may attend, the board members elected by said stakeholders must be in attendance.
Board meetings are essential to the infrastructure of any business because they allow directors to speak openly about any issues the company faces, both currently and in the future. SaaS board meetings are the perfect time to discuss the entire company's performance and develop a plan to address new policies that need enacting.
David O. Sacks is the general partner at Craft Ventures, a venture capital firm he co-founded in 2017.
Prior to Craft Ventures, Sacks was the founding COO of PayPal, where he managed 700 employees and was responsible for the product management, design, sales, marketing, business development, customer service, fraud operations, and human resources functions across the company.
This meeting template was created by Sacks to help startups that start to have board meetings for the first time after raising a Series A. Here are five best practices to keep in mind as you schedule your SaaS board meetings:
Board meetings should be held quarterly
Board meetings should be 2 hours long
Board meetings should be scheduled shortly after the quarterly close
Board meeting agendas should be sent 2 days ahead of time so board members have a chance to review the materials
To make things easier, Sacks also developed a board deck template to go along with this meeting agenda template.
How to Run an Effective Saas Board Meeting
To run a successful David Sacks board meeting, you'll want to ensure you're as prepared as possible. These meetings can take place face-to-face or virtually, which is a choice that many companies make today. Don't worry too much about how you hold your session, as current technology delivers top-notch clarity and connectivity. Your meeting will not be any less impactful if it's easier for everyone to hold it virtually.
A SaaS board meeting template will help you fully prepare for your meeting. However, it's crucial to remember that not all verbal communication methods are necessary for a successful board meeting. If you choose to hold the meeting virtually, ensure you have a safe and secure way to exchange sensitive documents that require distribution.
Because board meetings tend to run long, staying on point is imperative. Try to save any questions until the end of the meeting, and take the time to ensure that everyone is following along accordingly. Since these meetings happen quarterly, everyone has to be on the same page (literally) to cover every matter that needs attention.
What's inside this meeting template:
Every great template has even greater components, and this is what you can expect from the David Sacks board meeting template.
1 CEO Update [30 minutes]
Begin your SaaS board meeting discussion with any business that pertains to your CEO. If necessary, you'll have to present the required updates to your CEO, share any news about the CEO, or have the CEO share news about themselves. The communication here has to be truthful and informative. CEOs have an undeniable influence, but they don't have too much input in the daily inner workings of the company they control. This section should bring your CEO entirely up to date.
According to David Sacks, all SaaS board meetings should start with a "30,000 foot level" overview from the CEO.
What major progress has occurred since the last board meeting?
What are the biggest problems?
What's keeping you up at night?
How much cash is in the bank? (runway)
"It's important to recognize that board members are not there to sit in judgment of you but rather to collaboratively problem-solve with you. If you're not able to discuss the company's biggest problems with them, you're much less likely to make meaningful progress," says David Sacks.
After the 30,000 foot level overview, it's important to go into learnings and KPIs.
What have you learned about your target customer since the last board meeting?
How have you changed your market thesis?
Are there any pivots you need to make?
How fast is revenue growing on a monthly basis?
How are churn and expansion, as well as new sales, contributing to your top line number?
What does revenue retention look like (by cohort)?
What are your Daily Active User (DAU), Weekly Active User (WAU), and Monthly Active User (MAU) numbers?
"Every SaaS business has a handful of KPIs that should be covered up front to gauge the health of the business and set context for the rest of the meeting," says David Sacks.
---
Board meetings are better in Fellow
Fellow is the meeting management app that companies like Shopify, Uber, and KeepTruckin use to run effective board meetings.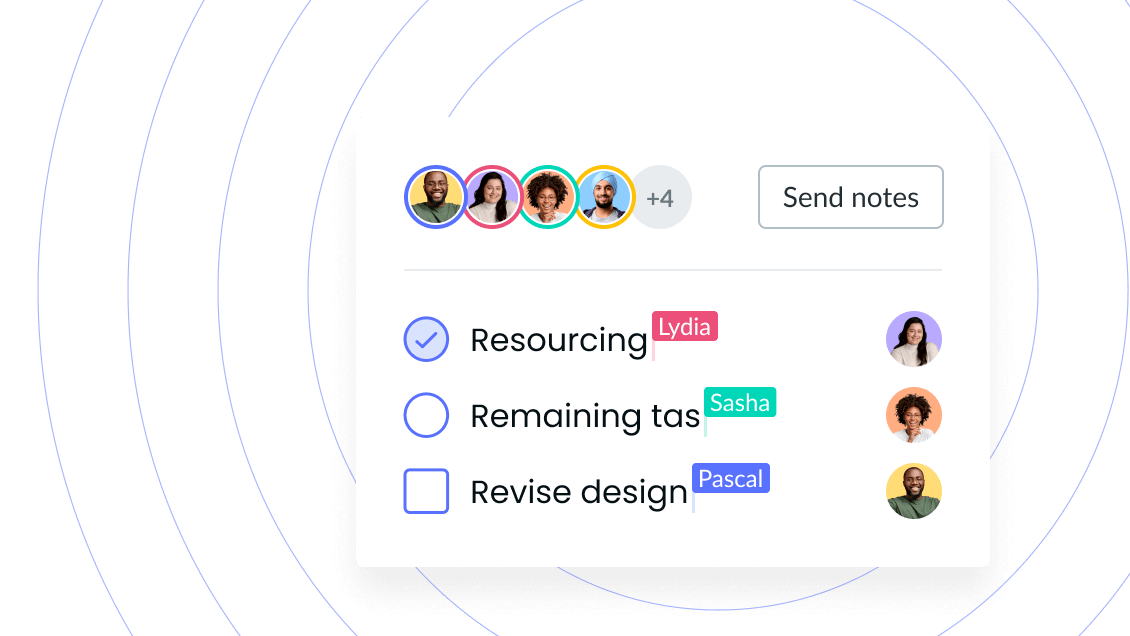 ---
2 Sales Update [30 minutes]
Just as crucial as the CEO Update is the sales update. Everyone on the board must understand what is happening in the sales department, which means you must have the analytics and numbers prepared to present and explain. Gather updates regarding the struggles the sales team faced over the last quarter and open the floor to suggestions for moving forward.
David Sacks advices that the Head of Sales is present at every board meeting. During these meetings, the Head of Sales should review:
The previous quarter's results (ARR, deals closed, objections, competitive landscape)
The upcoming quarter's pipeline (forecast, major deals, coverage ratio)
Team performance (quota attainment, hiring plan)
"Finally, sales forecasts should be tracked using a waterfall chart so nobody forgets what was originally promised in relation to what was delivered," says David Sacks.
3 Other Departmental Updates [20 minutes]
Once you've completed the CEO and sales updates, you can move on to every other departmental update that needs attention. If there's nothing new to discuss regarding a department, you can do a quick recap, but don't skip it altogether. It would help if you prepared a brief for every department in the company.
Bringing the heads of other departments to present at the SaaS board meeting is a great way for the CEO to take a break from presenting and allow board members to get to know key company leaders.
"Usually this is a product update," says David Sacks. "A discussion of sales objections naturally leads into a product roadmap conversation (because new features solve objections). Ideally, the roadmap should fit on one page."
Other departmental updates are optional, and can be rotated between different departments and meetings.
4 Financials [10-20 minutes]
In this section of the board meeting, the CEO focused on financial topics:
Is there a gross margin problem?
Is the company planning to raise a new financial round?
Are headcount and operational expenditure increasing?
"For more mature companies, the CFO will need to present in greater detail. As headcount and opex increase, more scenario planning is required in order to help a fast-growing startup avoid running into a wall," says David Sacks.
Though every aspect of a board meeting is essential, you'll catch the attention of the board members as soon as you begin discussing financials. This is where you'll talk about everything from the cost of customer retention to ROI and annual revenue, so prepare yourself with that information.
5 Team [10-20 minutes]
As part of the SaaS board meeting, the CEO is expected to discuss hiring needs and culture.
What does your ideal org chart look like?
What areas have the greatest need for new hires?
"In practice, you should focus on hiring roles that the team is desperate for, not ones that are a luxury item," says David Sacks.
The team aspect of your board meeting should ensure that everyone is on the same page, as a team, before moving forward. Here you can discuss and brainstorm the future for your company and the best way to achieve those goals. You can set tentative deadlines for where you want to be, whether advancing your IT infrastructure or increasing the sales capacity.
6 Administrative Matters [5-10 minutes]
Last but not least, it's important to leave some time at the end of the board meeting to discuss housekeeping and administrative matters.
Finally, wrap up the board meeting with all administrative issues that need addressing. The administration is a massive part of what keeps your company running smoothly. Take the time to address issues and get your company affairs in order so everyone in attendance is aligned. Also, take meeting notes to turn into a newsletter to send updates to employees that were not in attendance.