Let's do a pulse check on the culture of your team.
Is there healthy collaboration or do you often feel like you're competing against one another?
One way to ensure that your team is experiencing positive team culture and feeling supportive from all sides is to encourage peer feedback… done right.
When peer feedback is done incorrectly, your team will feel attacked and is likely to take the criticism the wrong way. Let's break down what peer feedback is and how to give feedback while also supporting your fellow teammates.
What is peer feedback?
In short, peer feedback refers to the comments and suggestions that individuals may receive from managers, coworkers, or if in a school setting, their classmates and teachers. This feedback can include praise or constructive criticism regarding an assignment or project they were working on or their performance as a whole. 
It's essentially an evaluation from someone other than you on various aspects of your work that may help you realize areas to improve or what you can do differently next time.
Why peer feedback is important
No matter what industry you're in or how high you climb the corporate food chain, feedback is a necessary part of growing in your career. Without it, you can't expect to know what your strengths are and where you have some weaknesses. As an employee, getting feedback helps you to learn and grow as a professional, which is why it's so crucial that there's an open channel of communication with your manager and others on your team.
Not only can peer feedback help you to develop your performance and assist your team as they improve their work, but it can also provide an opportunity to motivate others. Whether it's from a manager or a teammate, peer to peer feedback that's positive can provide the recognition that employees want in order to stay engaged and feel appreciated.
As Katie Wilde, VP of Engineering at Buffer said on the Supermanagers podcast:
"It's very important for not just your relationship with your direct reports, but also for the organizational culture that you're using praise as a tool to get the behavior that you want to see more of. People will do whatever gets praised."
Best of all, consistently giving feedback can lend itself to improved communication across teams, as well as providing a better understanding of what's expected. Keep in mind that peer feedback and peer reviews provide a more comprehensive picture of how employees are working together, not just how they work with their managers and other leadership roles. Also, they shouldn't replace regular performance reviews or salary negotiations.
9 tips for giving peer feedback
Giving constructive feedback to your peers can be complicated and a little awkward… only if you don't do it correctly. Follow these tips for giving peer feedback the right way.
1 Come prepared
Because constructive feedback can sometimes be uncomfortable, for all parties, you should always come prepared with real examples and talking points to focus on. Getting specific with your feedback is always better than keeping things too general. Before you even begin the conversation, pinpoint the goal of the discussion and what you want to achieve. When you know what you're looking to get out of the feedback, you can be sure the conversation is as effective as possible.
In a panel discussion with Fellow, Kameron Jenkins, Content and SEO Lead at Shopify Retail, emphasized the importance of being specific when giving performance feedback:
"Be specific. Nothing worse than vague-negative feedback. I also try to tie this to a strength (if they're pacing slow, it could be because they're very thorough, so I can acknowledge that while still calling out the need to speed up."
2 Adapt to the other person's style
When giving peer feedback, it's important that you consider how the other person prefers to receive feedback and their communication style. You'll want to find out ahead of time if they prefer to have feedback discussions in person, if they'd like the conversation to be over email, or if a quick direct message will do the trick.
Additionally, do they want feedback regarding this big-picture of what you'll be discussing or should you keep the feedback focused on what they may want to do differently next time?
If you're a manager or team lead, we recommend asking the following questions during your first one-on-one meeting with a direct report, as a way to understand their communication style:
– In what medium (in person/slack/email) do you prefer to receive feedback?
– Would you like to receive a "heads up" (for instance, a Slack message) before a feedback conversation so you can prepare ahead of time?
3 Avoid the 'Feedback Sandwich' approach
Even if you've never heard of the phrase "feedback sandwich", chances are good that you know exactly what it is. It's when you put a piece of criticism in between two "slides" of praise, in order for it to be more acceptable to the person on the receiving end.
An example of a feedback sandwich would be: "Great job leading today's meeting! I could tell you came prepared and the slide deck was really well organized. I noticed you didn't include an agenda beforehand, so at certain points, the conversation felt a little all over the place. I'm looking forward to the summary email you said you'd be sending out with everyone's action items, so we can be sure we achieve success!"
This method should be avoided because it can give your teammate a false sense that everything is fine. If you're giving two compliments, when you're really trying to provide them with constructive feedback, they'll likely only hear the good. In the example above, they may miss completely that you're trying to tell them next time be sure to send an agenda before the meeting.
Giving more advice on the matter is Joe Wadlington, the Global Creative Lead at Twitter. In one of our #Managerchats recaps, Wadlington shares:
"I think feedback should be clear, direct, and actionable. Compliment sandwiches can make the person unaware you expect changes. But if the feedback may be hard to hear, it must be done in private and when the person is expecting feedback. No hallway blindsides."
4 Do it early but don't catch them off guard
If you notice an issue with your peer regarding their performance, attitude, or anything in between, it's best that they receive feedback early in hopes to nip it in the bud before it gets too out of hand. You want to give them adequate time to fix an issue before escalating to upper management.
On the same note, you don't want to catch them off guard with this feedback. Give them a heads up that the two of you will be having a conversation in which you'd like to discuss something that could be sensitive. That way, they won't feel ambushed and immediately go on the defense in the conversation, but instead, you can try to solve the problem together.
An example of that "heads up" would be: Hey [name], in our next one-on-one meeting, I'd love to talk about some suggestions for improvement for [project X].
Pro Tip
Use a one-on-one meeting tool like Fellow to write talking points in advance and let your teammates know what you'd like to discuss at your next meeting. 
5 Use non-judgmental language
When having a peer to peer conversation, it's okay to offer your personal view, but don't act as an authority figure or use judgmental language.
Your comments can start with "I feel…" or "Something to consider for next time…". This will make the conversation seem like a relaxing discussion.
Try to remain positive when talking peer to peer, as your teammate will always be more receptive to what you have to say when you have a positive attitude going into it.
In short, start things off with a "what if" statement, like "What if next time we tried this approach?" instead of "That clearly didn't work and your method shouldn't be used in the future."
6 Focus on the problem, not the person
As you give peer feedback, consider who you're talking to, and always remember your employees or other members of your team are people too. Be aware that your feedback can sway their emotions one way or another, so never make the problem about them.
The person you're speaking with shouldn't feel like you're attacking them or that they're being targeted. Always provide feedback based on the issue, the project, or the work, not the individual.
When asked about this approach, Chief Talent Officer at Pivot + Edge, John Fleischauer, shared:
"In order for constructive feedback to be effective, it has to be specific, timely, and completely objective. NEVER criticize the person, criticize the behaviour and why it needs to change. Then shut up and let your employee absorb."
7 Make it a two-way conversation
Peer feedback isn't a one-way street. In fact, it should be a two-way conversation. Both sides of the discussion should be listening to what their peer has to say. Questions should be encouraged and suggestions need to be considered with an open mind.
When both peers are listening and feeling like what they have to say is being heard, there's a better chance of taking the criticism well and walking away with a solution.
8 Ask, don't assume
When it comes to peer feedback, never ever jump to conclusions. You need to ask the right questions ahead of time so you have all of the information before the conversation starts. Try to dig deeper into the problem at hand and work as a team to come up with a solution that will benefit not only the individual but the company as a whole.
It's always easier to work as a team to come to a solution, instead of assuming something without all of the necessary information, causing those having the conversation to be on opposing sides.
9 Embrace peer-to-peer feedback tools
A surefire way to ensure the feedback conversation goes smoothly is to utilize the right software. For instance, Fellow makes the entire process seamless as you and your team can share real-time feedback on anything pertaining to meetings, projects, and performance.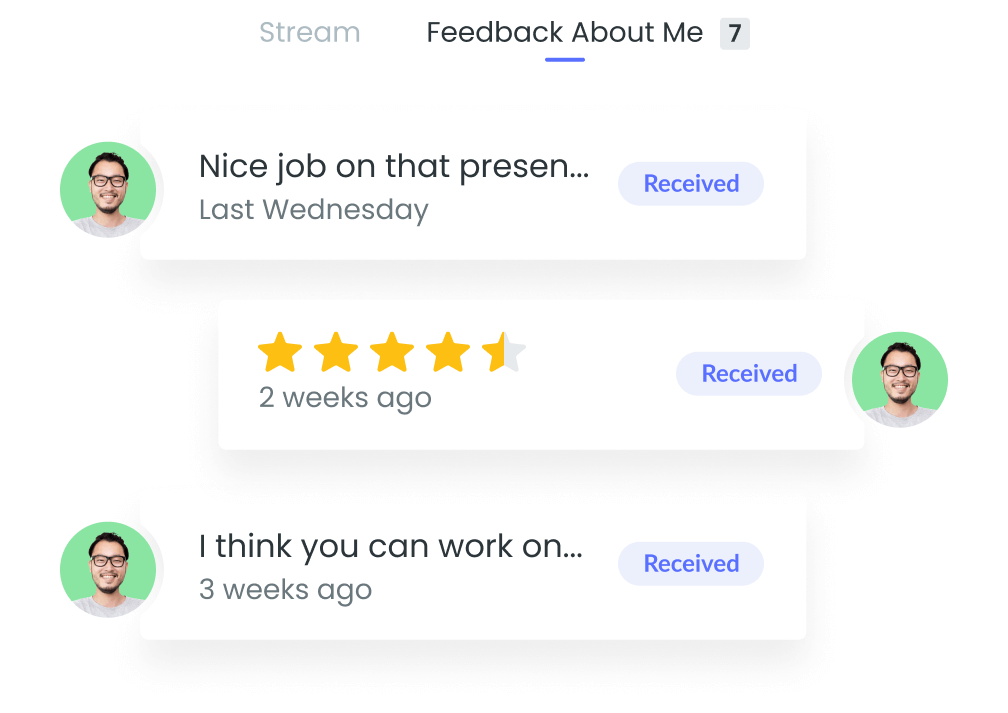 Research shows that employees who receive consistent feedback feel more fulfilled in their jobs. Fellow makes it easy for teams of all shapes and sizes to ask for feedback from both their peers and upper management as a way to build a culture of continuous feedback. This is done by promoting these conversations daily and making it easy to track progress over time.
Tell them how you really feel
At the end of the day, you want your team to thrive, hit their goals, and see success on both a personal and professional level. When you share feedback the right way, and everyone involved has an open mind and feels supportive, all parties will walk away knowing exactly what is expected from them.