What is Fellow?
Fellow is the top-rated meeting management software, where teams gather to have productive meetings, build collaborative meeting agendas, record decisions, and keep each other accountable by assigning action items. With Fellow, users can also organize their ideas in private or shared streams and build a culture of continuous feedback.
Fellow's extensions can also streamline your meeting prep and note-taking! For example, Fellow's Chrome extension makes it easy to find and edit your meeting agendas by bringing your notes right into Google Meet.
"It is a game changer to have my Fellow notes right there in my Google Meet meeting. I use it for 1:1s and other recurring meetings to keep a history, organize my notes, and keep track of action items for next time."


– Ian Cowley, Fellow user

Run efficient meetings, come to a decision, and get back to work
Level up your meeting habits to boost engagement and productivity with a collaborative meeting agenda. Try a tool like Fellow!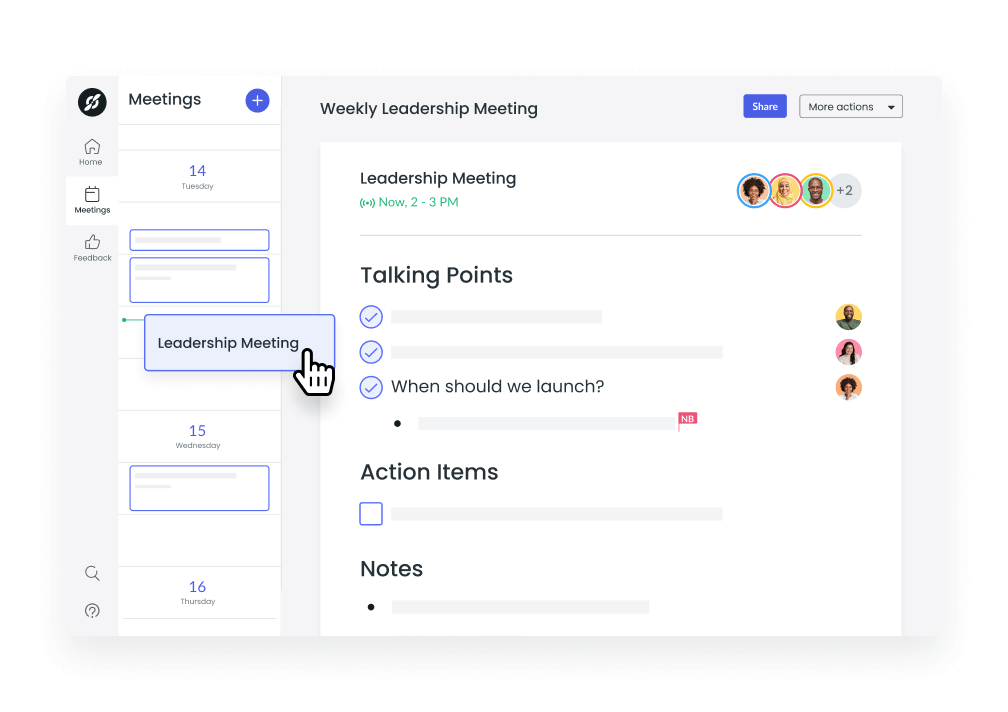 How much do meetings cost?
When done right, meetings can help your team feel connected, motivated, and productive. However, when done wrong, bad meetings can cost your organization thousands of dollars per week. Fellow's The Future of Meetings report 2021 shows that meetings cost companies between $43,008-$56,448 per manager yearly! Additionally, If one hour of a Director's time costs ~$98, companies are paying between $1,568-$2,058 per week or $75,264-$98,784 per year for Directors to attend meetings.
Don't believe us? Check out Fellow's meeting cost calculator to find out how much it costs to bring your team together.
For example, a 1-hour meeting twice a week with 5 meeting attendees who make an average annual salary of $65k equals $16k/year.
Breaking that down even further, that equates to $156 per meeting, $312 per week, 520 employee hours annually, and 104 meetings per year. Think of how much more work your team could get done with 520 more work hours annually!
How Fellow saves you money
1Standardizes meeting habits across the organization
According to a study done by Fellow, 75% of managers agree or strongly agree that Fellow improves their meetings culture. Fellow standardizes meeting habits across the organization by becoming a central tool for all leaders in the company. By implementing Fellow across the organization, leaders in your company will adopt healthy meeting habits such as planning meeting agendas ahead of time with supporting documents and relevant information and encouraging meeting attendees to come prepared to meetings.
In turn, your team will save time and money in meetings – there will be fewer questions and more alignment on goals and expectations – giving your employees more time back in their work day to focus on completing their objectives.
2Meetings become efficient and to the point
When leaders implement Fellow across their organization, meetings become more efficient and to the point. This results in meetings ending earlier because there is no longer wasted time. For example, a 1-hour scheduled meeting where the attendees contribute to a collaborative meeting agenda and assign action items can easily turn into a 45-minute meeting because there are fewer distractions and side discussions.
In fact, a survey in March 2022 found that Fellow saves time for almost 100% of the managers surveyed.
On average, users report that meetings are 16% shorter with Fellow. That's $7,000 saved per year for each manager at the company.
Look at it this way, if you typically attend eight 1 hour meetings every week, that equals 416 hours in meetings each year. But if you saved 15 minutes after each of those meetings by using a collaborative meeting agenda, you're saving 2 hours a week or 104 hours a year. That's over two weeks of work time and money saved per year!
3All meetings have action items and defined next steps
Fellow creates a healthy meeting culture that ensures attendees have defined next steps by the end of the meeting. According to Fellow's 2022 survey, 87% of managers surveyed said that Fellow makes it easier to reference and track decisions.
With Fellow, users can:
Make clear decisions about who is doing what, by when
Plan and prioritize action items in their personal to-do list
Check action items off once completed to keep track of everything and feel a sense of accomplishment
Automate the process by automatically carrying forward any incomplete action items into their next meeting to drive accountability
When every meeting results in action items and defined next steps, you can rest assured that your meetings are productive and saving you time and money!
"Our previous process for tracking action items was spread across multiple platforms. More effort was required to gather notes and action items from previous meetings, and we could not view manager feedback holistically. Fellow has helped us streamline all of this into one spot, and the way it automatically pulls incomplete talking points and action items from the previous meetings is a game-changer!"

– Travis Feddema, Financial Advisor and Wealth Management Analyst at PWL Capital.
4Leaders get time back in their schedule by cancelling unnecessary meetings
A popular statement here at Fellow is "no agenda, no attenda." Without a meeting agenda, meetings are unprepared, resulting in an unproductive waste of time. With Fellow's Time Saver automation, Fellow will automatically cancel meetings without an agenda, freeing up room in your calendar.
Moreover, leaders reported having 16% less meetings with Fellow, equivalent to $2.6k savings per year! According to Johan Van Heerden, VP of Engineering at Nintex,
"Fellow made my team's collaboration a lot more efficient, which has allowed us to remove a lot of things that we don't necessarily have to talk about in a conversation."
5Status updates are done asynchronously
Fellow allows users to leverage asynchronous meetings to cut down on meeting time and costs while keeping everybody on the same page. Users can run productive asynchronous meetings in Fellow by having everyone collaborate on the same meeting agenda through either running recurring asynchronous meetings using automations or by running recurring asynchronous meetings using other streams.
According to Johan Van Heerden, VP of Engineering at Nintex,
"We had one standing meeting, and now we're able to completely do it asynchronously thanks to Fellow. We did it twice a week before, and within a month, we got to a position where we agreed that it could be done completely asynchronously using Fellow. It went from two times a week, to one hour a week, to half an hour a week. And eventually, half an hour disappeared as well."
6Managers unblock direct reports through effective 1:1 meetings
Teams become more productive when managers have regular and effective one-on-one meetings with their direct reports. This translates to the company as a whole becoming more efficient, saving the company more time and money.
Andy Grove, former CEO of Intel, someone who successfully grew Intel's revenue from $2,672 to $20.8 billion in less than 30 years, and wrote the book High Output Management, says, "Let's say you have a one-on-one with your subordinate every two weeks, and it lasts one and a half hours. Ninety minutes of your time can enhance the quality of your subordinate's work for two weeks or some eighty-plus hours and upgrade your understanding of what they're doing."
Fellow makes one-on-one meetings more efficient by making it easier for managers and their direct reports to collaborate on talking points, exchange feedback, and have engaging conversations. For example, meeting attendees can collaborate on a meeting agenda to inspire a thoughtful, two-sided discussion and stay organized by keeping the conversation in one place. Attendees can also assign action items during meetings and then carry over incomplete action items to future one-on-one meetings.
Kim Scott, a former leader at YouTube, Google, and Apple, argues in the book Radical Candor that "Holding regular 1:1s in which your direct report sets the agenda and you ask questions is a good way to begin building trust. 1:1s are your must-do meetings, your single best opportunity to listen, really listen, to the people on your team to make sure you understand their perspective on what's working and what's not working."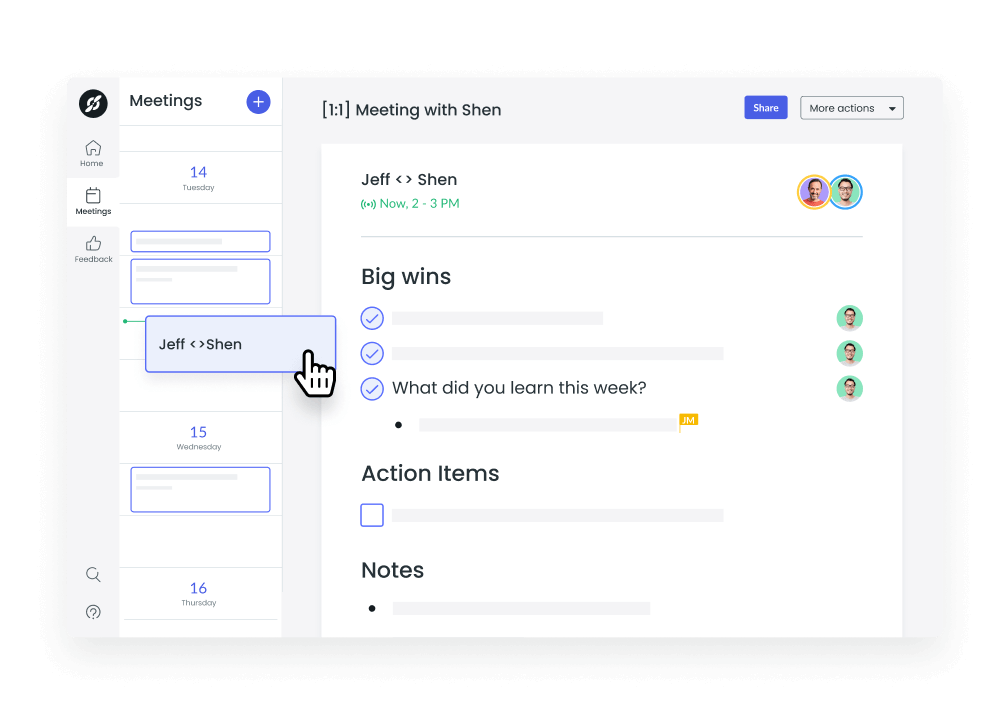 7Leaders set clear expectations and priorities, making their teams more productive
With Fellow's Objectives tool, leaders can stay on top of their team's goals by defining and tracking clear objective and key results (OKRs). Additionally, users can link their objectives with a meeting, making it easy to review the progress and resolve challenges.
OKR features help leaders set clear expectations and priorities with their team. You can assign OKRs to your team members during team meetings so that for the next 3 months, everyone knows what they're supposed to be working on to make the team more productive. This also ensures that everyone gains context and visibility. When everyone is on top of their tasks and knows what to spend their time on, teams become more productive, saving the company money.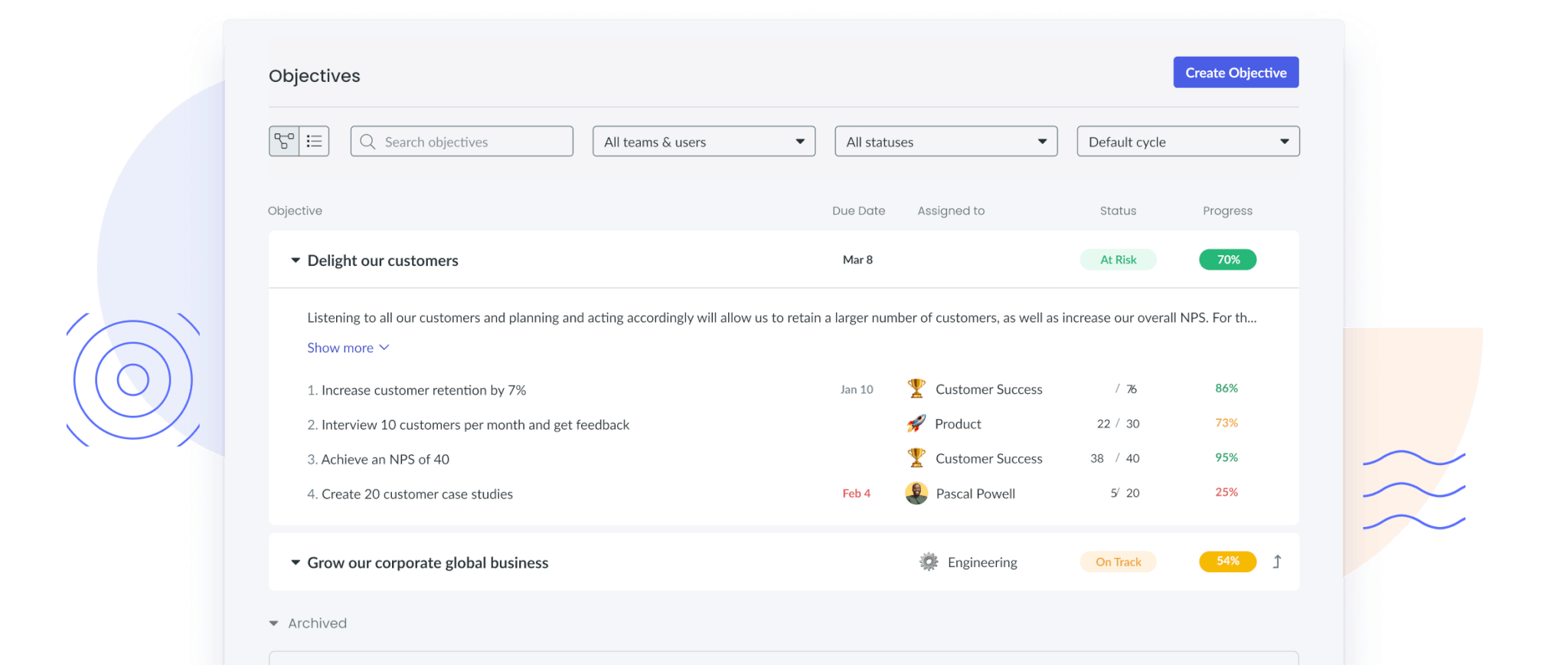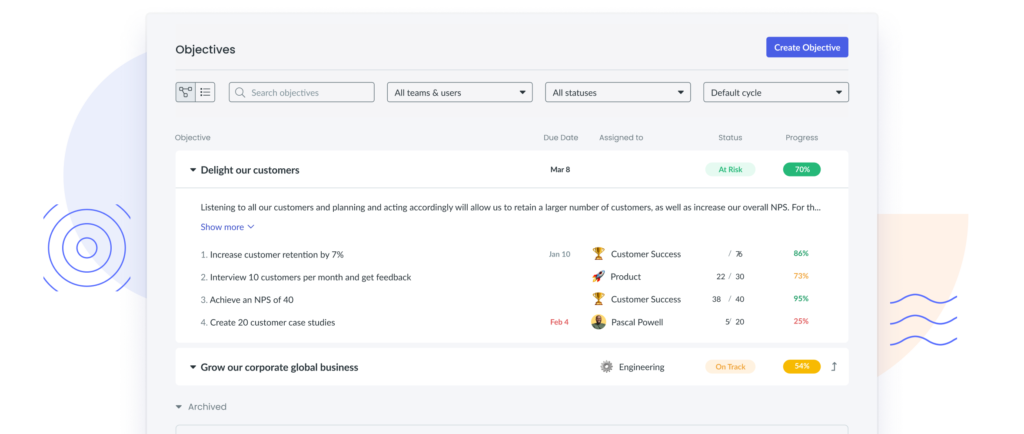 8Company leaders get training on meeting and management best practices
Fellow's in-house meeting experts host sessions on how to make every meeting delightful, sharing meeting tips and best practices. These experts offer a hands-on walkthrough of Fellow and all of the amazing features to ensure confidence and comfortability when using the product.
Fellow's experts deep dive into optimizing one-on-one meetings, team meetings, and org-wide meetings, ensuring a collaborative and productive use of time for everyone. Additionally, Fellow trains managers and leaders in varying industries and customizes Fellow's features to each teams' needs. This ensures that each team is set up for success to help them save time and money by comfortably using Fellow.
Start saving money with Fellow
Use Fellow to save your company valuable time and money – your team will thank you! And if you don't want to take our word for why Fellow is amazing, check out this user's testimonial to see why real customers love Fellow!