At the end of the day, even your happiest employees don't want to work all day long. So when projects come around that you know will take quite a while to complete, you and your team are probably itching to find ways to save time.
Cutting corners on quality is a risky move – instead, try using workflow management tools to streamline your processes, saving hours of a headache searching for status updates or looking for pertinent information.
To get you started, we've created a guide to the basics of workflow management and the best workflow management tools you can use to help streamline your organization.
What is workflow management?
Workflow management is the process of organizing, assigning, supervising, and finalizing all tasks required for a certain project. If a workflow comprises the steps your team must take to achieve a result, then workflow management comprises the steps needed to make that result the best it can be. Here's what else you should know about workflows and managing them:
1 Workflows include several key components
You'll find each of the following in even the most complex workflows:
Activities. Each activity is a step in the process to complete the task at hand.
Actions. Each action completes an activity so you can move onto the next stage.
Transitions. Each transition describes how, upon completing one activity, you'll begin the next activity.
Splits. A split occurs if an activity requires more than one action to complete.
Joins. Joins, which are roughly the opposite of splits, connect several previous activities to one activity that follows them.
Subprocesses. The sum of all actions that can follow an activity comprise that activity's subprocesses.
2 Workflows should be mapped
It's challenging to visualize the above workflow components in your head, right? No need to pretend you can see it all perfectly – most people can't. That's why workflow management systems and project management tools like PERT and Gantt charts are so popular. To show why, we've borrowed a PERT chart example from our PERT vs. Gantt chart guide:
Points one through six are activities, and the arrows between them are actions and transitions. The two arrows to the right of point two are splits, and the two arrows to the left of point five are joins. The two splits following point two are also subprocesses of that activity. See how easy workflow management can be when you map it out? What a breeze!
3 Workflow management has all kinds of benefits
Workflow management solutions result in the following for you and your team:
Clearer schedules. When you're up against the clock, it's easy to worry that you won't reach the finish line. That's why most workflow management tools include meeting deadlines and time-blocking features that break your work into manageable chunks. With this clear scheduling, you'll feel less stressed, do better work, and finish the race on time.
Easy task assigning. Imagine conducting a leadership meeting only to find out two people have recently completed the exact same task. Workflow management tools prevent that type of time-wasting that holds back projects. This way, your goals stay within reach on deadline.
Robust planning. As the above PERT chart example shows, workflow management results in action plans you can easily stick to and execute. The result is a set of goals that's feasible to achieve and a project structure that yields excellent team collaboration.
Hands-on monitoring. Gantt charts, in particular, facilitate team monitoring since they show what your colleagues are working on and when their work should be complete. If the team member executing a task hasn't updated you recently, you'll know whether that's because they're early in the process or they've just neglected to communicate. Either way, you'll know who to contact about what.

Pro tip
Use a meeting management tool like Fellow assign action items with due dates for easy task tracking and hitting deadlines.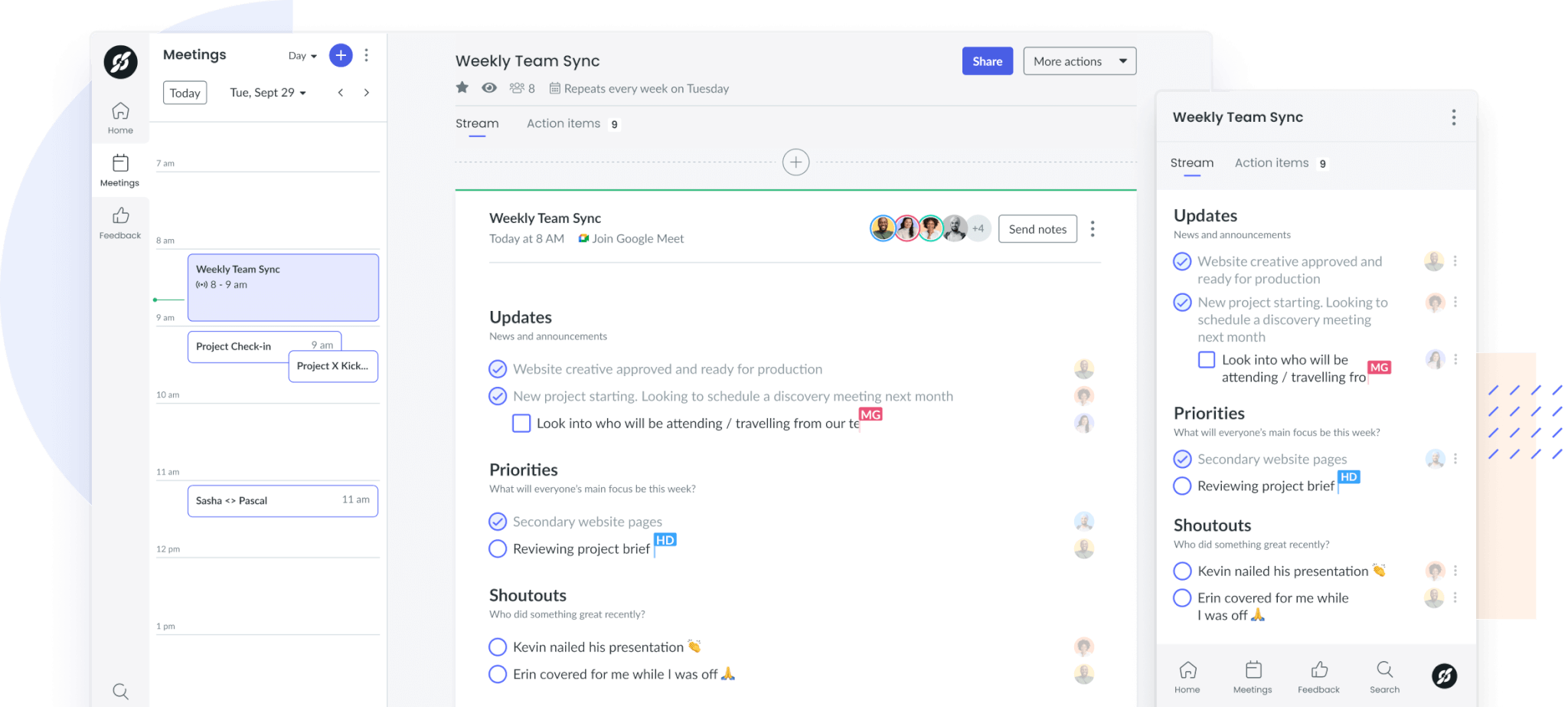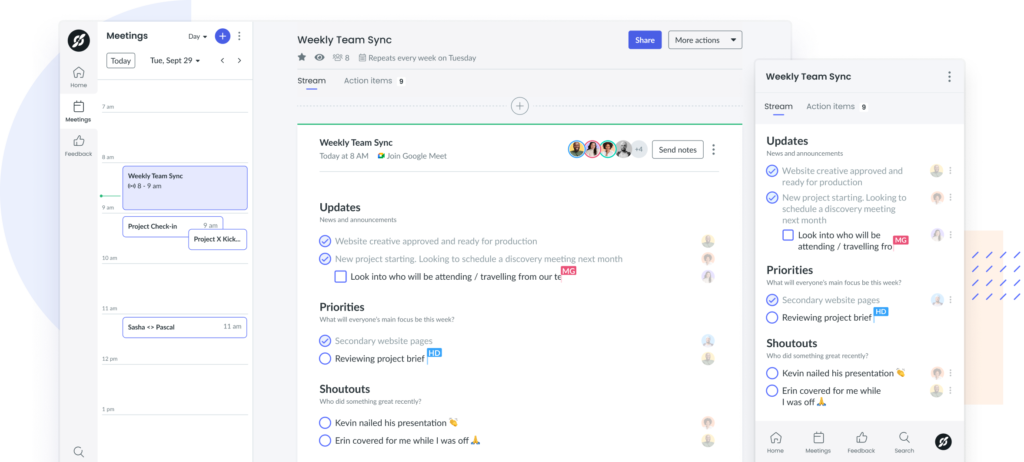 What makes a great workflow management tool?
To choose the best workflow management software for your business, look for the following features:
Clear, user-friendly processes. Entering and assigning tasks should be a breeze. So too should team communication (many workflow management tools include features for messaging internally about your tasks). In general, every part of a great workflow management tool should be easy to access and use.
Excellent task monitoring. Most trustworthy workflow management tools allow for the creation of several subtasks for any one task. As your team completes these subtasks, they can mark their work complete. This way, you'll know whether your team members are staying on track, falling behind, or well ahead of schedule.
Numerous integrations. Many workflow management tools integrate with other software platforms such as time-tracking, calendars, reporting, and CRM suites. That said, a platform with fewer integrations is better than one with more if the former integrates with more of your tools than the latter.
Analytics and reporting. No workflow is perfect, but analytics and reporting tools can get you close. Analytics and reports can identify which tasks or processes are redundant while pointing to disruptive bottlenecks. When you rectify these issues, you boost productivity and improve your whole workflow.
Notifications. When you assign a task to someone, that person should be alerted in your workflow management platform, via email, or via push notification (or all three). You should also ensure that your workflow management tool enables notifications when you make important task modifications that a team member should see.
Security. If what's in your workflows is the kind of information that may be sensitive for unauthorized parties to view, you need robust security features. Even if a data breach wouldn't capsize your affairs, security is key, as hackers could use any identifying information in your workflow management system to leak or otherwise expose sensitive data.
Availability. Self-hosted workflow management tools are great if you're strict about your team working solely on-site during certain hours. However, in the era of remote work and flexible arrangements, you're probably not that person. You should thus check that your workflow management solution is cloud-based or web-based. This way, your team can access your platform from mobile apps or web browsers no matter their location.
Automation. The best workflow management systems can automatically trigger certain actions after one is completed. If this function is important to your business, then only choose platforms that automate workflows accordingly. The time saved in your processes could prove invaluable – perhaps even priceless.
Overall power. A workflow management system can sometimes be so much more than a way to oversee and execute tasks. It can also include document management, team communication platforms, and digital workplace tools. With these features, you can create a workforce that flows through projects like water through a high-power hose.
The 10 best workflow management tools
Some prominent workflow management tools that include most or all of the above features are:
1 Fellow
Yes, we here at Fellow are also a work management tool. Although we come at it a bit differently – we focus primarily on meetings – our integrations can substantially streamline all your workflows. We have a free plan, a Pro plan that costs $6 per user per month, and organization-based custom pricing for larger enterprise users.
At Fellow, we provide meeting templates, action item tools, idea streams, employee feedback and external collaboration features, and one-on-one conversation software. All these features keep your team on the same page, meaning you'll all move through your tasks and create actions plans much more quickly. The result is more efficient workflows – exactly what you're looking for with workflow management.
2 Monday
Monday is a platform that project managers can use to create Gantt charts for advanced projects and expedite requests and approvals. Monday is also great for sharing files, creating Kanban boards, and developing custom automation workflows. However, some project managers may find that Monday's contact page doesn't exactly make the tool's support team easily accessible via phone.
Monday plans for individuals are free. The subsequent Basic, Standard, and Pro plans are, respectively, $8, $10, and $16 per user per month. The more you pay, the more features you get – Gantt views, for example, become available with the Standard tier. Custom enterprise plans are also available.
3 Asana
Asana includes tools for project and workflow management alongside tasklist and team collaboration features. Its strengths include the easy grouping of tasks into projects, assigning of tasks to team members, and viewing of a team member's tasks and deadlines. Its major drawback is that it lacks tools for creating Gantt charts or otherwise indicating how long a task should take.
Like Monday, Asana's introductory tier is free. Its paid Premium and Business tiers respectively cost $10.99 and $24.99 per user per month. Each paid tier adds customization tools lacking in lower tiers. You can contact Asana if you're interested in custom enterprise plans.
4 Wrike
Wrike is a workflow management tool with a strong focus on prioritized task lists, customizable workspaces, thorough collaboration and transparency, and quick requests and approvals. Alongside interactive Gantt charts and Kanban boards, Wrike also includes project risk prediction and advanced communication tools. Its most obvious drawback is that, to customize workflows, you need to pay into the second-most expensive plan.
Wrike offers a free tier, and its Professional and Business tiers respectively cost $9.80 and $24.80 per user per month. You can also request custom enterprise plans.
5 Laserfiche
Whereas Monday, Asana, and Wrike all facilitate hands-on project management, Laserfiche is a document management platform that happens to include task assigning and approval tools. With Laserfiche, you can also bump tasks to managers if lower-level employees miss deadlines, and you can create visuals and reports for employee workloads. While these tools do powerfully elucidate your team's capacity, they come short of full-on workflow management.
Cloud-based Laserfiche Starter, Professional, and Business plans cost, respectively, $50, $69, and $79 per user per month. The corresponding prices for self-hosted plans are $45, $59, and $69. Custom enterprise self-hosted plans are available, though this option doesn't exist for cloud-based plans.
6 Pipefy
Pipefy prioritizes seamless external collaboration in addition to internal project management. Its workflows coordinate your team with all your vendors, partners, and clients. This way, everyone involved can track all processes without messy email threads or task lists. The drawback of this arrangement, of course, is that it risks pulling the curtain too far back and showing third parties too much about how you work. Some things, as you know, are best kept 100% internal.
Pipefy's introductory tier is free, and its Business tier costs $18 per user per month. Its Enterprise and Unlimited plans are priced entirely according to your needs. You can request a demo for the Business tier, and you'll need to contact Pipefy for more information about the Enterprise and Unlimited plans.
7 Quixy
With Quixy, you can model, automate, monitor, and modify your workflows. You can also track all your team members' work, even if you go fully remote. And if you're interested in creating custom applications, Quixy allows you to do so even if you don't know how to code. One potentially bothersome quirk of Quixy is that it focuses on results and output more than workflow automation.
For a specific Quixy solution, you'll pay $500 per month. For the entire Quixy platform, you'll pay $10 per user per month. As with pretty much every workflow management tool listed here, a custom enterprise version is available.
8 Kissflow
Kissflow enables you to create a digital workspace and access tools for managing workflows, projects, and cases. Team communication and collaboration tools are also available. However, where other workflow management platforms bundle these services into one package, Kissflow users must pay for each product separately. That said, workflow and case management do come together.
The Kissflow project suite has a free tier, but Kissflow workflows and digital workplaces lack free tiers. Thereafter, the Starter project tier costs $35 per month plus another $5 per month for every user after the fifth. The Professional tier costs $60 per month plus another $10 per month for every user after the fifth. Contact Kissflow for custom enterprise pricing.
Kissflow's workflow suite spans $9.90 to $19 per user per month, and the digital workplace suite spans $20 to $40 per user per month. You can't get custom enterprise plans for these tools.
9 GuideCX
With GuideCX, both your team and third-party partners can stay attuned to key project steps through tools such as task and time tracking, Gantt charts, and workflow automation and templates. GuideCX can also assist your business with branding and provide hands-on implementation training. Though these features are compelling, you can't find out how much they cost without contacting GuideCX.
10 ClickUp
ClickUp largely resembles Monday, Asana, and Wrike, but with additional time tracking tools. ClickUp also includes timeline features largely lacking with these other platforms. It's also highly cost-effective as compared to similar tools, though its free tier is relatively sparse in features.
After its free tier, ClickUp costs $5 per user per month for its unlimited tier. The business tier is $9 per user per month. For enterprise needs, contact ClickUp for custom pricing.
Use Fellow to manage your workflows
With Fellow, you can organize your meetings, assign tasks to attendees, supervise your whole team, and turn long-brewing projects into finalized deliverables. We manage your workflows whether your meetings are one-on-one, cross-functional, or remote, so we can get any team through any set of obstacles. Explore our features now to get one step closer to perfect workflows.