Back to Template Gallery

Remote Team Meeting Agenda
Don't let communication slip through the cracks in your remote team. Use this template to ensure team alignment and consistent communication!💪
Preview template
Remote work is the new norm
In a world where many people are working remotely, virtual meetings have become the norm for most teams.
If you're currently managing a remote or distributed team, this team meeting template will help you ensure that all your team meetings are productive and meaningful.
What's inside this remote team meeting template:
1 ❄️ Icebreakers
Research shows that getting your team's creative juices flowing before your weekly meeting is a great way to strengthen coworker bonds, stimulate better brainstorming, and create an atmosphere of inclusivity.
Taking the time to build rapport — for example, by using icebreakers in remote meetings — allows all your team members to get to know each other better, which can help minimize conflict and create a deeper sense of harmony and inclusion on your team, no matter where they're located.
2 🚀 Updates
Use this section of your remote team meeting to share company announcements, changes, and industry trends that everyone on the team should be aware of. While it is true that this section of the meeting shouldn't take longer than 5-10 minutes, it's important to include it in your weekly team meeting agenda.
In the book Resilient Management, Lara Hogan argues that managers consistently overestimate their teammates' ability to ascertain context. That's why you should communicate important updates – like the context for a big roadmap upheaval, a staffing change, or anything else that involves managing emotions – at your weekly team meetings.
---
Remote team meetings are better in Fellow
Fellow is the meeting management app that companies like Shopify, Uber, and KeepTruckin use to run effective remote team meetings.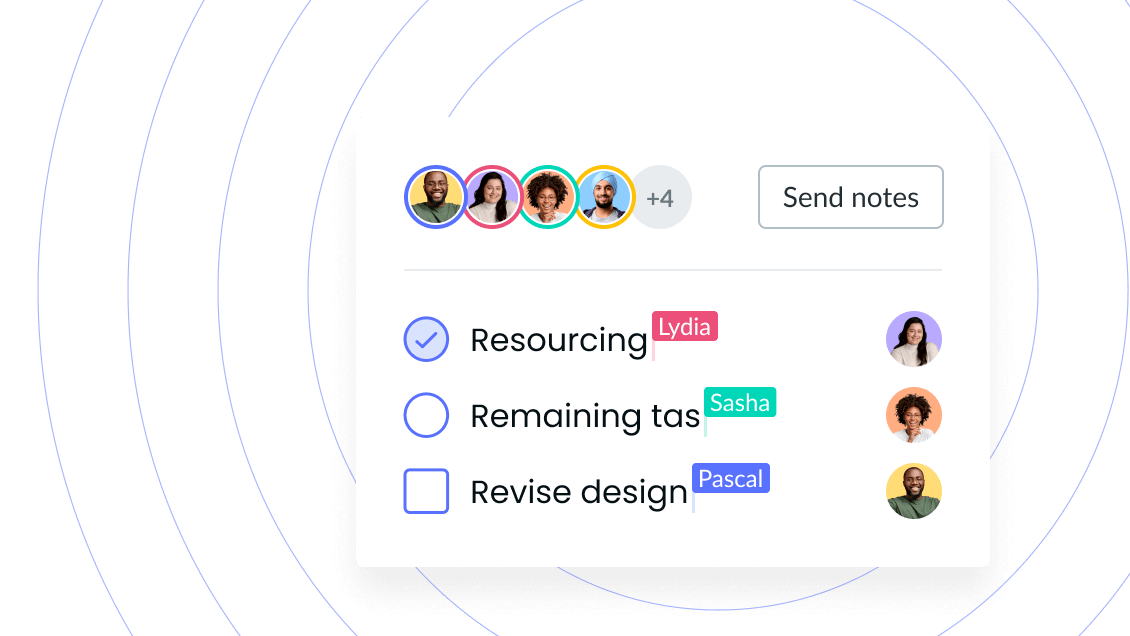 ---
3 🖼 Big picture
One of the key benefits of team meetings is that they help you ensure that the team is aligned. That's why you should use your remote team meetings to review key metrics, dashboards, and the team's progress on their overall goals. As Steven Sinofsky, a board partner at Andreessen Horowitz argues:
"When everyone has goals and they are shared there's never any confusion about why or what people are doing. Goals are the what of meetings."
4 📌 Priorities
This is arguably the most important part of your remote team meeting, and where the majority of your time should be spent. It's a great practice to meet with your team weekly and set clear priorities for the upcoming week.
Your teammates make a lot of decisions every day. Agreeing on your weekly priorities will help you ensure that everyone is working towards the same goal.
Pro tip: Come prepared with a list of priorities in your shared meeting agenda.
5 ⛔️ Roadblocks
Once the planning section is done and you have assigned all the tasks, it's important to ask the team if they see (or can predict) any factors that could prevent them from getting their work done.
– Is there anything blocking the team from getting their work done this week?
– Are there any general concerns about the priorities you just discussed?
– Does everyone feel comfortable with this week's priorities?
6 📣 Shoutouts
Studies show that employees appreciate public recognition more than monetary awards and pay increases. With this in mind, you can add a shoutouts section to your team meeting agenda and encourage teammates to acknowledge each other for their great work. This will be a great way to end the meeting and build a positive team culture.
7 ✅ Action Items
You've probably attended meetings where you left wondering what the conclusion was, and who was supposed to do what. There might have been a ton of great ideas floating around the room, but nobody took the initiative to record the next steps or own those great suggestions.
And that's why one of the best habits that your team can adopt is ending every meeting by reviewing your action items.
Some questions you can ask at the end of the meeting include:
– What are everyone's key takeaways?
– What are the steps we'll take after this meeting?
– What are the things we'll accomplish from now until the next time we meet?