Back to Board Meetings

Formal Meeting Agenda Template (Best Practices)
Take detailed meeting minutes and run more efficient meetings with this formal agenda template (inspired by Robert's Rules of Order).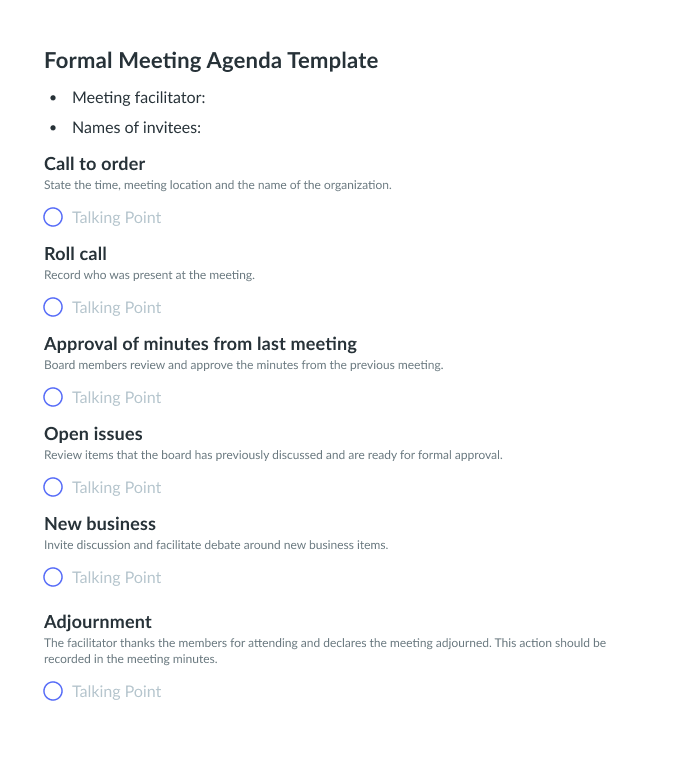 Preview template
Formal Meeting Overview
A formal meeting typically discusses a list of pre-determined topics and objectives, and then attendees make decisions related to them. For many companies, formal meetings highlight and promote accountability and transparency, not just among staff but everyone included.
Formal meetings allow for proper discussion regarding any issues within the company, from HR concerns to failing marketing campaigns. Formal meetings often run on a strict format, and if you're at the wheel for the meeting, a formal meeting agenda template can be of massive help.
There are a few different formal meetings, including General Annual Meetings, Planning Meetings, and Review Meetings. You can plan for each of these accordingly with the formal template. Most formal meetings follow a set pattern that helps to provide organization and structure.
The attendance list heavily depends on the nature of the formal meeting and which departments require inclusion. If you're preparing for an annual general meeting, you'll have to prepare yourself to address everyone company-wide. In contrast, if it's a marketing review meeting, you'll have a smaller crowd.
It would help if you prepared your schedule far in advance, as these meetings are typically only held once each year. You'll have ample time to prepare, including collecting employee and management input regarding what they'd like to discuss.
Planning an annual meeting can be time-consuming, as you're working with data and numbers that span a year. Many companies undergo significant changes year to year, so prepare yourself to cover a wide range of talking points.
"The meetings can be a lot of fun or they can be frustrating." – Bob Weir
How to Run an Effective Formal Meeting
Formal meetings run on a tight schedule, so preparing effectively means focusing on organization and utilizing a formal meeting agenda. Formal meetings aren't as relaxed as your weekly development meeting, and though they leave little room for discussion, it helps to know what your employees want to address before taking the proverbial stage.
To fully prepare for your formal meeting, it helps to circulate a set schedule and plan to participants before the meeting. This way, everyone can know what to expect when coming into the meeting, and they can prepare remarks to give their input as necessary.
Sometimes, formal meetings ask for minor presentations from management or team leads, so you'll want to ensure that you send a notice to the necessary people, giving them ample time to prepare. It's common for attendees to provide updates regarding project status, and if a space and time allotment for them to speak is evident on the agenda, they'll be ready when the time comes.
Minutes, or official notes, are usually taken throughout a formal meeting. You can assign someone to do this or record the session and do it yourself afterward. Whichever way is easier for you is the one that will work the best.
If you want, you can also prepare meeting notes for those who weren't able to attend or send them to all attendees as a reminder of which topics you discussed and the actions that need to take place. It's good to keep everyone on the same page and thoroughly research how to write a formal meeting agenda.
"The world is run by those willing to sit until the end of meetings." – Hugh Park
What's inside this Formal Meeting Agenda Template:
Inside this formal meeting agenda template you'll find an overview of the areas you need to report on as the minute taker.
Before you begin, don't forget to write down the names of the meeting facilitator and invitees at the top of the agenda!
1 Call to order
State the time, meeting location and the name of the organization.
Formal meetings often feature refreshments, so when you're ready to begin, do a call to order to catch attendees' attention and have them choose a seat so you can start. It's essential to ensure that a formal meeting goes off on time and take a minute to welcome everyone.
2 Roll call
Record who was present at the meeting.
Now it's time to make sure that everyone that needs to be in attendance is there. Go through a quick roll call, and make a note of who isn't there so you can give them a copy of the meeting notes to bring them up to speed.
3 Approval of minutes from last meeting
Board members review and approve the minutes from the previous meeting.
Run through the approval of the minutes from the last meeting. Typically, the executive board is responsible for approving these meeting minutes and clarifying that these minutes are, indeed, accurate.
4 Open issues
Review items that the board has previously discussed and are ready for formal approval.
This section is where you'll want to discuss any open issues at hand that affects your attendees and their departments directly. These issues may depend on your audience, so they require advanced preparation. Leave room for some input and questions regarding open issues, as your team is likely to have them.
5 New business
Invite discussion and facilitate debate around new business items.
In this portion of the template, you'll want to chat about new business and bring everyone up to date regarding the topic. Some attendees will be familiar with this information, and others will not, and it's a great time to discuss company direction and goals as well.
6 Adjournment
To close the meeting, the facilitator thanks the members for attending and declares the meeting adjourned. This action should be recorded in the meeting minutes.
It's finally time to adjourn your meeting, but not before touching once more on important talking points and opening the room to a few questions. Confirm any necessary next action steps, and encourage your attendees to reach out with any questions they may have in the meeting aftermath.